Interview with Josh Greenberg
I had the opportunity to sit down and ask Josh Greenberg a few questions about fly fishing in northern Michigan, where he came from, Rusty Gates, fishing tactics, and his new book, Rivers of Sand: Fly Fishing Michigan & the Great Lakes Region (Lyons Press 2014).  Josh is the owner of Gates Au Sable Lodge in Grayling, Michigan.  "The Lodge," or, "Gates," as it is referred to by locals, sits a few feet away from one of the most famous trout streams in the world.
Josh purchased the cozy resort after the former proprietor, Rusty Gates, lost his battle with cancer. Rusty was a renowned conservationist and former Fly Rod & Reel Angler of the Year award winner who passed away in 2009 after a battle with lung cancer.  Rusty was later inducted into the Fly Fishing Hall of Fame.
Before you get to know Josh, you have to know a little bit about Rusty.
Rusty was truly beloved by just about everyone who knew him and what he stood for—unless you were at odds with his river. Gates helped found the conservation group, Anglers of the Au Sable.  He had the innate ability to bring people together for their common interests to protect the places he cared so dearly for.
After Rusty's passing, one friend of Gates said: "A tap on the shoulder, a glance from those blue/grey eyes, a short conversation; that was usually all it took. We set to our tasks with a brio, partly from the cause, partly not to let him down."
To say Josh had big shoes to fill would be a bit of an understatement, but as the saying goes, Josh has proverbial big feet.
Cerveniak:  You grew up in Ohio, right?  Is that where you learned how to fly fish?
Greenberg:  Yeah, the southern part.  When I was growing up, the Mad River was the closest place to go.  Either the fishery below Brookville Lake in Indiana wasn't in existence, or no one knew about it yet.  If I could do it over again, I'd fish a lot there since it was closer to home than the Mad.
Cerveniak:  How old were you when got into the sport?
Greenberg:  My dad taught me when I was very young- I'm a third generation fly fisher.  I caught my first trout in the Smoky Mountains, and I've been to the Smokies many times, since.  In fact, I would say that the Smokies are where I really learned how to fly fish; and I guess if I had to pick a place where I felt most at home, it would be the Smokies.
Cerveniak:  I've never been down to the Smokies, but when I lived in upstate NY, I fished the Adirondacks a lot which from what I've been told have a lot in common with the Smokies—maybe less bear encounters.
Greenberg:  Its funny, all the years I went down there, even two or three times a year, it would be in the fall, winter, and spring.  We didn't really think about bears because we were never there in the summer.  We took a lot of vacations in the summer but mostly went out west.
Cerveniak:  So did you visit northern Michigan a lot growing up?
Greenberg:  When I was a teenager, but in my younger years we fished out west a lot.  Both my parents were teachers who fly fished so "out west" was a natural place to go in the summer.
Cerveniak:  That had to be cool to be a kid with two teachers for parents and get to go to all these cool places every summer.
Greenberg:   Yeah!  I feel sorry for my kids! [Laughs]
Cerveniak:  My wife is always saying we need to try and take a traditional family vacation every year, but something always seems to get in the way.
Greenberg:  I think they're kind of a thing of the past.  You know, just load up the old caravan and go- but people just can't afford it anymore.  Nowadays, two teachers couldn't afford to do the kinds of trips my family did—we did a 45-day trip one year where we drove the whole way and stayed at hotels or camped every night.  I don't know how anyone could afford that today.
Cerveniak:  Your parents bought a cabin here in northern Michigan at one point, right?
Greenberg:  Yeah, they bought a cabin up here when I was 15 and I think I started tying flies for Gates that same summer.
Cerveniak:  How did that happen?
Greenberg:  I just walked into the shop one day and was looking at one of the BWO patterns in the fly case and it was tied with calf body hair, which is a really terrible material to work with if you're tying comparaduns.  It doesn't compress or flair really well.  Rusty was like, "Let me see what you can do."  I tied it there in the shop and he sold me a patch of calf body hair and gave me an order for 200 black caddis.   I've worked here ever since.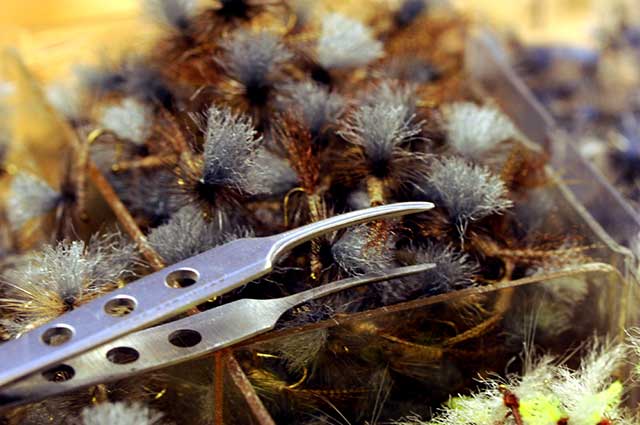 Cerveniak:  When did you make the move up to northern Michigan and start working at the shop full time?
Greenberg:  When I finished college, Katy and I got married and then I got accepted to school in New Zealand.  After I finished school in New Zealand, we really didn't have anything else to do.  The only job we had was up here, so I asked Rusty if I could start guiding for the shop.  He said yeah, and I I started guiding full time when we moved up here about 10 years ago.
Cerveniak:  I have a family member who just moved to that area, I'm looking forward to going down there to fish for bass in the Ohio River.
Greenberg:  Its funny, I'll never shake this.  Smallmouth are awesome game fish.  They're awesome.  But when you grow up in Ohio, they're less than trout.  In your head, trout streams are really rare.  So when I'm up here and guys are like, "We've got some great smallie fishing around," my first reaction—and I never say it cause everyone has different things that float their boat—but the first thing I want to say is WHY!?  Why would you go fishing for smallmouth when you have all of these great trout streams around!?  I still fish for smallmouth, but if you grew up and smallmouth were all you had, you'll never shake how special trout are.
Cerveniak:  Whats it like to live off a river with the determination known only to desperate trout anglers trying to connect their livelihoods to their passion?  That was from your book.
Greenberg:  [Laughs] It was?  I haven't read it in a couple years.  [Laughs]
Cerveniak:  Whats that like to not only say you're going to do it, but to go out and actually do it, and succeed?  And is there any such thing as success in the fly fishing industry?
Greenberg:  I don't know if there is any such thing.  I don't know what the end result looks like.  I can tell you that what I'm doing is not self made.  I fell in with a boss [Rusty Gates]—and even he didn't do it on his own, his dad kind of did it—so you'd almost have to talk to Cal Gates Sr.  Rusty provided this way of life for the guides and what not.  So the determination I feel now is a new thing, because I don't have an answer man behind me.  I just know that it has to feel right.  I know that kind of seems like a schmoozy answer, but I know I'm working really hard, and I know it has to feel right when I'm doing it.  So far, more or less, it does.
Cerveniak:  What was that like the moment after you signed the papers and became the owner of Gates Au Sable Lodge?  Was there an "oh crap" moment?
Greenberg:   [Laughs]  I think that moment was happening before I signed the papers because it was a long process for a broke guy to buy a relatively expensive fishing lodge It took a long time, and there was a lot of stress.  And while all of that was going on, I was also opening a lodge for the first time by myself without Julie who is Rusty's wife.  It was, "What Would Rusty Do," for the first year.  That's all I had.  It wasn't like, "What should Josh do," it was, "What would Rusty do,"
We've definitely made changes since then, but the blueprint is still identical.  So that "oh crap" moment has pretty much been a 365 day per year thing, since.  I mean, I've got frozen septic lines right now and every room in the lodge is full tomorrow night.  So I just, I take deep breaths and I try to think ahead.
Cerveniak:  Sounds like fun…
[Laughter]
Greenberg:  Last week we pulled it off.
Cerveniak:  A lot of the older guys in the area feel that Rusty was grooming you for this years before he was diagnosed with cancer or had even thought about retirement.  Do you agree with that?
Greenberg:  Its weird because Rusty was a complex dude.  He easily could have been grooming all of us for it, and whoever was in the right position to do it would do it.  And at the same time, he did it without ever acknowledging to himself that he wouldn't be running or have complete control over the business.  For a while there, he dreamed of being a contractor, retiring and building homes, but I never saw him get anywhere close to retirement.  If anything, as he got older, he got busier.
In retrospect, he had me and Andy [Andy Partlo now owns the Old Au Sable Fly Shop in Grayling, MI] running the fly shop and working for him at the same time- and he still never gave us any responsibility.  [Laughs]  But he tried to teach us.  It was complicated, he was a complex guy.  He was really, really good to me, but until he got sick, he had never approached me about buying the lodge.
He was good at accepting truth.  When they told him that he only had a year to live, he didn't really share that with anyone, and he live as if he didn't.  Then one day, he said, "Look, I'm gonna die.  Can you work this out with Julie?"  And we did, it just took a little while.
Cerveniak:  How many years did you guide before taking over the Lodge?
Greenberg:  Five years full time- maybe six.
Cerveniak:  Just on the Au Sable?
Greenberg:  The Au Sable and Manistee were the only rivers I guided on.  I once did a bluegill trip and it was actually a lot of fun.  I worked hard, I loved guiding, and probably kept the longest season of most of the Au Sable guides at the time cause I fished so much in the winter.  I love the off-season around here.  I wouldn't really promote doing guide trips here during the winter, but March and April are good months.
Cerveniak:  Are you still doing any guiding?  I'm sure you get requests.
Greenberg:  I get requests but I really don't guide anymore.  I'll probably do about 10 trips per year right now, so I keep my tags up to date.  They're just trips that have become traditions.  Most of the time, I can't give people their money's worth.  I've just been out of practice.  There are a couple guys that are interested in doing some of the same things I'm doing, even if it turns into a boat ride, they'll do it.  I also do a couple of emergency trips each year where the outfitter- being me- overbooked on accident, or a guide is sick, or a boat broke, etc.
Cerveniak:  Do you feel any pressure to fill Rusty's shoes?
Greenberg:  No, but I feel pressure to fill the shoes of Gates Lodge, which could be the same thing, but it feels different than I thought.  I thought it was gonna be the Rusty's shoes thing, but Gates Lodge owns me, I don't own Gates Lodge.  And it might always feel that way.  I've given, and am giving, everything I've got to this place—even when I was young.  I came in and washed dishes after my shifts.  I love this place, I really do.
My spring starts when Gates Lodge says I should be busy, and its funny how it happens.  I'm just going about winter, minding my own business, and then one day I wake up like three hours early and come down to the Lodge, and its spring.  Today is March 12th, and I'm right in the middle of my busy season.  Mostly because this time of year, I'm doing a lot of it by myself and it's a lot of prep work.  Its doing things like renovating the restaurant and making sure my supply orders make perfect sense, and making sure the sewage lines get unfrozen, and all those little things that go into it.  So I can feel the season approach as the Lodge is like, "Dude, you need to do this stuff, like now, or you're not gonna have time later."
Cerveniak:  What were some of the cool things you learned from Rusty, whether that be about the area, fly fishing in general, or just about life?
Greenberg:  Rusty taught me more about life than fly fishing.  He did tell me a lot about the river, though we fished together only enough to have fished together.  He taught me a lot about fly tying.
Cerveniak:  He was a half hitching fool.  I was always blown away at the number of times he would half hitch while tying.
Greenberg:  Yeah [air ties with repeated half hitches and laughs]
He taught me a lot about business.  There were a lot of little tricks, and he was a guy of little tricks.  He didn't have an overwhelming philosophy, but he had little tricks.  Say, if you get upset, you've got the 24-hour rule.  And it works!  One time I came to him and I was really upset about something—can't remember what it was—and he said, "Look, we shouldn't be having this conversation right now.  We should have it tomorrow.  It's the 24-hour rule, dude."
Most people learned what they did from Rusty just by watching him.  My final year working for him when I came back from guiding and was doing shop work—and managing the shop for him cause he was going through chemo—I really tried to pay attention to how he ticked.  He had several irreplaceable skills in business.  He had an incredible memory, not necessarily for people's names – he wasn't very good at that – but for who people were.  He would remember a lot about you.
He had an awesome memory for organization and procedure.  Which I think is one reason he was such a great commercial tier.  There would be a pattern he hadn't tied in 20 years, but he could sit down and remember the tricks for tying them at one and a half minutes a pop.  Rusty tied this business, which is amazing.  He was one of the most prolific commercial tiers in Michigan's history.  He was a 100 hook per day tier.  And I know some guys that can tie 100 hook a day, but not as well as he could.
Cerveniak:  Are the fly bins at Gates Lodge still 100-percent filled by local tiers?
Greenberg:  No, and honestly, it hasn't been since I began working here 20 years ago.  Rusty ordered flies from overseas.  He didn't talk a lot about that.  Gates Lodge ties about 95-percent of its own flies.  Some flies just don't make any sense for a local to tie — they are painstaking, and expensive.  Say, a humpy.  But we might only sell 3-dozen humpies all year, and 50-dozen of one particular local style of Hendrickson that we tie ourselves.  So the scales are heavily tilted towards local tiers.  Maybe 30 to 50 years ago, it might have been all Cal and Rusty, but since I've been here, there have been about 5-percent from overseas, which is probably a lot less than most other fly shops in the country.  We have around 30 people tying for us.  Some do 10 dozen.  Some do a 1000 dozen.
Cerveniak:  Will Gates Au Sable Lodge ever be Greenberg's Au Sable Lodge?
Greenberg:  Nope.
Cerveniak:  Why?  Is it a brand recognition thing, or a type of tribute to Rusty and Cal, or..
Greenberg:  It goes back to that same thing.  I don't feel like I own this lodge.  I feel like this lodge owns me and everyone else who works here.  And whats cool is a lot of the people here feel the same way.  I feel like if I fell asleep for a month, I would wake up and this place wouldn't have missed a beat.  There would be a lot of people mad at me, but they wouldn't let Gates Lodge fail because this place is more important to them than I am in some ways – in some good ways!  They know I'm here for the right reasons.  There is no margin for me, I'm not getting rich.  I still drive the same car I was when I was guiding.
I'm here because it is really important to me that this place doesn't go anywhere.  There are a lot of people who have been on for as long as I have, and some who were younger when they started, that are still here, guiding and what not.  They care.
Cerveniak:  How important has it been for you to get the support of the local old timers who stood shoulder to shoulder with Rusty all of those years?
Greenberg:  I really needed that.  The first year, there was some push back, because I think people suspected it would change more than it did, and they didn't want it to.  For example, one time I didn't have the volume on the stereo up at its normal level in the fly shop, and a customer couldn't hear it.  He wrote me a little note a few days later that said, "I wish you hadn't taken the music out of the fly shop."  I was like, its still there, I just need to turn it up!  [Laughs]
Cerveniak:  Where do you see the Lodge in five years?
Greenberg:  Each year, I try to make every part of it a little bit better—no bigger, just better.  Everything from improving a fly pattern with a new material to the menu at the restaurant.  You keep pushing forward because you have to.  If we tore the whole thing down and rebuilt it, it just wouldn't be the same—and it might not be very popular, even if it was better.  People really like that there is classical music in the fly shop, but there are still kind of cheap windows.  People like that, they feel comfortable here.  Its sort of a throwback Michigan camp.  I never thought about it that way when I came up here, but now when you look at it, that's what it is.  Its fish camp on the Au Sable.
Cerveniak:  Its an interesting combination you have here.  You're not just a fly shop, or a lodge, but you offer both, plus a restaurant and guide service.  Is there any one aspect to this business that you would consider to be the key to Gates Lodge's success?
Greenberg:  I need every single part of it.  You have to have all four parts, and that's what people like.  We wouldn't be nearly as busy in the lodge if we didn't have the restaurant, cause now all of the sudden, you're staying 8-miles away from food.
Cerveniak:  Where do you see this place in 25 years, when you're ready to retire and maybe hand it down to one of your sons, or some guide that hasn't even been born yet?
Greenberg:   [Laughs] I haven't even thought about that yet.  I see it along a healthy river, that's it.
Cerveniak:  Its funny, at one of the recent Fly Tying Saturdays that take place here, I was watching one of your sons [a toddler] tying flies.  I looked over at a friend and commented on how crazy it was that one day, he and I might be coming to that little kid for advice on what the hot fly is.
[Laughter]
We're getting old!
Greenberg:  We are getting old! [Greenberg is currently 34]  I was looking around at the Midwest Fly Fishing Expo this year, and had a moment where I realized that, there is a new generation.   Its crazy, man!  There is [Mike] Shultz, and Old Au Sable here in town, Nomad Anglers, Boyne Outfitters, Northern Angler—all guys my age.  Its nuts!  This is all the River Runs Through It generation, it really is.  We were all in high school'ish when it came out.
Cerveniak:  That's true, I never really thought about it like that.
Greenberg:  Its kind of amazing.  We're those guys now…its hard for me to believe.  And all the guides, they're all 30 or older.  There are hardly any of those 22-year old guides anymore.  The young ones are 25.
[The conversation turns into one about fishing and guiding, and Josh mentions the sandy inside bends common on the Au Sable.]
Cerveniak:  In your book, [Rivers of Sand: Fly Fishing Michigan & the Great Lakes Region (Lyons Press 2014)], you talk a lot about those lines on the bottom of the river that are created by the border between two different types of sediment.  Lines that hint at a current seam, even if that particular seam isn't readily apparent on the water's surface.  Usually, when people talk about reading water, they focus on the water, not so much about observing the substrate to see exactly what the current is doing.
Greenberg:  Exactly, that's the key!  It shows you the invisible seams, and those fish like to sit just on the sandy side of the gravel in the winter, but on the gravel side in the summer.  They like that line…
Cerveniak:  Sitting on that light colored bottom almost seems counter intuitive towards the naturally selected behavior needed to survive being picked off by overhead predators.
Greenberg:  You're right, its backwards.  I mean, I'm a predator and I can see them, hence I'm sight fishing to them, whereas if they were on the gravel, I wouldn't be able to do that.
Cerveniak:  Why would you sit there if you're a fish?
Greenberg:  I think it's a light thing.  It reflects up off that light bottom and it might help them see food drifting down the current.  I really noticed it for the first time in New Zealand.  If you were on a crystal clear small stream where every 2-foot trout is visible, and there was a white rock, there would be a trout sitting on top of it.  Right on top of it!  I think that they can see way better with the light bouncing up off the bottom.
Cerveniak:  Kind of like fly tying where a lot of guys will use a profile plate behind it to ease eye strain?
Greenberg:  Exactly.
Cerveniak:  So lets talk more about your book.  Its not just about the Au Sable!?
Greenberg:  When I first started it, I thought it would be kind of cool.  Like Rusty, he really loved fishing his six or seven secret places for that particular time, but I like fishing all over.  I like doing stuff I'm not doing every day.  I wanted to start the stories with the headwater areas and work my way out to the big lakes, and that's the course that the book travels, more less.  So to do that, I've got to explore some things that I'm not very good at, like swinging for steelhead, or chasing carp on the flats like we did together- and I've only done it like three or four times, but I freaking love it.
What makes Michigan cool is the same thing that made New Zealand so cool.  Everyone thinks it's the big trout in New Zealand, but its not.  It's the fact that you can drive from one coast to another in a day.  You have all of these options within a short drive, and its almost hard to write about a stream in Michigan without writing about catching cohos in the surf an hour and a half away.
I'd almost rather write about stuff I don't do every day.  For example, writing about fishing the evening rise.   My favorite thing to do in the world outdoors, is to fish the evening rise, but writing about it has become kind of hard.  Its been done a lot, and you never see something as vividly as you do those first couple of times.  You know.  That's when you're gathering data and its sticking.
Cerveniak:  A lot of young guys nowadays seem to have that same attitude, and don't seem to be so attached to a particular watershed.  Do you think that's part of the natural progression of things, or ha the culture changed?
Greenberg:  I think a lot of it has to do with age.  It will be interesting to see what happens as these guys have kids, have less time, and have to choose a spot.  They'll lose contact with some of those other places.
Cerveniak:  Do you think the "run & gun" approach where a guy just fishes all over the place and doesn't settle down is bad for conservation since that guy might not be so attached to the places he fishes?
Greenberg:  That's a possible concern.  If you have $1000 and then you lose $20, its not such a big deal as if you only had $100 and lost $20.  The more places you have to fish could mean—in theory—that losing one of them wouldn't be such a big deal.  Whereas, if you have rivers with big fan clubs, it's easier to defend them.
Cerveniak:  Is this the book that your initial query to the publisher described?
Greenberg:  No, this thing went backwards.  They contacted me and I told them what I wanted to write, which is similar to what they got, and they told me what they wanted me to write, which is not what they got, and then we ended up with a slight compromise
Cerveniak:  What was it like when that first copy of your book showed up in the mail?
Greenberg:  100-percent fear.  I didn't want to open it, I didn't want to see any errors, I made sure my name was spelled correctly.  The boxes that the books came in had my name spelled –urg instead of –erg, and I was like, man, if they messed up the front cover of the book, my dad is gonna freak out.  After that, I haven't opened it.  I won't ever read it.
Cerveniak:  You haven't read your own book?
Greenberg:  No way.  I'm weird about stuff like that.
Cerveniak:  It's a good book, you should check it out sometime.
[Laughter]
Cerveniak:  Where would you be right now if you hadn't have taken over Gates Lodge?
Greenberg:  I don't know.  For a while I would have been guiding.  I loved it, and I loved being on the water.  And by that time, I had a good client base.    I liked being in the boat with 98-percent of my client base.  I only had a couple problems.  And I'm not good with people.  I can't sit and have cocktails with a group of people for eight hours.  I find it tiring.  But with fishing, its like a language that you're both trying to speak and you're trying to teach your client how to do it a little bit better.  So once you get that communication level that you get once you're really fishing together, its like getting to know someone intimately without having to go through all the crap to do it.
I know how this guy fishes, and I know that he has a problem at night of breaking his wrists when he casts, and I have to stay upstream of the fish cause that slack will help us, whereas if I snuck up from below the fish, that upstream cast with slack in it wouldn't be very effective at night.
I think I would have been guiding for a while.
Cerveniak:  You're a big fan of nymphing on the Au Sable, which in many circles is considered to be one of the few trout streams where nymphing is less productive than fishing on top.  Why is nymphing generally less productive here?
Greenberg:  I think nymphing is just as productive, it just has to be done in the right places, and at the right time of year.  You're not gonna save an August day by nymphing a couple deep holes.  Our fish are ambush fish, most of the time; or they're small [laughs].  You're not gonna catch three 18-inchers at 1pm on an August sunny day by nymphing a couple deep holes, just because they're deep.  Those fish aren't using that water.  But from an inside gravel shelf, you'll probably catch six 6-inchers on a dry-dropper.  Also, on that same August day, if you were there nymphing that deep hole at dawn, you might catch a couple bigger fish.
Cerveniak:  Why?
Greenberg:  I think its just the way our fish react to the water.  They live a life of ambush, and the only times they don't, they drift feed heavily and- you know, behavioral drift in the morning and during the peak of the day in late winter, early spring.  Its almost like a window, a nymph season, that goes right up through hendricksons.  Around noon in May is good, too.
Cerveniak:  Indicator or no indicator when nymphing?
Greenberg:  Both.  Dirty fast water and plunge pools, I like to go without an indicator.  Nice even, classic water I like to use one.  When its high water, like 3-feet or less of visibility, that's Czech nymphing time.  You can get right on top of them and bounce the bottom with heavy rigs and really control your drift.  You don't come here in August and say I'm gonna nymph without an indicator.  Well, I'm sure a great fisherman could, but for most people – myself included – you need to suspend the nymph.  That's one of the reasons the dry-dropper rig is so effective here.  I think that sometimes, people get too hung up on keeping their nymph rigs right on the bottom and it hurts them.
Cerveniak:  Where are the famed "Holy Waters" of the Au Sable?
Greenberg:  Burton's Landing to Wakeley Bridge.
Cerveniak:  What makes them "Holy?"
Greenberg:  Cause Rusty's dad said so.  [laughs]
Cerveniak:  So its just a gimmick?
Greenberg:  If you float it, things definitely change as you enter and exit the Holy Water.  Not only does it feel different, it looks different.  Also, a lot of springs come in at Burton's- that was a big reason there.  Really it happens at Rayburn's.
When I first started fishing this river, we rented a canoe at Borcher's, we floated down, and I caught like 26 chubs in a row.  And then there is this sign in the water at Burton's, that says, "Quality Fishing Area."  I didn't quite read it right, I didn't realize it was referring to a restriction, I thought they were just announcing that the good trout fishing started here.  I was like, "Hey dad, look!"  I caught a trout on the next cast, and I was yelling, "It's a trout, it's a trout, it's a trout!"  And remember, trout are holy to an Ohio kid.  And then we started ripping trout.
That's always stuck with me.  He couldn't have named it any better for me, cause I caught a trout after 26 successive chubs during my first experience entering the Holy Waters.
Cerveniak:  Lets talk a little bit more about conservation.  The Anglers of the Au Sable has a pretty strong track record over the past 35 years of looking after the river.  From the National Guard issues, to C&R only on the Holy Waters, to the Mason Tract, to Kolke Creek, it seems like they win every battle they find themselves in.  What were some of the losses?  Does The Anglers of the Au Sable ever lose?
Greenberg:  [Laughs] I would say The Anglers has been successful.  They probably haven't always gotten everything they wanted.  I think the key is that The Anglers doesn't ask for unreasonable stuff.  Kind of that whole walk softly but carry a big stick thing.  I don't know how many times I've been to one of those board meetings where something comes up, and an impassioned person has a war they want The Anglers to fight, and The Anglers sticks rigorously to their mission statement.  That's really important.
Like the other day when you and I were talking about the other "secret" local streams around here that are kept a secret because they can't handle the pressure of the Au Sable, but because they're a secret, there isn't an army of conservation groups there to protect them when needed.  Well, if the threat to one of those little streams was legitimate, The Anglers would put their full weight behind the issue if it fits with our mission statement.  Cause if it can happen there, it can happen here.
You see, things are different now.  Some of the things we're dealing with are big.  Like as far as Savvoy Energy [who wanted to drill in the Mason Tract], I think that was a threat for sure, but there are lots of Savvoy Energy's now that want water withdrawl operations for fracking.  There is no threat like it, there can be no bigger threat than losing your water—other than a spill.
Cerveniak:  One of the cool things about the Au Sable, that you don't see at the same magnitude elsewhere, is a lot of the fish have names.  Tell me about some of the most famous fish on the Au Sable.
Greenberg:  There was Elvis, a brown in the mid twenties who kind of had a weird upper lip thing.  There was one on the lower river that has been there for two years, that only rises in the middle of the day.  This is a priceless fish.  I bet you could sell that secret for $1000, cause when there are bugs out in the middle of the day, it eats em, Henry, he is the fish under Stephan Bridge every year.  He changes—probably Henry the 12thh by now.  [Laughs]
It can really go on and on with these fish and what they do.  There is one downstream right now they call The Gar.  There was Spiderman on the South Branch who blew our fly up every third night.
Cerveniak:  So speaking of big fish, there are some big browns involved in the current telemetry study on the Au Sable.  What have we learned from the study so far?
Greenberg:  Here is one thing, the drive of the study is thermal migration and habitat.  Fish downriver move around a lot more than fish upriver, which can be helpful to know.  So down in the sand flats one of those fish – a big one – disappeared.  We couldn't find it anywhere all summer!  We never could get a ping.  Then one day in mid-October, we found it way up here in the Holy Water spawning on the gravel.  Then two days later, it was gone, and back downstream on the flats!
Now we had other fish longer than 20-inches marked up here in the Holy Waters, and those fish would move about 10-feet, spawn, and go back to their cover.  So one thing we learned that might not have much practical information now, but could become important in the future or on another fishery, is that some of those more barren areas, we need to pay extra special attention to issues that separate them from gravel.
Something else we've learned is the fish need cover near springs cause they're gonna get all the way up near the bank when the water gets warm, and then when the water gets cooler, they drift back out towards the middle.  I think that we could say that in most cases —and this is island biogeography to a tee—a bigger log jam produces more than the same square footage of multiple smaller log jams.  That doesn't mean you only build big log jams, it simply means its something to keep in mind.
I think part of that is that log jam is providing shallow cold water near the bank where our springs come in, but it also provides deep water near the middle, and cover from above.  And you could see during the shocking they did for the study, how much of those big covers the fish use compared to the small covers.  For example, you might shock three fish out of a cover that was three square feet, but you would shock 20 fish out of a cover that was nine square feet.
Cerveniak:  How long has this study been in place now?
Greenberg:  This will be the end of the second year and the brown trout study is concluding rapidly at this point.  Next is brook trout.
Cerveniak:  Fly fishing culture in Northern Michigan is just different.  Tell me about the fly fishing culture here.  Why do you think it is so different from everywhere else?
Greenberg:  I don't know.  You don't get it unless you've been here.  I feel like Michigan fly fishers have to earn it more than any other place I've been.
I think a lot of it is due to the way this river fishes.  Its kind of crazy.  I got caught by it, mostly because other people were catching fish when I couldn't – you know, huge fish – and I was just wondering how the heck are they doing that?  And they're like, "Well, you gotta do this, and this, and that."  And I'm like yeah, but out west, you can just use a Turk's Tarantula.  Point made.
So the fish are here, they're just really hard to catch, and not in the stereotypical "selectivity" way.  Our fish are selective and they may not feel like feeding that night, or might not need to come out of their log jam to do it.
Cerveniak:  So are you saying Michigan sucks?  If you're a guy from Cincinnati, and you've got $1000 to spend on a fishing trip, are you better off avoiding Michigan and going out west where there are lots of dumb trout?
Greenberg:  Absolutely!  [Laughs]  I don't know.  For some people, a trip to northern Michigan is the perfect thing, and other people will never come back.
Cerveniak:  If you have to ask the question, you'll never understand the answer?
Greenberg:  Right.  Enough people stay.  I mean its good, this is good fishing here.  Its definitely underrated.  But even those who have it figured out can't make this river do what they want it to.
We've got true variety here that other places don't have.  Whatever you like to do—the Au Sable, or some local small stream, you can do it.  I haven't seen another river like this.  That's what made writing this book so easy; you want to go catch a trout on a bass bug?  You can do that.  Want to go catch one on a trico, you can do that, too.  Zebra midge under an indicator, sure.  You can have the drift boat thing, the riverboat thing, the canoe thing and the upstream wading thing within 20-miles of each other.  Not many rivers like that- and I'm not talking about tributaries, I'm talking about the same stream.  Its easier to have more passionate anglers when they can do everything here.
Cerveniak:  Do people who come to northern Michigan for the first time, who have already been out west, have unrealistic expectations of what trout fishing should be?
Greenberg:  I once had a couple that used to fish out west and in Chili, but were from New England.  The husband killed a fish on the Holy Waters because he was so frustrated about the size of the fish he was catching.
It was my first year guiding, and that was after like two days of me working really hard to get them on bigger fish.  It was during hex season, and they wanted to be done at 9:30 at night.  [an oxymoron]  So we didn't get a rise to hex, and I'm trying to do it during the day, and that's where I learned you can't tell this river what you wanna do.  The river tells you what its going to do.  And one of the things it was not going to do was let this bad caster catch a big fish during the day time.  He wasn't good enough.
So near the end of the trip, he was really frustrated, and grabbed this fish underneath the gills, ripped its throat open, and threw it through the air.  His wife said, "You can't catch a 20-pound fish every time you go fishing."  He huffed and said he should at least be able to catch a 20-incher.  I paddled them out.  That was the end of that.
I've had a few other guys with unrealistic expectations, but I would say that most of the guys who have already been out west absolutely love it here.  They know enough to get it.  I love it when they ask, "Whats the average size of your fish?"  And I answer, honestly, in July, 6 to 10-inches.  Some people are like, pffft.  But others understand the context, and you just go out and fish and they catch a 14-incher, and they get all, "Whooo, that's a good one!"
Cerveniak:  In a fight to the death cage match, who wins, Northern Michigan or Out West?
Greenberg:  Fight to the death?  Northern Michigan, man!  We've got more…what do they call them in hockey, the hit men people?
Cerveniak:  Enforcers.
Greenberg:  Yeah, we have some of those.   They don't.
[Laughter]
Cerveniak:  You think there are any Michigan Grayling left out there?
Greenberg:  No, but its one of those thoughts that is really fun to think, and its as much about where that might be, cause that keeps you looking…