Artist Randy Mack Bishop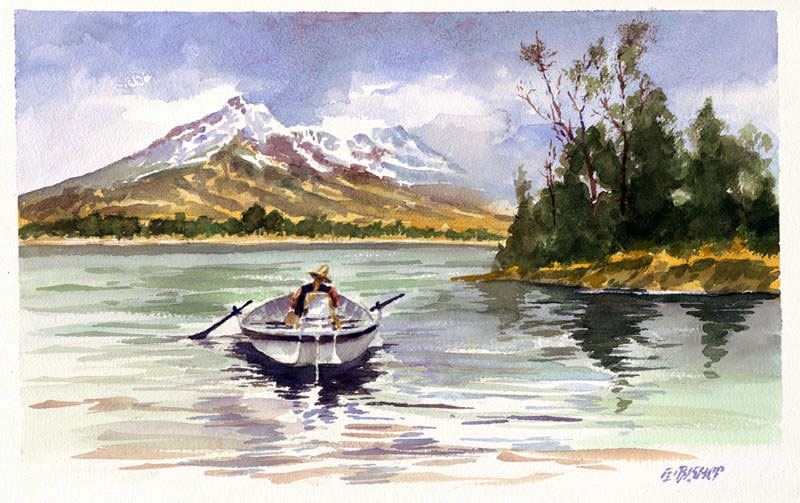 Randy Mack Bishop was born and raised in West Texas. Attending the University of Texas at Austin on a football scholarship, he graduated with a B.F.A. in studio art. He then went to the Art Center College of Design in Los Angeles, California, graduating with honors in illustration. After graduating he located in the Dallas area where he has been an artist for 34 years. He has taught at Southern Methodist University and Brookhaven College. He is married to Cathleen Bishop, a graduate of the University of Texas, and they have a son, Drew who is a member of the UT baseball team.
His work has been featured in such publications as Governing, Pockets, Texas Sporting Journal, Field & Stream, Outdoor Life, Fly Rod & Reel and American Way. He has done work for such clients as Coopers-Lybrand, Exxon, Phillips 66, Neiman Marcus, Six Flags Over Texas, Haggar Slacks, Northern Telecom, Philadelphia Inquirer, Boston Globe, Baltimore Sun, Chicago Tribune, Cleveland Plain Dealer, Ottawa Citizen and the San Francisco Chronicle.
His work has been recognized by such shows as the Society of Illustrators of Los Angeles, Dallas Society of Illustrators, Houston Society of Illustrators, and The Society of Newspaper Design. The Dallas Press Club presented him with its 1981 and 1993 Katie for Best Illustration Portfolio.
Eighty-five original pieces of art done while Randy was an illustrator for the Dallas Morning News reside in the collection of The Center for American History in Austin, Texas.
Randy continually does research for his paintings by research trips to Montana, Colorado, Canada, Alaska, and Africa. As an avid conservationist, Randy has participated in such fundraising groups as Gulf Coast Conservation Association, Ducks Unlimited, and Texas Fly Fishing Conclave.