Islamorada Invitational Sailfly Championship
The dates for the 13th Islamorada Sailfly Championship have been announced. This January 9th and 10th, fly fishers will gather in two-angler teams forming a field of twenty, to chase Atlantic sailfish on the fly. Registration for this invitational event is open through September 20, 2012.
Read more in the attached press release.
Date: September 6, 2012
From: Sandy Moret
The 13th Invitational Islamorada Sailfly Championship is set for January 9 and 10, 2013
This all release fly fishing tournament requires anglers to use 16 pound class (8kg) tippet supplied by the tournament.  It is a boat team event with no more than two anglers per boat. The event is limited to 20 teams and 2012 teams have until September 30 to guarantee their registration. Any unfilled spots will be offered to teams on the waiting list. Captains, Mates or Anglers may tease, but only the registered anglers may cast, hook and play the fish.  All tackle, casting and fishing must comply with the tournament rules which will be of I.G.F.A. format. A complete set of rules will be supplied on request and in advance of the tournament and reviewed at the Captain and Anglers Rules meeting at the Kickoff.
In the tournament's first year, 2001, fourteen teams competed and no sailfish were caught! At the awards banquet on a lark, Tournament Chairman, Sandy Moret declared it a 14 way tie for 1stplace. All of the teams demanded to continue the annual tournament. Each year the teams have caught more and more Atlantic Sailfish on fly rod during the very specialized event.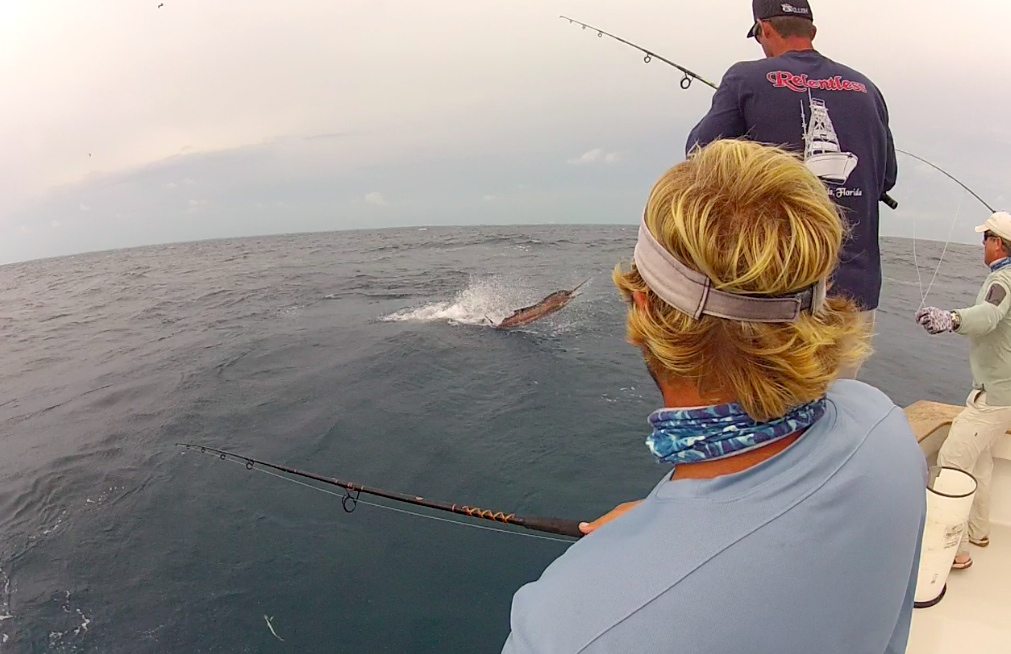 On day two In January 2012 Bob Lodge of Tavernier hooked up aboard Yo Ho Ho with Capt Charlie Scoble and team member Al McLeod of Islamorada. 25 minutes later the connection was inside the rod tip for 50 points and they continued to fight the fish for another 5 minutes before billing and retrieving the fly for 150 points. They hooked two other sails that day as well winning the tournament for the second time in four years. This was also the 4th win for Capt Scoble in 12 years of the event history.
The tournament is sponsored by Florida Keys Outfitters, Rich Products Corporation, Green Turtle Wine & Spirits Shop, Kaiyo's restaurant and The Green Turtle Inn.
For additional information or invitations contact Sandy Moret @ (305) 664-5423 or through [email protected] or stop at Florida Keys Outfitters, mm81.2, ocean side @ The Green Turtle in Islamorada
Sandy Moret
Florida Keys Outfitters
PO Box 603
Islamorada, FL 33036
Phone: (305) 664-5423
Fax: (305) 664-5501
[email protected]
---