New HD Video: How to Use a Whip Finish Tool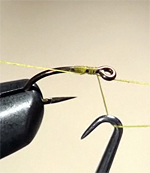 As fly tying tools go, whip finishers take the award for being least obvious in function and design. But in reality, a whip finishing tool is so effective that there are few excuses not to learn how to use them.
Fortunately, Tim Flagler is both an expert tier and video producer, and his video demonstration on how to use a whip finish tool is best we've seen. As you can see, a few tips make all difference.
---
Next Story→
Rosenbauer: Ten Tips on Leaders and Tippets