Three Rivers I love… and a Lake I Hate
So here's why I hate the lake. It was a calm morning a couple of years ago and we'd started out on the east end of the lake with Pablo rowing and Rusty and me fishing. Pablo wanted to hit some reed beds on the north shore, but once we got out a ways he set us up on sinking lines to troll for fish on the way.
Right off the bat Rusty caught a nice rainbow. Now Rusty is literally the sweetest guy. But like all of us, he has his quirks. One of Rusty's is he takes a picture of every fish he catches. Even worse, the new waterproof iPhone had just come out so he was also taking video of every release. But whatever… To each his own.
Pretty soon Rusty dredged another nice rainbow from the depths and Pablo netted it and high fives all around. Then a lengthy photo shoot, fish goes back in the lake and we're off. Only minutes later, Rusty hooked into another fish. He cranked it in and the whole dance began again. This went on for three or four more fish while I'm catching nothing. Nada. Zero.
I don't really like fishing lakes, and I don't much like dredging for fish with sinking lines. So I shouldn't have cared one way or the other. But we were both fishing the same fly on the same tackle on the same lake within six feet of each other. And Rusty was slaying them, hauling them in one after another, and celebrating each fish like he'd just won the Powerball. The longer this went on the more infuriating it got. But I tried to stay cool. I did.
Now right before we came down to Argentina I'd bought a new six-weight. I won't go into numbers but let's just say I'm not one to skimp on tackle. So far we'd been using Pablo's rods with the sinking lines. My new rod lay against the gunnel of the drift boat. I was morosely marooned in the back of the boat watching Rusty catch fish. As Rusty hauled in yet another one and as he was arranging himself for the ten-thousandth photo of the morning, a crisp, brittle snapping sound echoed across the lake. Time stopped as we all realized that what we'd heard was the sound of my new rod breaking under Rusty's bony ass.
Of course, apologies all around and Rusty vowed to do whatever it took to make it good. Finally we got to the reed bed. Pablo rowed us around it while we cast dries to the edges. Pablo's a bit over forty but doesn't seem to have aged since I first met him eight or nine years ago. He's compactly strong, always wears a buff against the sun, and often sports an oddly formal blue-checked button-down shirt. For him, rowing two dudes across a lake is like walking across the street.
So we came around the far side of the reeds and there's a fish feeding just inside the edge. I had a better angle so Pablo told me to go for it. I was still a little shaken up but managed to make a decent cast. Fish didn't eat but it kept sipping. I cast to it a few more times. No take, but the fish was still sipping. Finally Pablo told Rusty to have a go. I handed him the rod. One cast and the fish nailed the fly.
At lunch I sat sullenly at the end of the table, said nothing, and put away not quite a full bottle of sturdy Argentine Malbec. After lunch I finally landed a very nice rainbow and I was, like, "no I don't want a picture." Pablo told me to stop acting like a child. He held the fish up beside me. Rusty took the picture. I forced a smile.
And that, in a nutshell, is why I hate the lake. Swore I'd never go back. And yet here I am, two years and one pandemic later, heading up there in the back seat of head guide Martin's Ford Ranger with my friend Paul in the passenger seat. Rusty is on the trip this year but no way I could have handled going with him.
We cross sere flats punctuated by bunch grass and boulders, passing llama-like guanacos, ostrich-like rheas and amoebic flocks of terrified sheep. Suddenly, Martin stops the truck. "Look at those condoms!" He means "condors" but like any fishing guide worth the title Martin is a great one for the vulgar double-entendre.
Three massive Andean condors strut around a carcass fifteen yards off the road. They look somehow both middle-school gawky and menacingly ominous, occasionally half-flapping their massive wings. Black-faced caracaras gorge themselves while the condors take a break.
We watch the busy, dense mass of carnivorous birds for a few moments more and then start off again. The road steadily rises, passing through and then above stark rock outcroppings with an ever-expanding view out over arid buttes and hills and arroyos to the east and the sudden wall of the Andes to the west sporting a new white coating of the season's first snow. Except for the Andes themselves, this entire vast view is within the estancia's borders. It's four hundred thousand acres in all. You read that right: four hundred thousand. There's nearly forty miles of the Corcovado River and twenty miles of the smaller Tecka. Miles and miles of smaller tributaries and spring creeks feed into these two main drainages. Seven thousand head of cattle, eighty thousand sheep, and about a hundred staff call the estancia home. This week, on all this land and water, there are just eight of us fishing.
Trees and thick foliage crowd the road as we push higher into the Andean foothills. We reach the top of a pass and then switch-back down steep a wooded hillside with a view over an abandoned gaucho outpost along a creek bottom. Back up the other side of the valley and the lake comes into view.
I may hate the lake, but there's no denying that it's beautiful. Two hundred acres of brilliant blue water, wooded brownstone cliffs on either side, and at the far end a great wide stack of black rock standing out starkly against the white-sloped Andes beyond. Two big scrubby islands complete the picture of a stunning, wild, isolated lake. Looking down at it, I feel like I'm trapped in conversation with a gorgeous ex-girlfriend who broke my soul across her knee like a piece of kindling.
"Laaaaaaguna!" Martin says as it comes into view.
"Wally's broken out in a cold sweat," Paul chuckles. (For reasons that remain obscure, when I'm at Tecka I'm known as "Wally.")
Not true but not far off. Paul had to bargain hard to get me even to come back up here. There's so much fantastic water on the ranch. My idea was drop me off and I'll fish on my own today and you guys can flog and dredge the lake to your heart's content. But Paul's the unofficial leader of our group and group cohesion and all of that. So we struck a deal we'd fish the lake in the morning and then head to a river after lunch. Who says I'm not easy to get along with?
Martin backs the boat down a narrow steep chute and gets out to winch it into the water. He's six-four if he's an inch. When his bald bullet head isn't covered with a baseball hat, Martin bears an uncanny resemblance to a sepia photo on the wall back at the lodge. The photo is from the nineteen thirties and it's of Martin's grandfather, who came out from England to manage the ranch. In one form or another his family's been here ever since.
Once we're out on the lake a ways, Martin rigs me up a rod with a sinking line. We'll be dredging but a least we won't be trolling. It's cast, sink, strip. Takes me a couple casts to get used to the sinking line but pretty soon I'm getting it out there pretty good. Three or four casts more and I hook into a rainbow that turns out to be a plump twenty incher. It's the end of summer and the fish are as fat as they'll be all year.
I keep flogging the water and within a half hour I've got another fish on and I'm cranking it up from the depths like a marlin. We finally get sight of it and Martin says, "Big one, Wally!" It runs a couple of times, I reel it back and then a third run. It's under the boat and I bring the rod around back over the anchor and then it's under the other way. Quite a dance. Finally Martin's like, "Go ahead and horse it in, Wally." So I pull the fish up alongside the boat and swing it forward to Martin's net. It's a nice one, twenty two or twenty three inches and heavy and chunky like a football.
"Pictura, Wally?"
Why not? I lift, grip, grin, put the fish back in the net and a moment later Martin lowers in back into the lake. Fun stuff I admit, but at this point my limited desire for sinking-line trout is sated so I take a break to watch Paul fish from the comfort of my back seat. Martin rows us over to a reed bed. He switches Paul out to a rod with a floating line and a dry. It's always both fun and a little demoralizing to watch Paul fish. He's got a subtle but instinctive double haul that means his casts land accurate and straight as a section line. He and Martin work all the way down along the reed bed but no luck.
Paul fishes out the morning and it's a bit tough but he lands a couple decent rainbows. As lunch-time approaches the other boats have come into view, heading for the beach where the table is set with plates and table cloths and if the wine glasses are plastic in a nod to practicality, the table and food are as elegant as you'll ever see in the middle of Patagonia three hours from the nearest paved road.
After lunch, Paul takes me aside to ask what I want to do the rest of the day. Do I want to keep going on the lake or fish a river somewhere? "Martin, you know, he wants to stay here." Of course he does. We're here, we're set up, and we're catching big fish. Hate to be that guy, but I say if it's just the same to Paul, I'd rather go fish a river this afternoon. "Cool with me," he says somewhat unconvincingly and five minutes later we're in Martin's truck heading back down to the Corcovado Valley.
We're not far from the lodge when Martin turns left off the main road onto the track that takes us to the Corcovado bridge. Through a wire gate we follow a faint jeep trail upstream along the river. The Corcovado starts at a lake up in the Andes, flows roughly east and then makes a huge turn back to the west, flowing through the Andes to the Pacific. It's a freestone river up high and then lower down it's a giant meadow stream through the soft soil of the arid rangeland.
Right here we're at the tail end of the freestone section. It's fairly shallow and about eighty feet across, running against cliffs on the far side. Where we stop, the river takes a sharp turn to our left. There's a deep pool below bouldered riffles. Down at the river there's a boat waiting for us, as there always seems to magically be at Tecka.
We start by fishing from shore. I've got a foam chubby on and I'm fishing the seam between the main current and a giant back eddy right in front of me. Hard to get a good float since the fly wants to go downstream and the line wants to go upstream. But I'm able to get a few feet of good drift with a downstream mend. Between casts a fish rises out about three feet from the seam in the main current. I cast above the spot of the take and the fish slams my fly.
"Don Wallllyyyy!" Paul yells.
It's a nice rainbow in the mid-teens. A few minutes later Paul takes a fish from the nervous water below the riffles. Once we're on the water we don't float for more than three hours but it's good fishing, we each land four or five nice fish in seams, below shoals and from undercut banks. The sun's going down, the shadows lengthen, the air cools. Too soon we're at the take-out among fall-yellow poplars just a few hundred yards from the lodge. There's a truck there waiting for us but Paul and I decide to walk back.
"That was fun. Good call Wally."
"Blind hog, acorn, you know the drill."
The Patagonia breeze is in full voice the next morning. As I get out of the truck, the wind all at once slams my door and blows my hat off. I nearly break my leg in a hole running after my cartwheeling hat but finally snag it. Back at the truck, Pablo's doing his best to rig my rod. We're standing in bright sun but it's blowing so hard we can feel mist from dark rain clouds above the hills a couple miles away.
Bunch grass quivers in the wind and sandy soil blows along the ground as I follow Pablo to the river. Coming up to a long, deep pool, he tells me to cast upstream along the near shore. Sounds easy enough, but with this wind it takes a few casts and a few tangles in the grass before I'm dialed in. Halfway up the pool I get a take from a decent brown. Pablo nets and releases the fish. We fish together a while longer and then he leaves me to check on my friend Brad, who we dropped off upstream.
We're fishing the Tecka today. The Tecka's called a river but it's really more of a creek, anywhere from ten to thirty feet across, tracing twenty miles of serpentine curves below steep hillsides and rock spires across a broad arid valley of bunch grasses, pin-cushion neneo bushes and thorny, fly-line-grabbing califates.
I move steadily upstream all morning, cherry-picking water that I can fish with the wind behind me. I land a few fish here and there when the wind, the water, and my casting all align. Late morning I come around a bend and glance downstream and ohhhhh man… There's fifty feet of classic, perfect undercut bank. On a calm day I'd have snuck back downstream, crossed the creek, and fished it upstream from the far shore. But I don't care if you're the second coming of Lefty Kreh, there's no way anybody's casting that far into this wind.
But I have to do something, the water's irresistible. Finally I flip a roll cast downstream and start feeding line out. The fly floats perfectly along the edge of the undercut. It's pretty sheltered from the wind but there's enough riffling on the surface and I'm feeding the line fast enough that—at least from what I can see—there's no drag. But there's also no take. I let line out for the full fifty feet of bank and then start slowly stripping it back in. It's about halfway up the bank when Pablo pops into view.
"How's it going, Wally?"
As I turn to answer, "bloop," a soft subsurface take which I totally miss. The line's too long, too much slack, and I set too late. All I catch is a clump of bunch grass. Time for lunch.
We walk up to where Pablo has parked the truck beside a permanent lean-to picnic shelter. Brad, Pablo, and I lug the coolers from the truck and set up lunch. It's the classic Argentine shore lunch: cheese and meat tray, a chicken Milanese, salad, cherry clafoutis for dessert, and Malbec in metal cups. Don't mind if I do. The wind's died down a bit but there are still some good gusts so from time to time I have to catch my wine cup to stop it from blowing over.
"Tough morning," Brad smiles as he plops into his chair. "That wind was brutal." Brad is an intense, competitive guy and in past years a morning fighting the wind with few fish to show for it would have put him into a caustic funk. (I know the feeling.) But just a couple months ago he finished up a shockingly medieval treatment for an aggressive cancer and there's been a definite change in him. He's just happy to be here. Huge black cloud, small silver lining but a silver lining all the same. Still, he's anxious to get some momentum going for the afternoon, so he eats pretty quickly and he and Pablo head back to the river.
I'm feeling the opposite of momentum and pour another tumbler of Malbec.
As I'm finishing my wine, the clouds we've watched all morning finally move in front of the sun and the wind dies down even more. I fish a little Parachute Adams all afternoon—a bit, um, unsteadily at first—and though nothing's really rising I don't really care. It's lovely to be fishing an old-school dry on lovely small water. Middle of the afternoon, I come to a deep, still pool at a bend in the creek. Fish dimple the surface, the first top water action I've seen all day.
I cast to one of the fish, it eats but it's a bump not a take—or I missed the set. Probably the set, if I know me. I cast to another riser close to the right-hand shore. Same story—a take so subtle it's almost indistinguishable from a refusal and a spaz hook set that ends up in the grass behind me. A fish starts rising twenty feet straight upstream. There's still enough wind that the cast is literally and figuratively a long shot. I land short a couple of times and, over-compensating for the wind, too far to the left. Third time I get the length and left to right correct, the fly floats right over the fish. There's a splash, I lift the rod, and… nothing.
Towards evening, I come up behind a close-grazed shoreline drop-off. The sun has dipped below the clouds as it sets and there's a long shadow extending out from the shore onto the water. I cast over the lip, fifteen feet of line on the ground. Can't see the fly as it lands but there's a splash and I set the hook into what turns about to be a nice little brown, twelve inches or so. A quick release and I fish out the water until I see Pablo's headlights.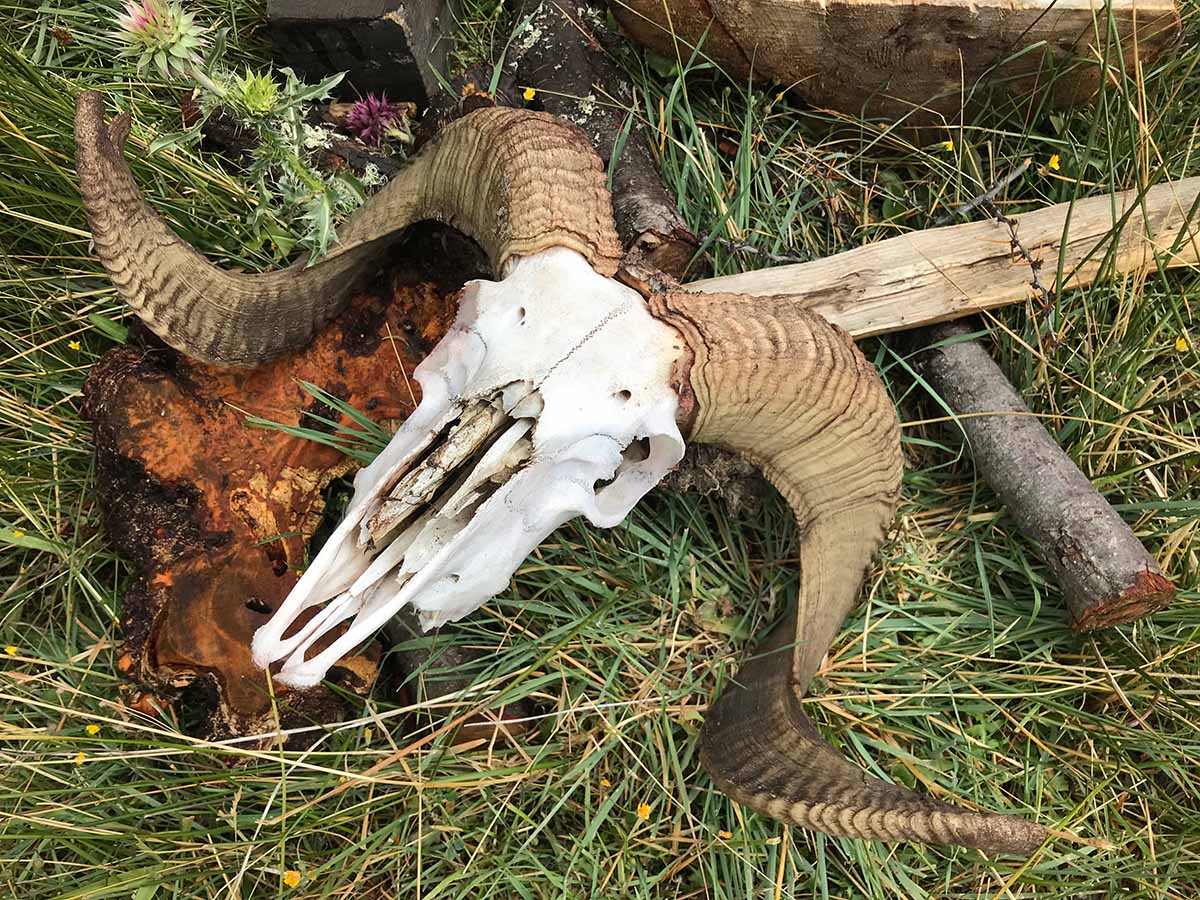 One afternoon we take the back way to the Puente Del Tierra, up over a low pass down to a cozy green canyon oasis with Lombardy poplars and a tidy white gaucho house. A couple of chestnut horses stand knee-deep in a brilliant green paddock. Below the green confines of the gaucho's house, the landscape spreads out into vintage Patagonian desert with prows of outcropping rock overlooking the creek as it winds its way down the valley to join the Tecka a couple miles from here. Farther downstream we start seeing sheep—all rams—among the rocks and bunch grass.
After we rig the rods, I walk with Pablo down around one of the rock prows and further down along the road, finally cutting over to the creek. It's tiny water, rarely more than six feet across and often less than two. It's typically very easy to read, easy to figure out how to fish, and very hard to actually fish. The water's slow, the surface is glassy, and because this area is only now recovering from many years of over-grazing, there's zero cover. The fish see you coming from a mile.
The lack of cover is also the only slightly forgiving thing about the Puente. With the fish so spooky, the best way to fish it is to stay fifteen or twenty feet back from the shore and cast over to the creek with most of your line on the ground. Just a few feet of leader actually goes in the water.
A narrow mossy flume flows into a little bowl of water off to my left. It's maybe three feet by three feet before it narrows again and flows around a turn. We're fishing that same little Adams and I cast at almost a direct right angle to the creek from about twenty feet away. The fly lands lightly in the middle of the bowl, there's a take, and I yank the fly right out of the fish's mouth.
That flail sets the tone for the next half hour. I'm either throwing a good cast and missing the hook set or I'm getting tangled in the very few califate bushes that are around. Pablo's usually the picture of encouraging professionalism, but as I saw on the lake two years ago even this has its limits. When I wrap my leader around a ram skull he laughs out loud. "Wally man, you couldn't do that again if you tried!"
I get that untangled and we move upstream. A narrow slot of clear water runs through the middle of a moss bed. The bed's maybe three or four feet across, the slot's about six inches. "In the middle of the moss," Pablo says. It's a twenty-foot cast and eighteen of that's on the grass. The fly lands just this side of the middle channel, still not a bad effort if I say so myself and then, "Glop!" a fish takes the fly so hard I don't have a chance to flub the hook set. The Puente is such small water there really isn't anywhere for the fish to go so it's only a moment before Pablo nets it. A nice brown, sixteen or seventeen inches.
Not huge, but when you consider there's places where the creek itself isn't much more than seventeen inches across the proportions are pretty amazing. There are "you should have been here back in the day" tales of twenty-four-inch fish coming out of the Puente.
Fifteen minutes later, I float the fly along an undercut grass bank. A fish takes and it's another nice brown about the same size. On upstream after a half hour or so I cast along a rounded dead-grass peninsula jutting into a pool that is, for the Puente, pretty substantial. Nice float along the peninsula and at the downstream end just the faintest, most delicate little sip and a respectable rainbow is on the line. Twenty minutes later we land a smaller brown that goes maybe fourteen.
At several spots up the creek, we cast blind from fifteen or twenty feet behind cut banks. The first take I hear but wait too long to set the hook. Several more blind casts before we hear a fish take. For once I time the hook set right and moments later bring another nice brown to the net. We fish the same way on upstream for another hour or so without a take. All told this afternoon we only catch five fish, but four were between sixteen and eighteen inches. The small one was fourteen.
After the long drive back to the lodge I get out of the truck to find Paul waiting there, freshly showered. "How was it Wally?"
"Quietly epic," I say.
---