The Best Wading Boots for You
My first pair of wading boots weren't exactly high quality. The soles wore through in a few weeks, the laces didn't cinch tight enough, and they offered no support up through the ankle. I quickly ditched them for the best I could afford at the time, which made a huge difference in how comfortable I felt while on the water. A good pair of wading boots can change your confidence level while fishing, and that certainly counts for something.
As we go through the list of recommended boots, remember that they aren't ranked in a particular order. These are all boots that I have personal, extensive experience with, and would recommend to anyone.
Consider This
When trying to find the best pair of wading boots for you, your focus should be on:
Fit
Comfort
Lacing system
Traction options
Fit and Comfort
I highly recommend taking your waders with you when trying on new wading boots. Wearing your waders while trying on boots will give you an exact feel for how the boots fit, which is important when determining comfort.
It also lets you see how stable your foot will be once inside the boot. You don't want your feet sliding around, as that's a recipe for slipping and falling in the river, or injuring yourself.
Lacing System
I've also found that, in most cases, wading boots with the BOA lacing system tend to be more comfortable long-term. The BOA laces don't come loose throughout the day, they're easy to take on and off, and they provide consistent tension on your foot. While boots with normal laces are cheaper, I personally think it's worth the few extra bucks for BOA laces.
Traction Options
Not all wading boots are created equal when it comes to traction in the river. Some boots have removable soles that allow you to switch from all-rubber soles, to ones studded with aluminum. This gives you noticeably more traction on slippery rocks. Other boots have permanent felt soles, which are great for traction, but generally discouraged due to felt's ability to carry invasive aquatic species and diseases from river to river. Felt soles are banned in the state of Alaska for just that reason.
The boots in this list all either have removable soles, or have soles that are ready to accept aluminum or titanium studs to provide extra traction.
Keeping those four features in mind, we can dive right into the products themselves.
Light, flexible upper
Extremely durable
Comfortable
The Devil's Canyon boots from Korkers isn't their newest model, but it may just be my personal favorite. I've put a lot of miles on the Devil's Canyon boots, and they still look great. The upper is light and flexible, made from neoprene and rubber. This makes it extremely durable with more of an athletic fit and feel. Priced at $209.00, the Devil's Canyon boots are great for both long hikes in the high country and long days of wading big tailwaters.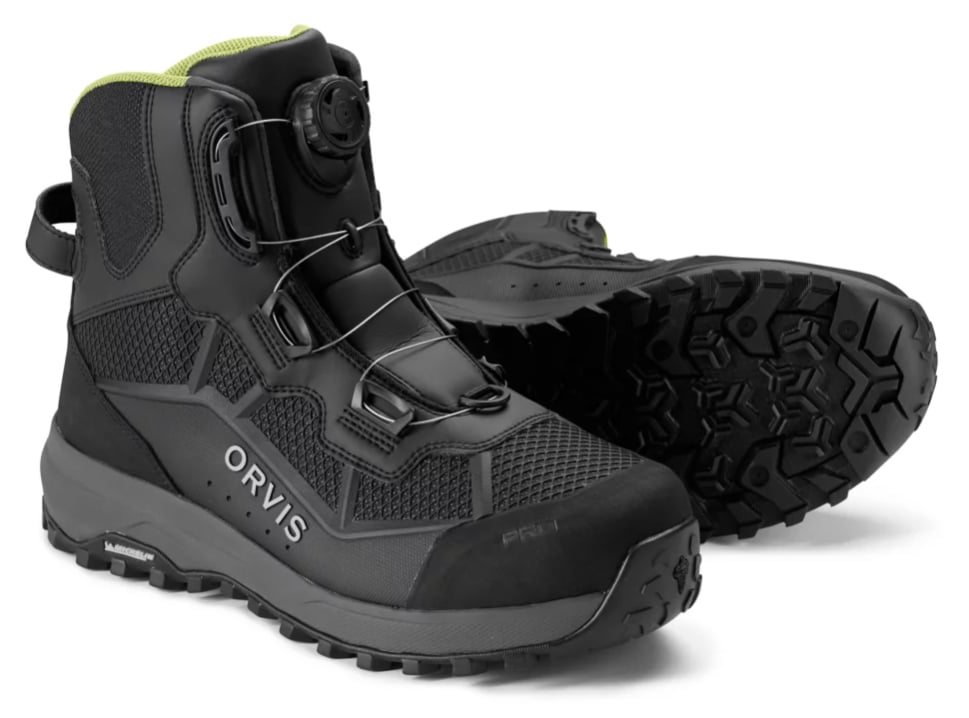 Excellent traction
Bombproof construction
Comfortable
The Orvis PRO BOA boots have some of the best out-of-the-box traction in the industry thanks to the Orvis—Michelin partnership on the rubber outsole. Orvis says this new rubber gives their PRO boot best-in-class wet traction. While I'm not sure there's a reliable way to quantify that claim, I do regularly use my PRO boots without studs in slippery rivers and get around just fine. The rest of the PRO BOA boot is built to last with minimal seam exposure and plenty of tough molding throughout.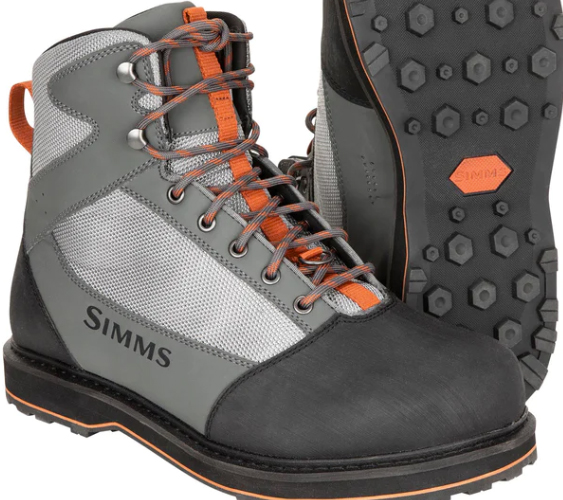 Reasonable price
Full neoprene lining
Stud ready
The Tributary boots from Simms represent a good cross-section of lower-priced wading boots. The Tributary boots lack a few of the frills (BOA lacing, more protected stitching) than other boots, but offer up good performance at a reasonable price. You can land the Tributary boots for $139.95. They're completely lined with neoprene for an easy on/off experience, and a fully-gusseted tongue prevents debris from getting inside.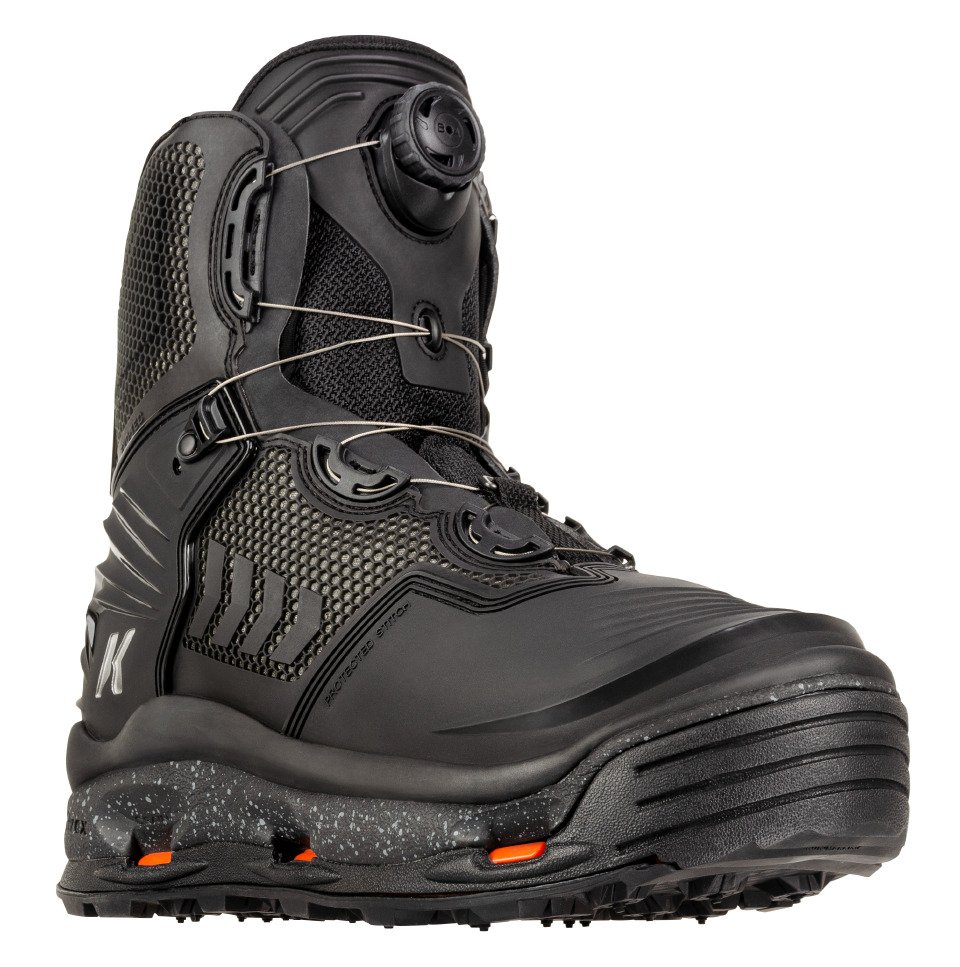 No exposed seams
Lightweight
Advanced ankle support
The Korkers River Ops BOA boots might just be the toughest, burliest boot Korkers has ever made. Designed to leave no seams exposed at all (thereby reducing wear and increasing durability) and to be light enough to wear all day, the River Ops BOA is an impressive boot. The Omnitrax interchangeable sole system further enhances the durability of this boot. At $299, these are pricey boots, but they're packed with enough features to make the cost worth it for serious anglers.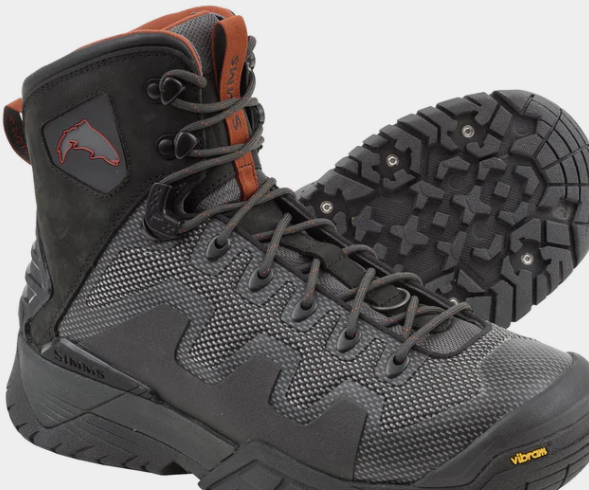 Fan-favorite among anglers
Mesh upper
Vibram Idrogrip outsole
The Simms G4 PRO wading boots are certainly a fan-favorite among anglers and guides alike. They're the most expensive on this list, but they're renowned for their durability and comfort. Featuring a grippy Vibram Idrogrip outsole with a full mesh upper, the G4 PRO boots are both light and durable enough for years on the water.
Other Options
If none of the above boots are a great fit for you, your budget, or your fishing style, then these other options are ones I'd recommend to anyone in a heartbeat.
---