Gear Review: Fishpond Nomad Mid-Length River Armor American Rivers Edition Net
When Fishpond acquired Nomad Nets in 2013, I was thrilled to know that Kevin Best's lightweight, almost-indestructible nets would find a home with one of the most conscientious brands in fly fishing. Having spent some time talking about environmentalism and conservation with founder and co-owner Johnny Le Coq both on the water and at trade shows, I knew the company would do good things with Best's designs.
I was even happier to hear that Fishpond—a Certified B corporation since 2015—was turning a great piece of gear into one that might also benefit river conservation directly. Their Nomad Mid-Length River Armor American Rivers Edition Net came out just a few weeks ago. Fishpond is donating $90 of each purchase toward the non-profit American Rivers's mission to create a future of clean water and healthy rivers.
In case you are not familiar with the Nomad Net line, it features a finely crafted carbon fiber and kevlar frame (with a fiberglass composite core) and a rubber net with a flat-ish basket bottom. I especially like two things about the Nomad design: the "tennis racket" style shape, which makes it easier to get the net under fish; and the elongated net, which at 18 inches in length, 13 inches in width, and 12 inches of depth makes it easy to both rest small fish in the bottom and cradle larger fish along the side. The rubber net material is of course fish-friendly, a big plus.
The "mid-length" handle on the American Rivers edition is 37 inches long, 3-and-a-half inches shorter than another popular Fishpond net, the Nomad El Jefe, but 5 inches longer than the Nomad Emerger at 32 inches, which for my tastes has the shortest handle length I like on a trout net (Fishpond does make shorter-handled nets, as well as boat nets with handles 55 inches in length). So it's not a net you are likely to hang from your belt. But you'll think it is perfect for hanging from a retractor on your pack or securing in a net holder, and it's awfully nice to have that bit of extra reach in deep or faster water.
Nomad nets also float, and they are about as close to bomb-proof as you'll get in a net that weighs only 453g or 1lb.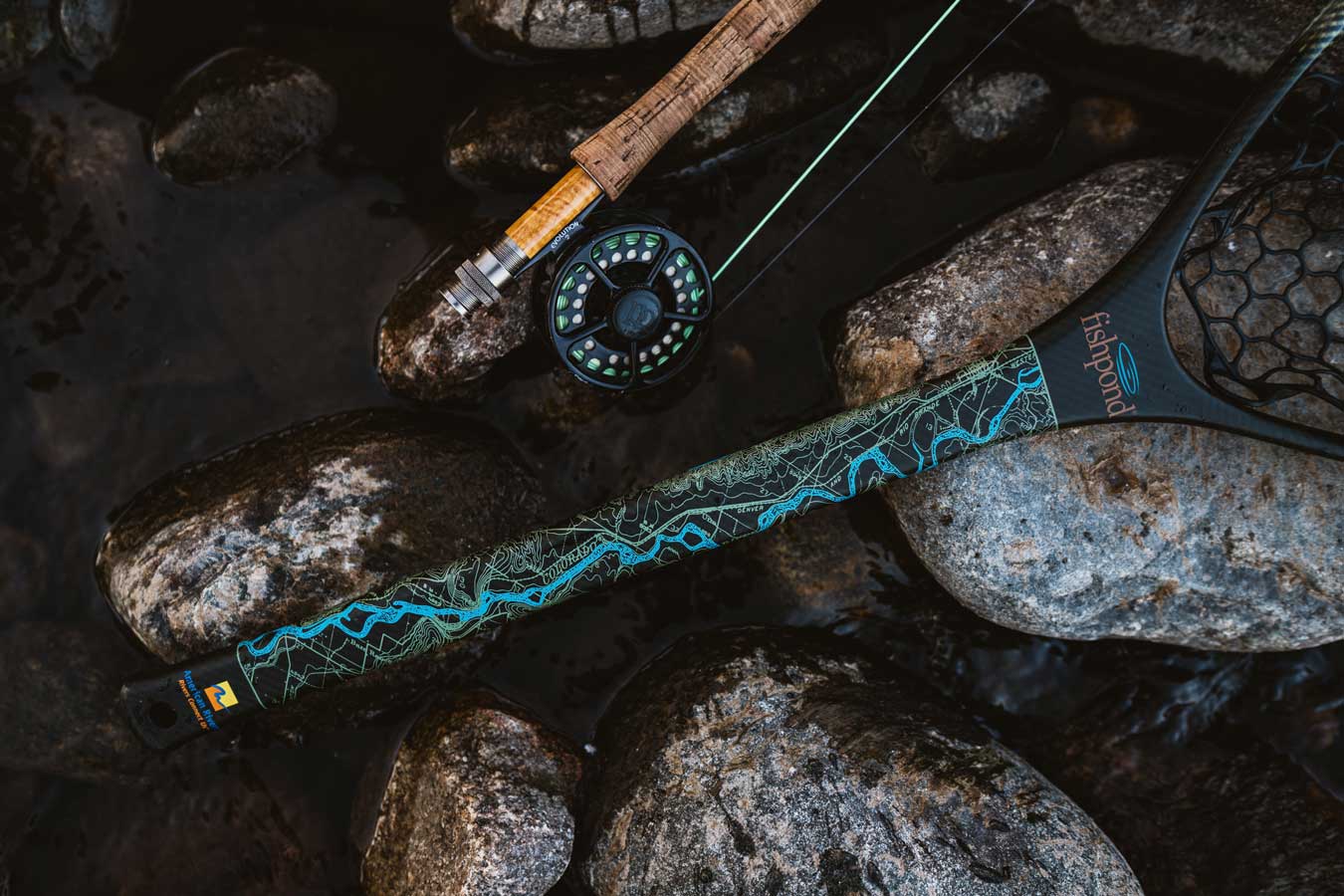 I do want to mention a unique design element of this net though, because it immediately grabbed my attention. The handle of the net features a topographic display of the Colorado River, in a striking blue on medium-green map. It's quite elegant and eye-catching. If you're wondering why the Colorado, I'm sure it's partly because Johnny Le Coq lives close to the Colorado headwaters, but even more because the Colorado is one of the most important and most threatened rivers in the United States. Its delta in Baja California, Mexico is normally bone dry—a result of the river's primary role as water supply for industrial agriculture and growing human populations across vast areas of the US west. As Fishpond points out, "Also threatened is vital habitat for wildlife, as the Basin is home to 30 native fish species, two-thirds of which are threatened or endangered, and more than 400 bird species." American Rivers calls it "the hardest working river in the West," and it topped the organization's Most Endangered list in 2015 and again in 2022.
This is a top-quality net by a company that puts its focus on products that represent best practices in environmental performance. Given that almost half of the Nomad Mid-Length River Armor American Rivers Edition Net's $199.95 price goes back into conserving the rivers that make our sport possible, I can't personally think of a better gear investment.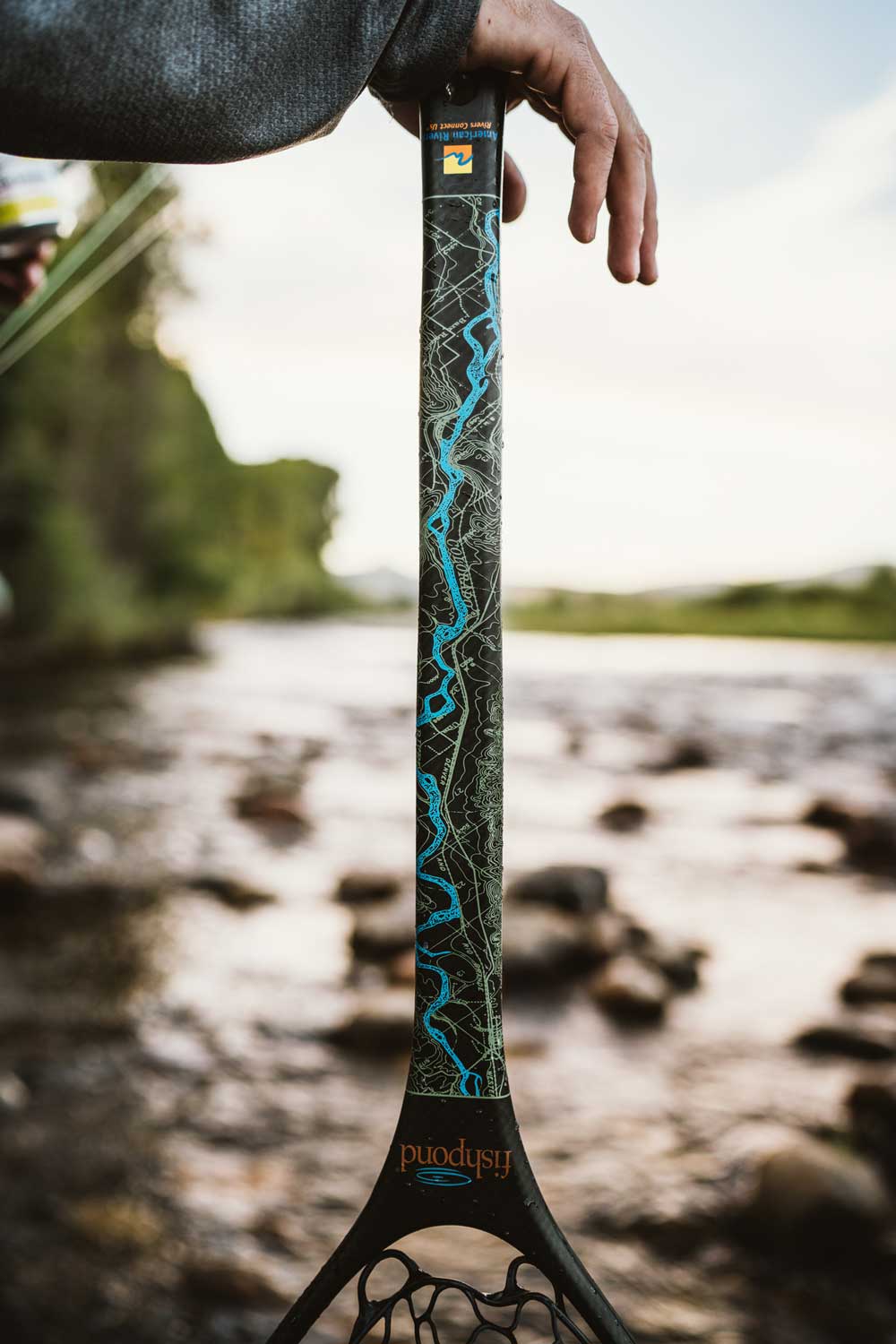 ---