Sam Lungren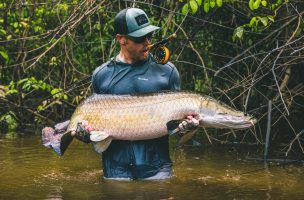 Sam Lungren is an outdoors writer and producer specializing in high adventure angling. He resides in Montana and provides editorial work and marketing consultation for MidCurrent and Gil's Fly Fishing International, as well as Lindell Yachts, Outdoor Life, Saltwater Sportsman, and other businesses.
Author Articles

TroutRoutes is an iPhone and Android smartphone mapping application specifically tailored for fly fishing purposes. Including more than 50,000 streams across the Lower 48, the program provides valuable information on public access, flow rates, and the location of nearly every fly shop in the country. The app got its start in 2018 when founder Zachary Pope...

The creek slithers lazily through tropical undergrowth in serpentine loops before pouring us into a hidden lake walled in by towering greenery. The air is still and heavy, the water's surface a mirror. Nothing moves nor makes a noise as we glide for a long moment. Then, in symphony, cicadas begin to shriek, echoed by countless birds as howler monkeys...
---