photos by Terry Gibson
Prioritize the food web and menhaden will recover coastwide.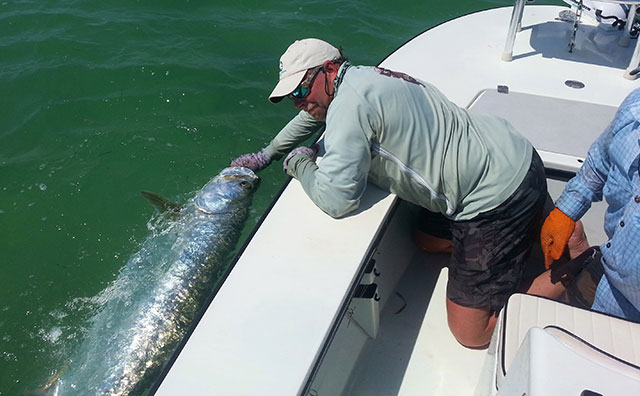 While we drift-fished for spotted seatrout, the sound came from astern, not unlike the tearing of newsprint. I cocked my head in time to watch hundreds of beefy bunker (Atlantic menhaden) arch from the glassy surface of the Indian River Lagoon (IRL). The panicked baitfish vaulted over each other for a distance of 25 yards before the attackers, which appeared to be 25-pound jack crevalle, scored their breakfast with thundering busts.
An oily slick formed immediately over the death zone and we electric-motored close enough to cast. Our chugger plugs failed to draw interest, but my charter customer hooked up on a 15-pounder that wolfed a flyrod popper 10 feet from the bow. We revived and released the jack just as the melee reignited 100 yards down the flat. We played cat-and-mouse for the next hour, as goes the chase game when the fall baitfish run commences in Florida. Earlier that October morning, an occasional 100-pound tarpon had rolled lazily in a big menhaden school, but did not visibly feed. I suppose there's no rush to eat when the prey is so plentiful. But that action occurred around 15 years ago, and I have not again seen menhaden in such numbers.
In 1999, relocated from Miami to Stuart, Florida with my job at Florida Sportsman magazine, and we soon after launched a sister publication, Shallow Water Angler magazine, as well as Shallow Water Angler TV, covering inshore saltwater fishing from Maine to Texas. Pursuing stories and filming TV shows, I traveled up and down the Eastern Seaboard. In the course of those travels, I developed a deep appreciation the importance of menhaden for predators and fishing communities. I will never forget the acres of dimpling bunker I encountered on two Shallow Water Angler TV shoots, one near Staten Island, the other out of Nantucket, ten years ago. The ocean was a boiling cauldron of biomass.
Decades ago, when I first fished the fall bait run near Stuart, I marveled at the vast "menhaden muds" that these filter feeders churn up over the deeper grassflats of the IRL. Fishing can be terrific in the periphery of the smaller, concentrated muds for seatrout, mangrove snapper, jacks and tarpon over deeper grass, and snook and reds join the mix if the muds occur a bit shallower. The bigger muds are reminiscent of mullet muds in Florida Bay, which trigger similar fishing action. And as happens in mullet muds, shrimp, crabs and other small baitfish are flushed from grassy bottom when menhaden disrupt the bottom. Such bunker muds have shrunken in size and frequency in my observation over the last 10 years or so between Ft. Pierce and Jensen Beach.
The bunker decline is also unmistakable in one of my other favorite fisheries, Miami's Biscayne Bay, where I've guided since the 1980s. Though a bit south of the baitfish's normal range, by late fall, in the 70s and early 80s I occasionally found a smattering of small (peanut) bunker along the edges of the ocean-side bonefish flats at high tide (along with finger mullet), which I believe was unsettling to bonefish, and attracted way too many barracuda. Suffice to say, no self-respecting bonefish (or permit) is going up on the flats to feed around that kind commotion! Now, that scene rarely plays itself out. Perhaps those menhaden represented the extreme southern edge of migration that normally halts around Jupiter, Florida?
Other long-time guides and anglers believe that the numbers of menhaden–commonly called the most important fish in the sea–pale in comparison to historic levels along the Florida Atlantic coast. This fall, the silver mullet run is in full swing where I fish in the southern Indian River Lagoon. It appears to be a good run for a change. I'm not a fisheries scientist, but I doubt that better numbers of mullet can ever make up the forage gap caused by menhaden scarcity, which is directly caused by industrial-scale netting to supply producers of fish oil supplements, cosmetics, chicken feed, commercial fish bait and fertilizer. Most of the menhaden fishery takes place in the heart of the species range, in the Chesapeake Bay, depriving other segments of coast of our fair share of fish that our predators need.
Capt. Tom van Horn, who owns Mosquito Coast Fishing Charters, guides on the Indian River Lagoon, Mosquito Lagoon and nearshore waters of the Space Coast, says the present numbers of Atlantic menhaden way down where he fishes along the Space Coast.
"Pogy numbers are way down. I'll go as far to say that there are less now than just before the gillnet ban in 1995."
Van Horn explains that the region's anglers depend on the pods along the beaches to draw big jack crevalle, tarpon, giant red drum and kingfish.
"Now you really have to search hard for pogie pods," he said. "Tarpon and king mackerel that migrate through our waters do feed on mullet schools, but the menhaden are far more attractive, more desirable because they are easy pickings, slow moving, but also the oil content must be part of it. On top of that, there are far fewer predatory birds such as gannets. They love the pogies, too."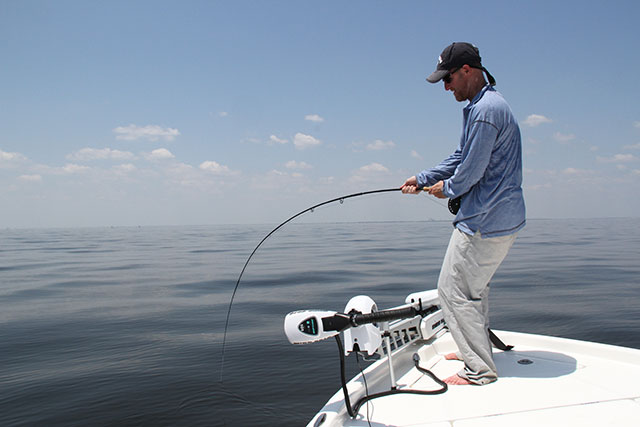 Capt. Jim Ross, who also fishes the Indian and Banana rivers, and the beaches and offshore in the Cape Canaveral region, says the menhaden dropoff is unmistakable. "The pogies are a little more prevalent on the ocean than inside waters," said Ross. "But we are seeing more small baits, the 4-inchers referred to as peanuts. Hopefully those young fish are a sign of a rebound thanks to reductions in the coastwide harvest. But we don't have the numbers our fish need."
"Menhaden are my number one live bait for everything from snook along the beach to mahi mahi in blue water," added Ross. "And cobia and tarpon are especially drawn to the pods. Around 20 years ago, pods were so big and dense that they attracted amberjack from deeper reefs into 30 feet of water."
To the north, on the Florida's First Coast, Capt. Russell Tharin fishes from Mayport, Florida north to Brunswick Sound, Georgia. Pogie pods are the "gold mines of sportfishing," according to Tharin, and he emphasizes their importance to recreational anglers.
"Though the last two summers have been okay numbers-wise, but there has been a general menhaden decline since I first fished and guided here in 1997," said Tharin. "What concerns me is that menhaden are the 'golden link' in the marine food chain. Pogie pods increase here in the summer, and they are ravaged by tarpon, Spanish mackerel, king mackerel, cobia, and perhaps the most popular fishery in these parts, bull redfish."
Tharin claims that once pogie numbers climb in late summer, the big reds and tarpon feed on them primarily.
"And keep in mind that the menhaden do move up into the St. Johns River in summer and everything eats them there."
Coastal Conservation Association's South Atlantic and Gulf Fisheries Director Dick Brame also points out that menhaden are the crux of the matter.
"A healthy and wide-ranging population of menhaden supports access and opportunity for recreational fishermen and many other stakeholders by fulfilling their natural role to feed predatory species, and maximizing their value for all. There are good reasons to be cautious with forage base management," said Brame.
It is paramount that anglers all along the Eastern Seaboard insist that fisheries managers continue to look at the big picture, and take an ecosystem approach to managing the Atlantic menhaden. In 2012, the Atlantic States Marine Fisheries Commission (ASMFC) did reduce harvest by 25 percent from the previous year, a move widely credited for significantly increasing the size and range of those essential forage fish. But the federal laws that require our regional fisheries management councils to manage fish populations sustainably don't bind the ASMFC. So there's no legal consequence if the ASMFC loses its ecological compass again.
They've shown little bravery since 2012. Much to the chagrin of the many folks that worked so hard to convince the commission of the importance of restoring the species, the ASFMC already increased the harvest by another ten percent.
Please contact the Atlantic States Marine Fisheries Commission (which deferred a decision on menhaden harvest quotas until its late October 24-27 meeting) and tell them that as an angler you feel it is high time to set the commercial catch quota only after considering the marine food web, the needs of predatory fish and seabirds. If we are ever to see menhaden in yesteryear numbers from the Carolinas to South Florida the ASMFC must rule to leave enough of the baitfish in coastal waters to support the predator fish, birds and marine mammals that we cherish.
If they hear from enough of us, there's a good chance that the ASMFC will move ahead with what are called "ecological reference points." Through such an ecosystem-based fishery management plan, scientists would measure how many menhaden must be left in the ocean for the species to fulfill its functions in the foodweb. Harvest levels would be decided based upon the remainder. In other words, we can prioritize leaving enough of those oily little fish in the water for the larger species that feed on them.
The ASMFC will put together what's called a "Public Information Document, or "PID," and that document should offer diverse examples of how ecological reference points could work to ensure we protect the most important fish in the ocean, and the many fisheries they must support. We will then have the chance as the recreational fishing public to support a long-overdue transition to and ecosystem-based fisheries management that is much fairer and healthier.