Abel Moocher Reel for Deepwater Gamefish
Designed specifically for the angler targeting deepwater gamefish, the newly announced Moocher Reel from Abel is fit for the task, complete with cork drag system and outgoing click mechanism "for fighting a fish without stutter or hesitation."
Read more in the press release below.
FOR IMMEDIATE RELEASE

ABEL 'MOOCHING' REEL AIMED AT BOTH OCEANS AND GREAT LAKES
CAMARILLO, Calif. – Coastal and Great Lakes-area anglers who target salmon, halibut or other deepwater gamefish have a new tool: the Abel Moocher.
Abel's Moocher reel model is constructed with the California company's patented "smooth as silk" cork drag system which allows for fighting a fish without stutter or hesitation – critical on a halibut, Chinook salmon or lake trout hell-bent for freedom.
"We've been prototyping our new mooching reel for the past 12 months with the assistance of both skilled lodge owners and seasoned fishing guides in Oregon, Washington, Alaska and British Columbia during the 2012 season," said Don R. Swanson, president.
According to Swanson, the tackle manufacturer was founded in 1988 and enjoys the reputation of producing the finest fly-fishing reel in the industry.  "Using our patented cork drag, fully-machined frame and other components – the Moocher opens new sales outlets from Alaska down the Pacific Coast," Swanson continued.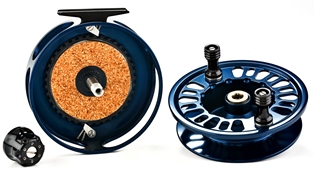 Reels are fitted with an aluminum milled drag knob specifically designed for the demands required by the mooching angler. The spool is coupled with counterbalanced aluminum double handles to eliminate the slightest vibration during a fish's long, high-speed run.
"Machined entirely in the USA from prime grade metals, the Abel Moocher utilizes a newly designed, but field test proven outgoing click mechanism with an increased audible sound for the mooching angler and a super quick line retrieve," according to Swanson.
Abel Moochers are anodized with an exclusive quarter-century old proven system of corrosion-resistant metallurgy developed by the reel manufacturer.
Moochers are available in black, various solid colors and all hand painted fish graphic anodizing patterns. They may be viewed at the firm's "build your own reel" website, www.abelreels.com
Reels are priced at $700 with extra spools listed at $350.
ABEL MOOCHER REEL SPECIFICATIONS
Weight:                       14.5 ounces
Spool Diameter:          4.700 inches
Spool Width:               1.000 inches
Finish:                         Full saltwater anodizing using Abel's proprietary method.
Aluminum:                  Cold-rolled 6061-T650 aircraft grade.
Drag:                           Cork
Price:                           $700; $350 extra spool
For information, contact:
Jeff Patterson, Director of Sales
[email protected]
www.abelreels.com
(805) 484-8789
Abel Automatics, Inc
165 Aviador Street
Camarillo, CA  93010
[email protected]
(805) 484-8789
Bennett J. Mintz PR/Adv.
22370 Mission Circle
Chatsworth, California  91311
818.718.8566    818.648.6168 cell
[email protected]
---
←Previous Story
Podcast Interview: Tim Pommer, Product Development Engineer at Scientific Anglers
Next Story→
Quick Tip: Act Fast When Dropping Something Overboard