"Slow Down, They Say"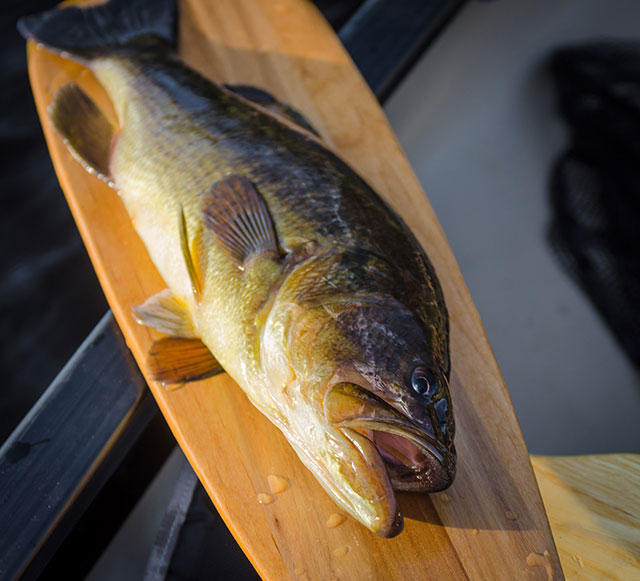 There is a stoplight on my way to work that happens to be in front of a mortuary. There are always a few flatbed trucks idling in the lot, each loaded with one or two wrapped pastel-colored caskets, waiting for the morning delivery manifest. Not really waiting, I guess.  Time means nothing to them. But the daily cliché is hard to miss. Life is short, uncertain, they say.
This week at the office was our quarterly meeting for recognizing employee anniversaries. Twenty-four years. Thirteen years. Thirty-nine years. Feels like just yesterday. General applause for time served. All of this  muted by the eternal hush of the HVAC, conditioning seven stories of rebreathed air, and the buzz of fluorescent lights, blue and unnatural.
It's hard not to run out the door on Friday afternoon as I make for my truck. It's already packed with the canoe on top. Up North is the agenda. Fresh air and natural light. A couple days by myself on an off-the-grid lake with a canoe and a fiberglass rod.
The three-hour drive starts the temporal decompression. A slowing. At the logging-road lake landing I switch off my truck and my connection to the twenty-first century. Iron-orange gravel dust swirls sluggish in the dead calm evening.
The weight of the canoe on my shoulders feels good. It is good. It has been too long. The canoe flexes slightly from stem to stern with each footstep and gentle corrections from my fingers keep it balanced. When set onto the water, it is instantly weightless.
The high tech bent-shaft touring paddle stays in the truck; when I am by myself, I like the traditional beavertail better. Its long, narrow blade trades straight-line speed for smoothness and precise control.  The lifejacket goes under the seat and in front of it lays my rod, a fly box, and a can of beer.
This is it. Calm, clear, dusky skies, a wild lake, and no interrupting outboard motors. The canoe glides comfortably once free of the shoreline grass. With a little extra turn of the wrist, there's no need to remove the thin blade from the water between J- and power-stroke, Progress is silent and gratifying — a bit of Sigurd F. Olson's magic, "compounded of distance, adventure, solitude, and peace."  Presently I'm at the far end of the lake and haven't even thought of making a cast. But I should, so I unhook the popper from the keeper.
The rod is an old Fenwick Feralite Voyageur six weight, like the ones my grandpa fished on this very lake. It works at its own speed and, unlike a graphite rod, can't be forced to work faster with the application of more power. It takes some time before I can feel its natural rhythm: more slowly, it says.
It's early June so vegetation is still sparse on this northern lake, which is not far as the raven flies from the very lakes Sig Olson once paddled. Groupings of young lilypads dot the rocky shoreline and I work my way down — a cast or two to each one, then set the rod down and pick up the paddle. One stroke is plenty to glide to the next patch.
Sunfish try to drown the popper, pulling it under by a feather or trying to suck it down with their characteristic snap.  No bass at first, though. The standard chug, chug, chug retrieve is not working. A pause to think about it, a sip of beer.  Maybe they're sulking in deeper water, or maybe not around at all any more. It's been six or seven years since I was last here. Maybe too late in the day. It's almost eight, and the water has fallen into shadow, mostly, and the birches and pines on the eastern shore are afire with sunset.
Gulp. The popper, having sat motionless for nearly a minute, is gone and then the rod is bent right through the cork. The bass twice wraps and unwraps my leader from the lilypad stems, but eventually comes canoeside where I can grab and admire him for a moment.
My grandpa always called the bass in this lake "black bass." They are largemouths, but the water is so darkly tannin-stained that the fish are almost devoid of markings. This one is indeed mostly black, even his eyes.
Time for one more fish, maybe, before it's too dark to find the landing. But I am still fishing too fast. After one—what I think is gentle— chug, an angry swirl appears just behind my popper. I wait as long as I can stand before giving it a supremely-gentle twitch, just enough to move the feathers. Gulp.
A breath of air shivers the black water and the night's first reflected stars. Dinner and my sleeping bag await. Two more days ahead. Firewood to cut. Trails to walk. No hurry.
*           *           *
On Monday mornings there are usually eight or nine caskets waiting at the mortuary. The trucks don't run on weekends but I guess their cargo doesn't care what day of the week it is.
And then the light turns green and I leave them behind—for now—and accelerate into freeway traffic. I can feel time recompressing. It is difficult at first, back at my desk. I feel alien in this artificial place, working without sweating, creating nothing that can be touched; not progressing, other than forward in time.
But as the days pass the contrast fades.  That's what is most terrifying, I think: that I could get used to it, and not notice the passage of years, decades, my time to do meaningful things. The daily dose of mortality, courtesy of the pastel caskets, seems to help.
Slow down, they say.
I'm trying.