The Best Sunglasses for You
Back when I started fly fishing, someone told me I needed a nice pair of polarized sunglasses. At the time, I could barely afford gas in my truck. I wrote off polarized sunglasses as just another piece of overpriced gear that I didn't really need to be a good angler.
Fast forward to today, and I can't leave the house without a pair of sunglasses. They've become as important to me on the water as my fly rod.
Polarized sunglasses cut glare on the water allowing you to see below the surface. They make spotting fish a million times easier. Also, all the reflected light off water can do a number on your eyes after years of fishing. A good pair of sunglasses reduces eye strain so you can keep tying on small flies for longer. Sunglasses don't make you a better angler, but they'll make you infinitely more comfortable.
But what sunglasses are the best for your fishing? Let's take a look at what you need to consider when buying fly fishing sunglasses.
Lens Color
Not all lens colors are created equal. Certain lens colors are better suited for specific fishing situations. Amber and yellow lenses, for example, are great to use in low light. Folks who fish on lakes or the ocean prefer blue lenses while inshore anglers often opt for green. Now just because a certain lens color is well-suited for fishing the Florida Keys doesn't mean it won't work well high up in the Rockies. I have a few pairs of blue lenses I use when fishing here in Wyoming, and I often use amber lenses while inshore fishing up in Alaska. But if this is your first foray into fishing sunglasses consider the following as a guideline to help get you started:
Amber lenses: Great for low-light, solid all-around choice for trout fishing
Blue lenses: Popular in saltwater fishing, great for lakes as well
Green lenses: A go-to for inshore fishing
Gray lenses: Good for protection in full sun
Yellow lenses: Great for low light
That's far from a comprehensive list of lens colors. Companies are constantly coming out with new fusions of colors as different combinations provide better vision in different circumstances. Gray-green lenses, for example, are designed to excel in full sunlight in both inshore and freshwater fishing environments.
Mirrored Lenses
Generally, mirrored lenses are darker than their non-mirrored counterparts. They're great for most of the day but can be a bit too dark in early morning or evening situations. If I had to pick one pair of lenses to use for fly fishing, I'd opt to not use mirrored lenses. If you can afford a few pairs of sunglasses, though, it's nice to have a good set of mirrored lenses for really sunny days.
Glass vs. Polycarbonate
Another choice to make is whether you pick glass or polycarbonate lenses. Both have their advantages.
Glass lenses are more scratch resistant and offer better clarity than polycarbonate lenses. However, glass is heavier. Polycarbonate lenses are light, extremely durable (they don't shatter), but scratch easily. I've become fond of glass lenses in the past few years, but they're usually more expensive than polycarbonate.
Regardless of which one you choose, both glass and polycarbonate lenses perform the same. An amber lens in glass or polycarbonate will give you the same performance, so you don't need to worry that saving a few bucks by opting for polycarbonate lenses means you're getting an inferior vision experience.
Frame Style
This is mostly a personal preference, but I'd suggest avoiding sunglasses that don't have a full wraparound frame. Aviators, for example, look great, but they don't block light coming in from the sides. When on the water you want as much light protection as possible.
Keeping those features in mind, I've put together a list of sunglasses I'd recommend for any angler. I've personally used all of the sunglasses listed here.
Extremely comfortable frames
Outstanding clarity
Lightweight
The Piedra with Rose Mirror Lenses from Bajío is one of the best pairs of sunglasses I've ever used. The frames are large enough to block out light from all angles, but supremely comfortable. The frames are incredibly lightweight, too. The rose mirror lenses strike the perfect balance of cutting glare without eliminating contrast or adding tint. Of all the wonderful sunglass lenses I've had the fortune to use, the Rose Mirror from Bajío might just be the best ever.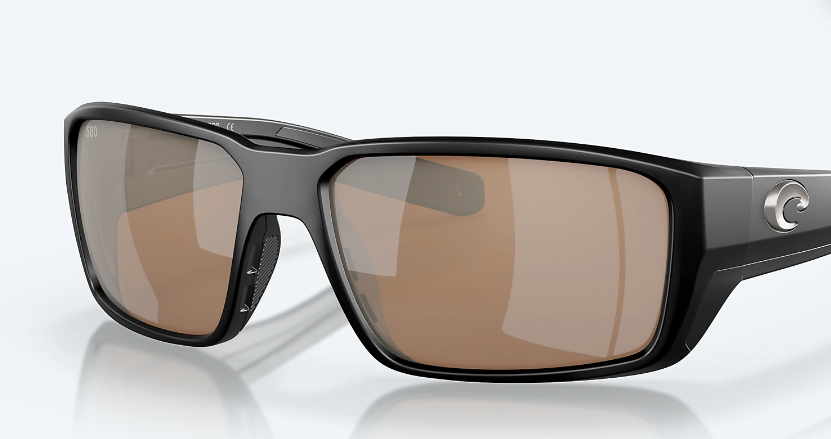 All-around performance
Exceptionally clear glass
Comfortable frames
The Fantail Pro from Costa is one of the most popular pairs of fishing sunglasses. The Fantail frames are large enough to block out the sun, but small enough to fit a wide variety of faces. The copper silver mirror lenses, in glass, are a great all-around option for everything from trout to inshore fishing. I've used these from Alaska to the Rockies, and they've been my personal "daily driver" fishing sunglasses for a few years now. I have nothing but great things to say about the Fantail Pros, as is the case with most everyone who wears them.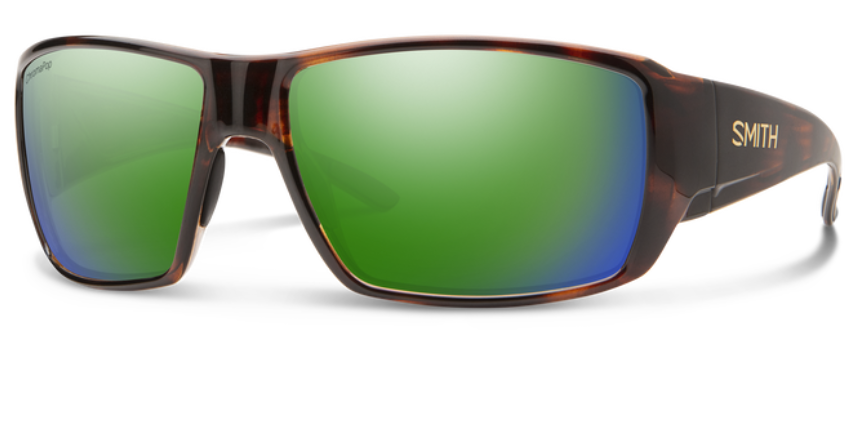 Legendary ChromaPop lenses
Extra-large coverage
Versatile performance
The Guide's Choice with Green Mirror lenses from Smith Optics is a mainstay in the fly fishing world. Smith's ChromaPop lenses are a pleasure to wear because they help make colors pop while cutting glare and increasing clarity. I've used these extensively in different fishing situations throughout Alaska, including deep-sea, river, and lake fishing, and found them to excel in any lighting situation. The Guide's Choice frames are large, so they might not fit those with a narrow face. But the large frames offer a ton of coverage against light from just about any angle.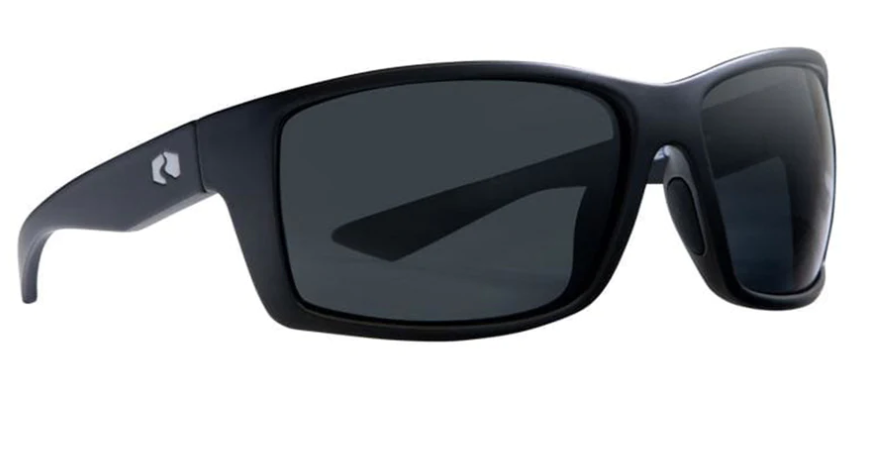 Budget-friendly
Float!
Great value
I first used the Rheos Eddies with Gunmetal lenses a few years ago, and I've had a pair kicking around ever since. These are budget-friendly fishing sunglasses that are made to float if/when you drop them in the river (and yes, they do float—I tried that feature myself). The gunmetal lens is clear, provides plenty of glare reduction, and the lightweight frames do a great job blocking out excess light. If budget is a big factor in your sunglass choice, give Rheos a fair shake.

Lightweight, small frame
Great all-around lens color
Durability
I've had a pair of the Smith Redding with Brown Glass lenses for…a while. I'm not sure, but it's been the better part of a decade. Aside from the usual Smith quality lenses, the frames here are just durable. From drops on rocks to brief swims, my Reddings have been through it all, and are still in great shape. I love Smith's brown glass lenses when trout fishing—they're just great in a variety of fishing situations.
Wrapping Up
A good pair of fishing sunglasses makes fishing more comfortable, and I reckon comfortable anglers are likely to fish better. While the frames you choose will depend on personal preference, make sure you pick a lens color based on the type of fishing you'll do most. Above all, don't leave the sunglasses at home. Staring at the water all day is tough on the eyes, and a good pair of sunglasses will help your eyes last longer.
---