The Best Fly Box for You
I've had the chance to talk with a lot of beginning anglers over the past year, and one question I keep hearing is how to pick the right fly box. This isn't a topic I've ever given much thought, but I decided it'd make a good post in our series here at MidCurrent where I go over how to pick gear that's best for you and your fishing situation.
As that pertains to fly boxes, there's actually a ton here to cover. Box size, width, insert type, clasp type—all those features play a role in determining whether you'll have an easy or difficult time finding the right fly the next time you're on the water.
Let's take a look at some of the different features you can find in fly boxes and how they'll impact your choice in finding the fly box that's best for you.
Inserts and Compartments
The inserts and compartments in a fly box will ultimately decide how well it works for you. As an example, I recently bought new boxes. My old ones were falling apart. I knew I wanted something that wouldn't crush the hackle of my dry flies like traditional foam-insert boxes do. while some boxes boast enough space between their foam inserts and the bottom of the box—theoretically eliminating hackle getting crushed—I found none of them really did as great a job as they claimed. I opted for a compartment box instead of one with an insert for my dry flies.
For nymphs, emergers, streamers, and parachute dries I wanted something that hold flies securely. I wanted a lot of storage in a slim package. Single-page boxes with a slim insert proved to be just the thing for what I wanted.
All this is to say that the box you'll be happiest with depends entirely on what flies you're storing. Foam or silicone inserts are great for nymphs, emergers, and parachutes. If you want a single box to hold all your flies, a box with multiple pages or a two-sided box is your best bet. I've really enjoyed my slim compartment box for dry flies even if they're not as organized as I'd prefer.
In my opinion, it's hard to beat the durability and convenience that silicone inserts offer. They hold flies tight, and don't tear out as quickly as foam does. These have been a game-changer for my fly storage.
Size
As with just about anything in fly fishing, size matters. I prefer small boxes that fit in my chest pack. Even when I'm in a drift boat, I like the convenience of a smaller box. On top of that, I'm happy to have my flies spread out among four boxes—one for dries, nymphs, emergers, and streamers. Some anglers probably prefer fewer boxes, and that's fine. Before you buy a new fly box, though, think through just how many you want sitting in your vest or pack.
Clasp Type
The last feature to bear in mind before buying new boxes is the clasp type. Magnetic clasps are certainly the most popular right now and for good reason. They're easy to open in just about any weather but secure enough that you don't run the risk of the box opening and turning your vest or pack pockets into a mess.
The clasps to stay away from are plastic tabs. These are tough to open if it gets cold and if they get stuck you run the risk of the lid snapping open suddenly and the flies spilling out all over the river.
So, with these features in mind, let's take a look at some of the best fly boxes currently on the market.
Compact design
Outstanding quality
Holds up to 168 flies
The Tacky Original Fly Box is my personal favorite. It's perfect for nymphs, emergers, parachute flies, spent-wings, streamers— basically anything except standard dry flies. The Original has enough room for up to 168 flies, which are held in place by the wonderful Tacky silicone insert. This holds flies securely, but it's a piece of cake to remove them. At $24.95, it's hard to beat the value and user-friendly design that Tacky offers.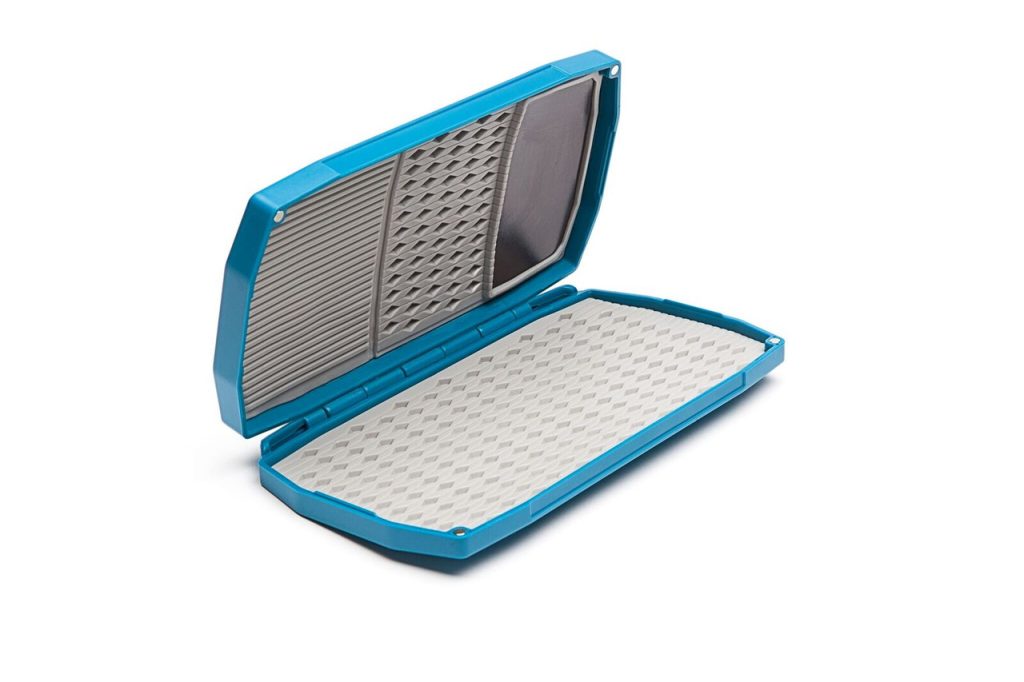 Thin design
Magnetic pad for tiny flies
Variety of foam options
The UPG LT High Magnum Midge from Umpqua is the perfect solution if you fish a ton of tiny flies. It has a built-in magnetic pad that's perfect for holding really tiny bugs. In addition, Umpqua included micro-slits in its foam inserts to hold these tiny bugs even more securely. This double-sided box will hold all the nymphs you need for a day on the water and then some.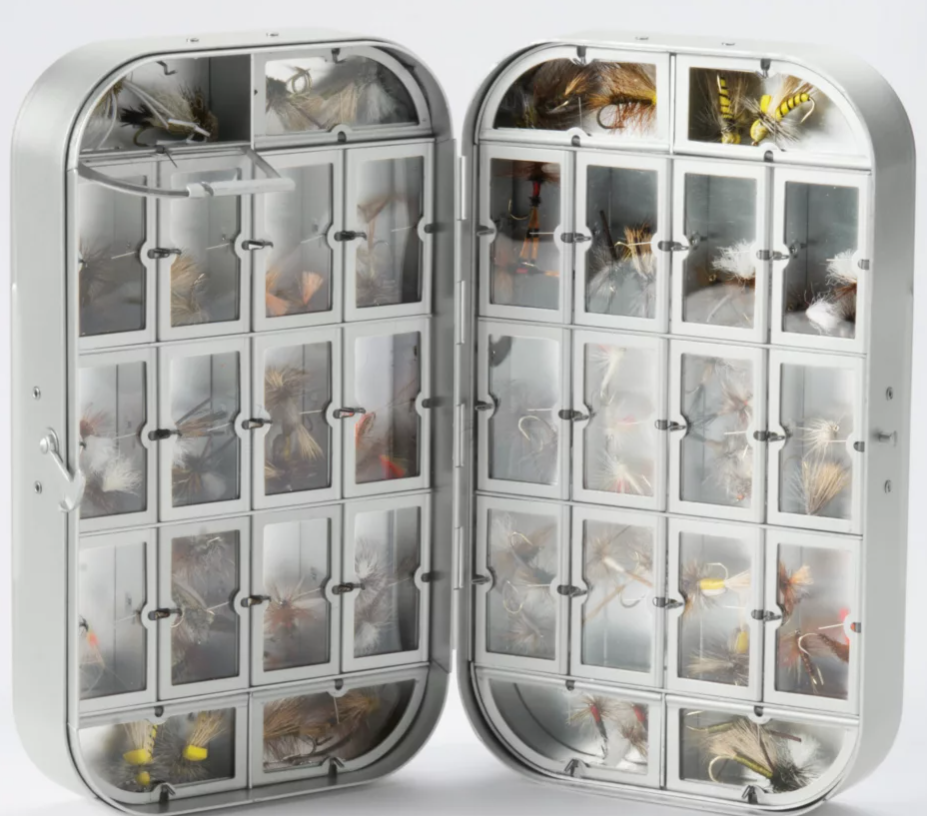 Perfect compartments for dry flies
High quality craftsmanship
Easy access to flies
The Wheatley Signature Box, sold by Orvis, is a bit of an outlier on this list. It's a compartment box, but it's not very slim. However, it makes up for its thicker size due to its impeccable craftsmanship and longevity. Wheatley boxes are known for lasting for years and the Signature is no exception. If you need just one box for your dry flies, this is it.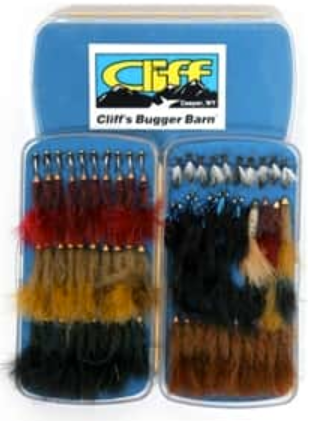 Designed in Wyoming
Perfect for holding streamers
Durable design
Cliff Outdoors has been making great fly boxes for a while now, and the Bugger Barn is perfect for storing your streamers. It's big enough to store your streamers, but not so large that it won't fit in a standard pack or vest. If you fish a lot of streamers, this might be the box for you.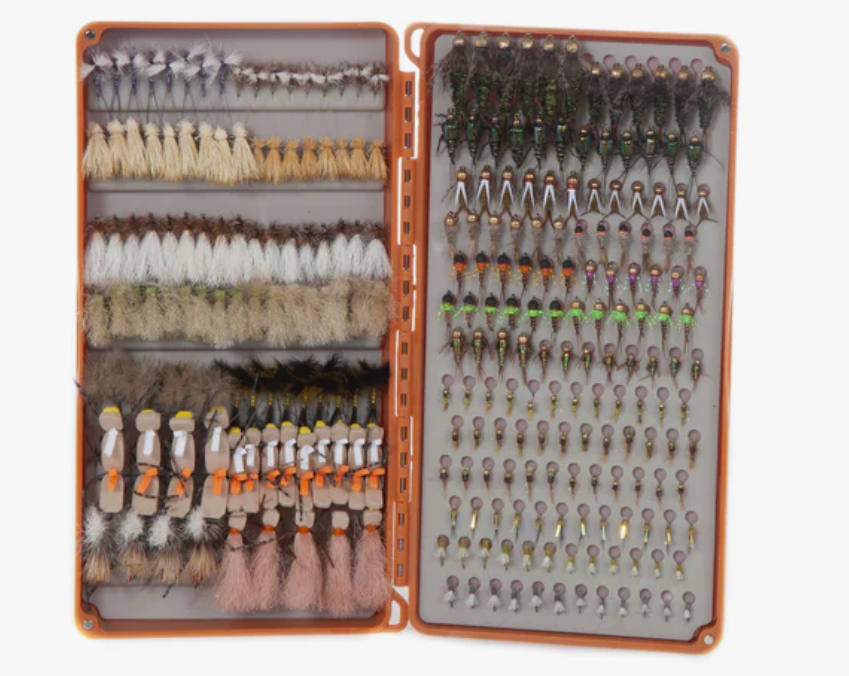 Holds 287 flies
Holds all types of flies
Fantastic Tacky silicone insert
The Tacky Double Haul box holds an astounding 287 flies, with inserts designed just for nymphs and dry flies. The dry fly side of the box features a different silicone insert shape than the nymph side, which limits how much the hackle gets crushed on traditional dry flies. It's this kind of attention to detail that makes the Tacky Double Haul such a great box. If you need just one box to hold almost all of your flies then the Double Haul is your perfect option.
As always, the boxes listed here are just a starting point to help you find the right fly box. Spend some time picking the right box for your own fly storage—and the pack or vest you use—and use this information to help make that decision. If none of the boxes in the list above seem like the right fit for you, consider some of the following:
---