The Best Fishing Vest for You
My dad's fishing vest hung on a nail next to the back door in our garage. Its pockets always bulged with boxes of flies, looking official and intriguing all at once. Once I was old enough that wearing the thing didn't drown me, I started taking my dad's vest without asking. Standard kid behavior.
I would've gotten away with it, too, if it weren't for a run-in with a barbed-wire fence. I caught the vest on a barb, slipped, and ripped it from the neck halfway down the back. Dad was upset when he saw what I'd done to his vest—he'd had it for years—but not as angry as I expected.
"Well, this just means I have to get a new one," he said with feigned resignation. "But you're paying for it."
Pay for it I did. I spent the next few Saturdays mowing lawns, tilling gardens, and hauling away plant waste for neighbors to earn enough money to replace my dad's fishing vest. I'd pocketed just enough to buy my own, too.
For years, I fished with that vest. Its pockets bulged with more fly boxes and useless accoutrements than my dad's, which I wore as some sort of weird badge of pride. Only when the zippers quit working did I think about buying a new one.
By the time I needed a new vest, sling packs were at the height of their popularity. I tried a few, borrowing them from friends. I even reviewed a few hip packs, too, just to see what was out there. None of them offered me the same comfort and convenience that a vest did. This isn't to knock on sling or chest packs; in fact, I primarily use a chest pack now, and it's a wonderful piece of gear. For me, though, a vest made the most sense. And judging by how many companies still make fishing vests, I reckon enough other folks feel the same way.
So, if you're looking for a new fishing vest, you're likely wondering what features you need and which ones are overkill. After fishing with a vest for the better part of two decades, I've found that the following features matter the most when finding the right vest for you:
Pocket styles and locations (more on this below)
Vest material
Weight
I'll explain each of those points in greater detail, but if you consider them in the context of the kind of fishing you do most often (steelheaders will want a vest with bigger pockets than someone who primarily fishes for trout, for instance), you'll quickly be able to narrow down your options and find the right fly fishing vest for you.
Pocket Styles and Locations
Until I reviewed the Orvis Ultralight Vest, I never gave much thought to pocket styles and locations. Pockets are pockets, right?
Well, not exactly.
That Ultralight Vest is still so popular because Orvis created it with the right variety of top-zip and side-zip pockets, ensuring easy access to anything you tucked away. They also stacked the pockets on top of each other, which distributed the weight more evenly and created more storage room.
Pockets for floatant were positioned in an easy-to-reach spot, and big inside pockets were perfect for storing extra leaders, tippet, and bobbers. The best way to describe the layout of this vest is intuitive.
That's what you want in your own fishing vest. A pocket layout that you don't have to think about when digging for a box of emergers in a blue-wing hatch means more time fishing and less time looking for tackle. This is why I highly, highly recommend going to a fly shop to test-fit a new fishing vest. You won't know just from pictures if the pocket layout is right for you.
Vest Material
My dad's old fishing vest was heavy canvas. My first vest was some sort of cotton-polyester blend. Both were fairly durable, but both had the breathability of a bearskin rug.
Especially come summer, when you're fishing with just a vest over a lightweight shirt, the right vest material is important if you want to avoid sweating like a pig all day long. Vests made from some sort of nylon and polyester mesh are the best I've found for breathability.
I'd caution against vests that are completely mesh-based, though. You'd be surprised at how many flies you'll hook in that mesh, and digging them out (especially if they're not barbless) is a quick way to ruin your new investment.
Vest Weight
Lastly, consider how heavy a vest is before you've loaded it down with all your fly boxes, nippers, hemostats, and countless other gadgets. While you want to be prepared for a day on the water, you don't need to bring an entire fly shop with you in your vest. Just the bare essentials are heavy enough that you don't want to buy something that's already hefty.
While a vest with built-in tippet holders and net retractors might look cool, they're not often worth the extra weight.
Wrapping Up
Picking the best fly fishing vest for you depends a bit on where you fish, and what fish you most often target. However, it depends far more on how much tackle you need for a day of fishing. As a guide, I opt for a slightly larger vest because I have to be prepared for every possibility. For most anglers, though, that's overkill. Find a vest that has an intuitive pocket layout, is built from durable but breathable material, doesn't weigh too much, and you'll have found the one that'll last as long as you're able to avoid barbed-wire fences.
With all that in mind, the following list highlights some vests I'd personally recommend to anyone. I've either owned, reviewed, or used each vest on this list, so I can vouch for any product's efficacy.
And for all of you who fish slings or chest packs, don't worry—I'll have a story on those coming shortly.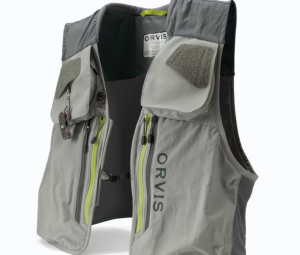 Very light
Durable
Tons of pockets
The Orvis Ultralight Vest might be my favorite vest currently on the market. As its name implies, it's incredibly lightweight, but also durable. I've abused mine for years all over the West from Kodiak Island in Alaska to the Wind River Mountains in Wyoming. It's stained and smells like fish, but the zippers still work and the pockets don't have holes. You can't ask much more than that from a vest.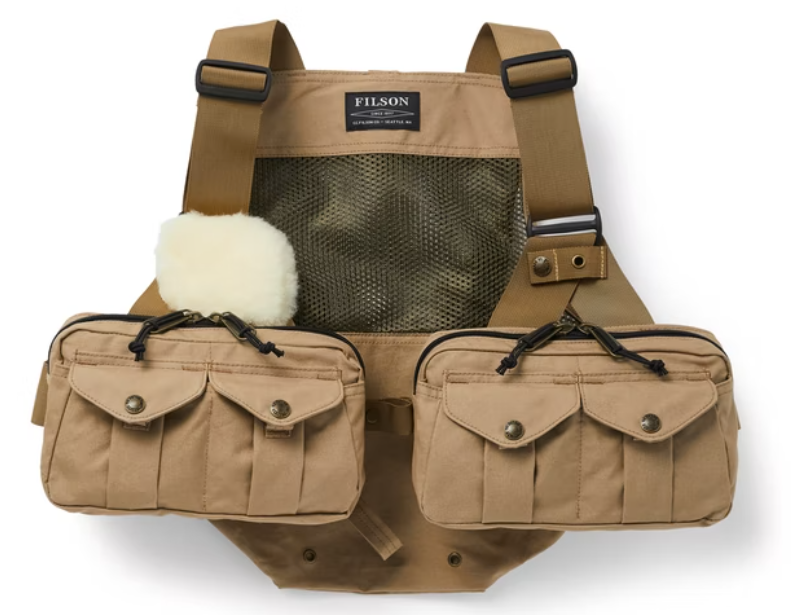 Legendary Filson quality
Lightweight design
More breathable than previous model
If you're looking for something that's absolutely bomb-proof, look no further than Filson. Their products are some of the most durable on the planet, and their fishing vests are no exception. The old Filson fishing vest was heavy and didn't breathe well. This updated version eliminates weight and only uses mesh on the back, meaning you're less likely to hook it with an errant fly.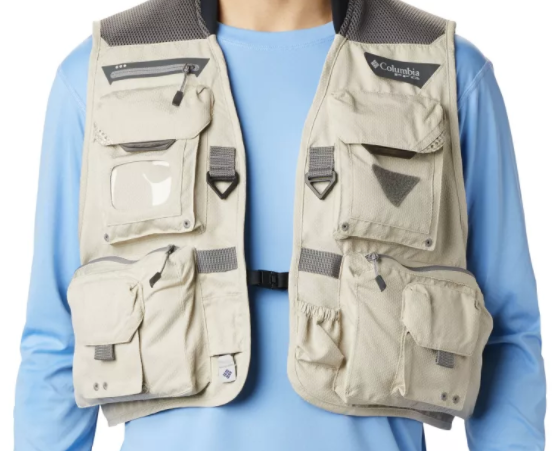 Budget-friendly
Durable
Lightweight
Columbia probably isn't the first brand you think of when you need performance fly fishing gear, but they really do make some fantastic fishing vests. I've owned a few that were really great until I stupidly broke the zippers. Their Henry's Fork V Vest combines plenty of storage room with a lightweight design that you'll find plenty comfortable while on the water.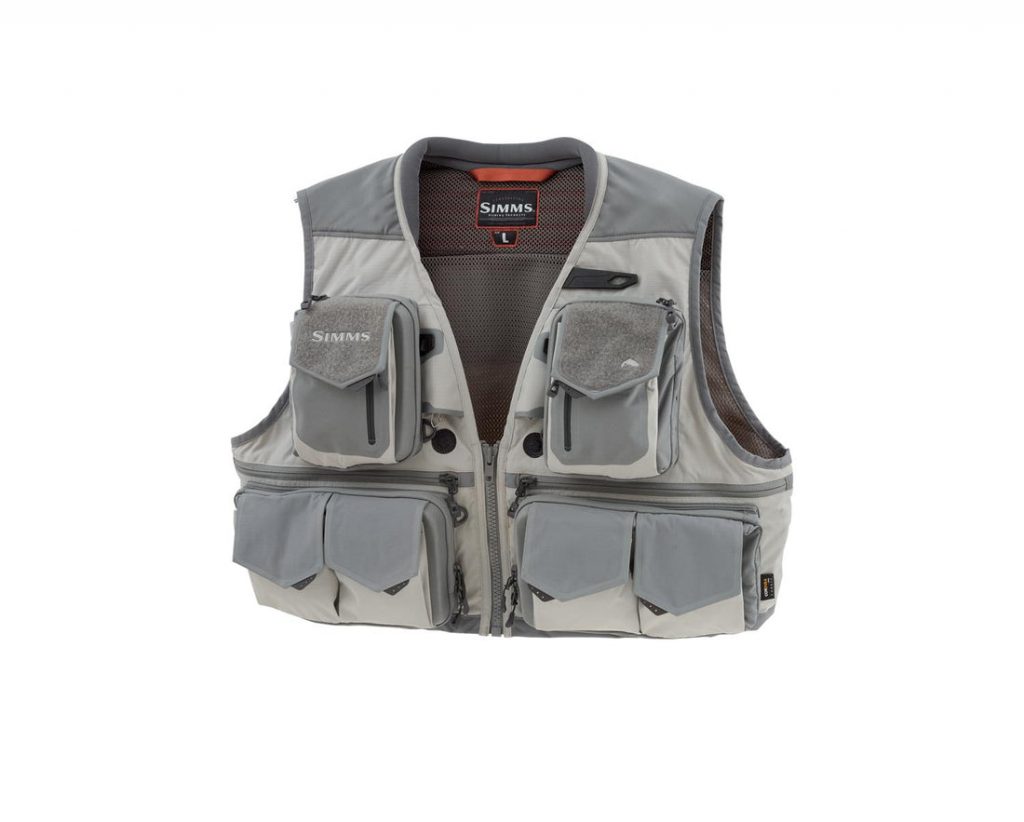 Tons of storage room
Great build quality
Solid design
Simms makes some of fly fishing's best gear, and their G3 Guide Vest is the pinnacle of their vest designs. It incorporates everything a vest needs—plenty of storage space built from durable, lightweight fabrics. Yes, this vest costs more than others on this list, but you'll be hard-pressed to find something that'll last as long or offer as much storage room.
Lightweight
Good storage options
Breathable
Patagonia flirts with danger a bit here with their Convertible Vest, since it's built on a mesh foundation. However, the amount of exposed mesh is fairly low, so you don't run the risk of snagging as many flies as you otherwise might. That aside, this is a fantastic vest that's light, has plenty of storage, and is incredibly breathable. It comes with the well-deserved reputation of durability and quality Patagonia has cultivated over the years.
This list wasn't meant to be comprehensive. It's a starting point to help you find the best fly fishing vest for you. If those options above didn't pique your interest, here are a few others I'd recommend as well.
---