The Best Chest Pack for You
For years I carried all my fishing tackle in a vest I "borrowed" from my dad. After ruining dad's old vest and going through a few of my own, I decided to finally try out a chest pack. I'd used slings and hip packs before, but never really found one I loved. I was skeptical about chest packs for the same reasons—they're not vests, and I've always used a vest. Why bother changing?
It turns out I just needed to find the chest pack that was right for me, and the switch to it from my fishing vest made a ton of sense. I haven't worn a vest in a few seasons now, and I have all the tackle I need for a day on the water tucked into my chest pack.
Not all chest packs are created equal, though. Over the past few seasons, I've come to realize that a few key features separate the good chest packs from the ones that just didn't cut it for me.
Compact Storage
One of the upsides to a fishing vest is the sheer amount of junk you can stuff in one. That's a blessing and a curse, since it's definitely possible to have too much tackle while on the water.
The chest packs I enjoy the most have all featured a fairly compact design. They have enough room for a fly boxes, extra spools of tippet, floatant, nippers, and a few other tools. That's really all you need for a day of fishing, and I like simplifying what I carry while on the water.
Streamlined Design
This goes right along with a chest pack being compact. But by streamlined I mean that the chest pack is designed in a way that minimizes opportunity for fly line to snag on it. Few things are as frustrating as having your line snag on your chest pack when trying to execute the perfect cast.
Look for chest packs that have rounded edges and zippers that are either concealed or small enough to stay mostly out of the way. Also look for chest packs that have recessed tool docks, so your nippers or forceps aren't hanging out to snag fly line, either.
Comfortable and Simple
The best chest pack in the world won't get used if it's not comfortable, and ditto for making your tackle easy to access. A chest pack that easily and simply adjusts to fit over your coat, and that you can wear for a day while hiking into a remote lake, is ideal.
By keeping these must-have design features in mind—and pairing them with your own list of must-haves—you can easily winnow down the flooded chest pack market to find the one that's best for you.
The following list showcases some of the chest packs I've used that I enjoy the most. I've either used all the ones listed here or know folks who have. As always, the products here aren't listed in any certain order, either.
Lightweight
Compact design
Doesn't snag fly line
The Orvis Chest Pack is what made me finally ditch my fishing vests for good. It's light with a small footprint, comfortable, and doesn't present a lot of opportunities for fly line to snag on it. I particularly love that it integrates with the Orvis Bug Out Backpack, as well. I've worn the Orvis Chest Pack on day-long trips into the backcountry and while rowing clients down the river in my drift boat. It works well in any situation and doesn't get in the way.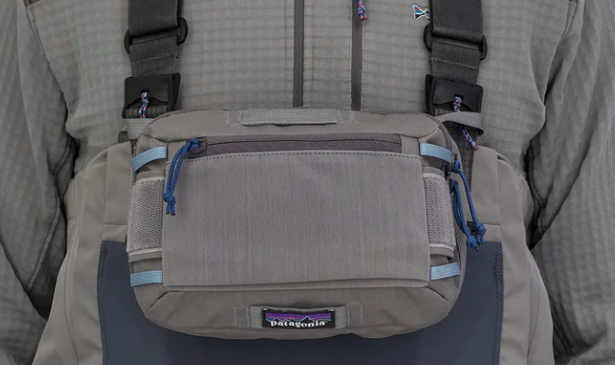 Clips directly on to waders
Low-bulk design
Compact
The Patagonia Stealth Work Station is an interesting chest pack, mostly because it's not just a chest pack. This pack easily attaches to your waders, or to other Patagonia backpacks. That's the sort of flexibility anglers need from their gear. Featuring a large zippered main pocket and two zippered accessory pockets, the Stealth Work Station has just enough room to fit your essentials for a day on the water. If you want to pack light and still have enough tackle, the Stealth Work Station is a great option.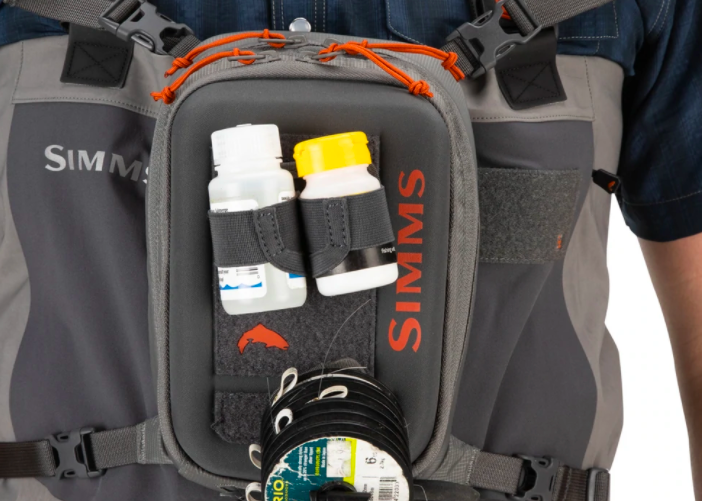 Built from durable ripstop fabric
Integrates with other packs and waders
Integrated tippet caddy
The Simms Freestone Chest Pack is another chest pack that integrates with other products. In this case, Simms designed it to work with other backpacks and waders within the Simms lineup. I'm also a big fan of the integrated tippet caddy on the outside of the pack, which frees up more room inside for fly boxes. The inclusion of a key clip inside the pack is another good design touch from Simms.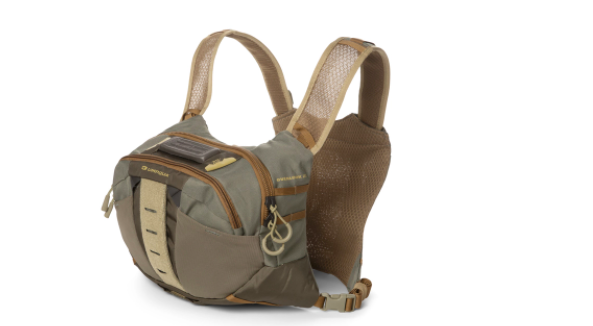 4-point harness for comfort
Net holster on the back
Different back options
The ZS2 Overlook 500 chest pack from Umpqua is one of the more unique offerings on the market. It features a solid 4-point harness for a more comfortable fit, and you have the choice of two different back options: a flat mesh back, or a full 500 cubic-inch pack with a net holster attached. That gives you a bit of extra room without adding the bulk of a full backpack. Oh, and the pack has plenty of room, zippered pockets, and recessed tool docks to keep all your tackle at the ready without it snagging fly line.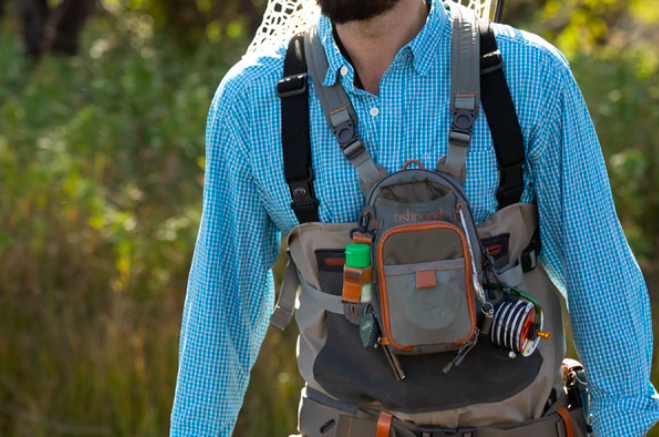 Slim, compact design
Integrated net slot
Hypalon tool attachments
Fishpond has always made quality products, and their Canyon Creek Chest Pack is no exception. This is the smallest, slimmest pack on the list, so it's perfect for the ultralight anglers out there. The integrated net slot on the back is a nice touch, as is the front mesh pocket that's perfect for holding gear you need to access frequently. This whole chest pack is less than $100, too.
Now, if none of the chest packs on that list above really fit all your needs, then the following ones are also worth checking out:
Chest packs are a great option if you're looking to consolidate from your vest or sling. They're comfortable, small, and light, with enough room for all the tackle you need while on the water.
---