Summer Smallmouth Rod Roundup
For Western anglers, summer means trout on terrestrials. But throughout the Midwest, East, and Upland South, summer means brownies of the non-salmonid sort. Call them brown bass, bronze bass, tiger bass, or just plain ol' smallmouth, when the cicadas are buzzing and the creeks slow to a gentle meander, pursuing Micropterus dolomieu is on our minds. There's simply no finer place to be on a muggy day than knee-deep in a cool stream with fly rod in hand and smallmouth in the vicinity.
While you'll need a few rod options to effectively catch different species of bass in different types of moving water, for smallmouth in wadeable creeks the six-weight shines brightest most of the time. But not just any six will do. There are a few key characteristics to look for in choosing the perfect stick for summer smallies.
A Moderate-ish Fast Action
There is, perhaps, nothing in fly fishing so pretentiously important yet so unquestionably subjective as the minutiae of dividing rods into action subcategories. Nailing down solid criteria separating one label from another is nigh on impossible because it's all relative. That being said, I prefer what I think of as moderately fast-action rods for smallmouth in the creeks. One reason is that I ask my smallmouth rod to handle a wide spectrum of fly sizes and styles. I might be throwing a small weightless streamer toward the water willows for a while. Then I might switch to a lightly weighted bugger for some riffle drifts. Then I'll tie on a dumbbell-eyed, rabbit-furred, four-inch leech to probe a deep pool. Those rods I determine to be moderately fast-action seem to best cover all those flies without sacrificing too much in either power, accuracy, or connectivity.
Also, with a more moderate rod, you can feel the smallmouth's muscular charges distributed and absorbed across the entirety of the rod. I can "experience" the fish in all its wildness just a bit better. I like that.
But the main reason I appreciate the more languid stroke of a rod that's a tick or two under lightning quick is because it's not as tiresome. While sight-fishing for smallmouth is a bucketful of fun, opportunities to do so are often limited. Blind casting is the norm, and four or five hours of continuously powering a super-stiff rod wears me out. I prefer a rod that does at least a little of that work for me.
Nine is Fine
A nine-foot rod strikes the perfect balance between utilitarian needs, weight, and ease of transport along the creek bank. Quickly picking up line, targeting a swirl or a bass chasing minnows, and firing a cast all in one motion is a must-have ability if you want to catch more fish. Nine feet of rod makes that easier than a shorter rod and it's still a nimble package.
Getting a good drag-free drift is also desirable for bass in more situations than you might think. Mending and keeping fly line out of the water is easier with more rod.
Weight
A few ounces one way or the other has never affected my arm exhaustion nearly as much as a rod's action. Still, lighter is better and all else being equal I'll take the featherweight, please.
Given those criteria, here's a list of four six-weight rods and one five-weight rod to consider for your hot-weather creek forays into smallmouth territory. These are four-piece rods paired with the line size they were built for. The workouts included lawn casting with size 10 dries and then size 2 poppers and Clousers along with time on the water between recent deluges. All are more than capable of handling nearly any smallmouth situation you encounter in the creek and are listed here in no order of preference.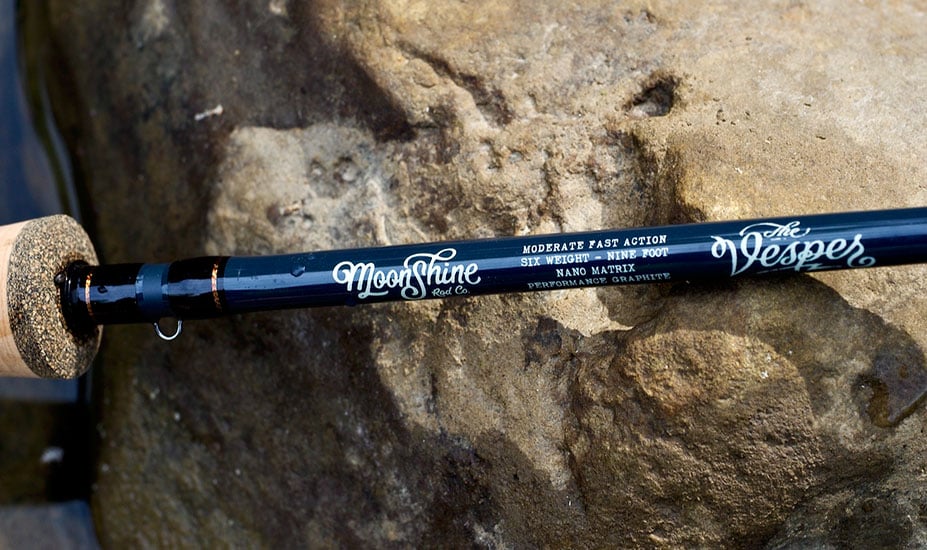 Mouth-watering gorgeous
Lightweight
Perfect action for a smallmouth creek rod
The sentimental favorite—my ancestors from Appalachia and the Ozarks include a few bootleggers—is smooth as a good jar of corn squeezins. The Vesper (a "vesper" is an evening prayer) is Moonshine's shining star and rightly so. This rod's action was an answer to my prayers, and I believe it's perfection for smallmouth fishing. Moonshine says it's all about the blank constructed of "high modulus, nano matrix materials which net lighter, stronger and faster-recovering tools."
Bonus point: The Vesper comes with an extra tip for when the inevitable happens and a clumsy Clouser cast cracks the one you're currently using.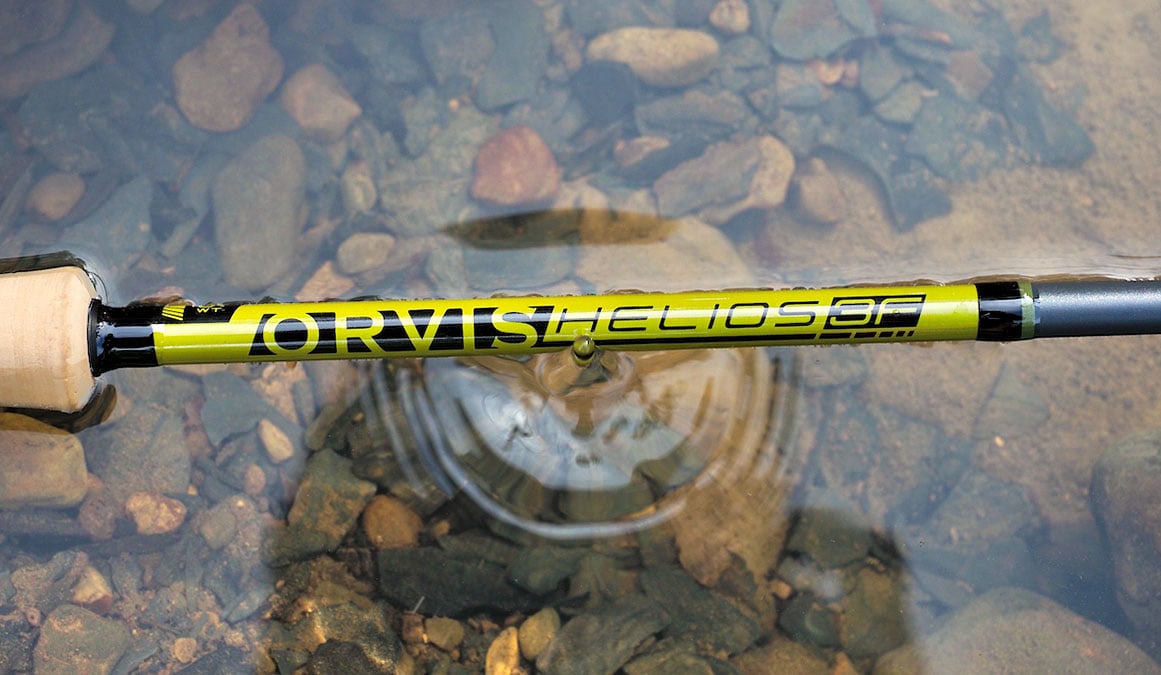 Versatile with a capital "V"
Expected quality
Delightful caster
The 3D's more refined sister delivered every fly I tried with exactly the power and precision I expected, and it felt incredibly good in my hand while doing so. The Helios 3F might be the most versatile tool of the bunch, and I would not hesitate to fling fatline with it in various situations where I might normally choose a more specialized rod. It also casts like that cool breeze ahead of rain on the tag end of a sweltering day—comfortably crisp.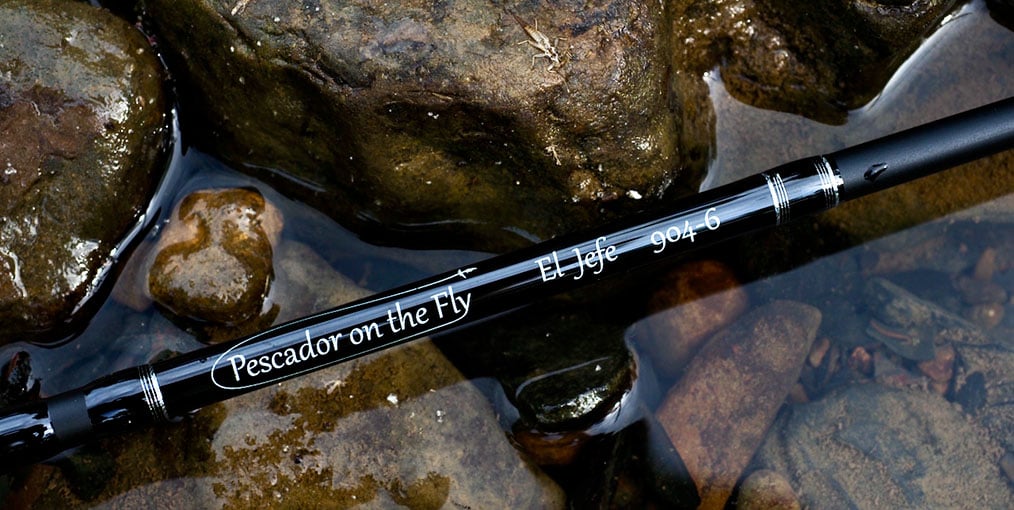 Extra rod tip included
Highly sensitive
Quick but still kind to the arm

The Boss from Pescador on the Fly was the biggest surprise of the group. Pescador on the Fly is a small, family-owned business that I wasn't familiar with. The company "sources the same blanks as some of the larger rod companies, upgrade the components, and bring them direct to the consumer eliminating the middle men." El Jefe was the fastest rod in this lineup and delivered an exceptional tactile connection to the fly. It would be my top choice for fishing heavy flies in deep pools.
El Jefe also includes an extra tip. You know you're going to need it.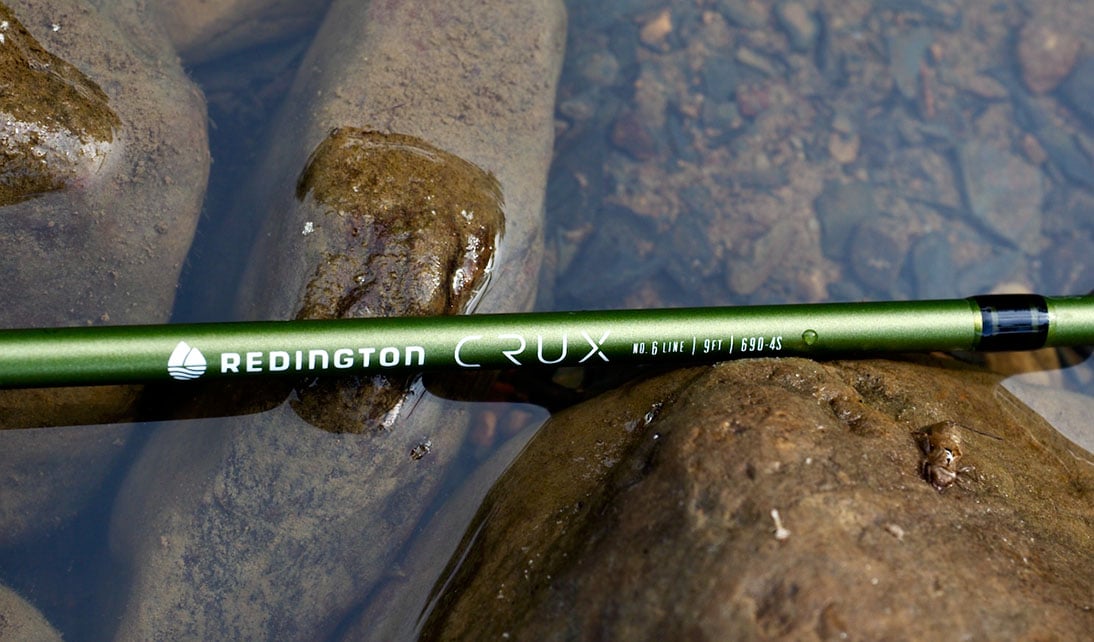 Power with control
Easy-on-the-eyes green trimmed in black
A work-horse feel that inspires confidence
Second place for sentimental favorite because I love green. But aside from that verdant summer aesthetic, the Redington Crux is a capable and commanding smallmouth rod. Coming in just a notch below El Jefe in speed, the Crux loads a little easier and throws line a country mile. If I could double-haul worth a damn (my single is stellar, by the way), I could throw the whole spool with it… maybe.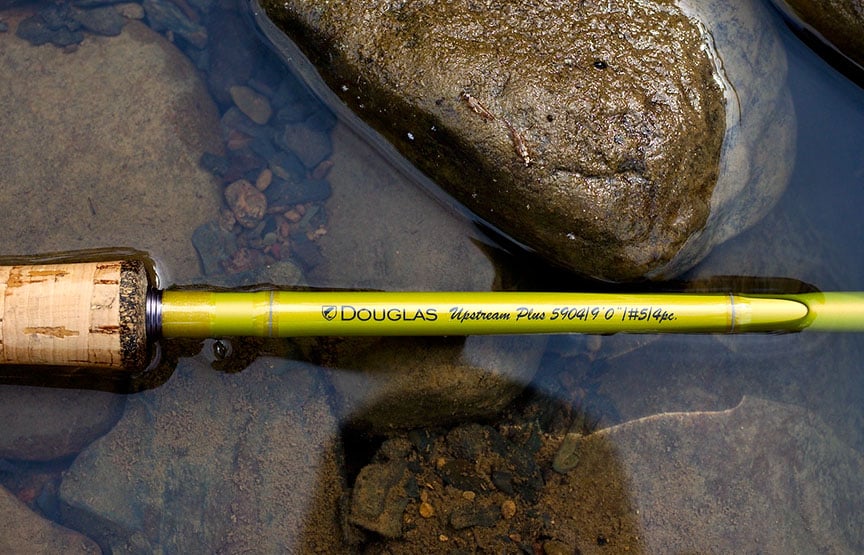 Sweet, sweet action
Unique and eye-catching look
Surprising power
This darling little five-weight will be my smaller creek/smaller fish rod of choice, and suspect it'll sneak into my hand on larger waters/larger fish trips as well. I was, of course, expecting the Upstream Plus to lay down smaller flies with a dainty touch. But when that five-weight line hauled a too-huge popper way farther than it should have, I swooned. And feeling a fish on the Upstream Plus is pure summer joy… like blackberry-cobbler-with-a-scoop-of-vanilla summer joy. The action is the softest of this group, but still offers plenty of muscle. Also, it's a beaut, and I feel classier when fishing with it even while wearing cutoffs.
This is by no means a complete list of smallmouth-worthy rods. A few others I've fished that are noteworthy:
---