Gear Review: Winston Pure 8′ 4-weight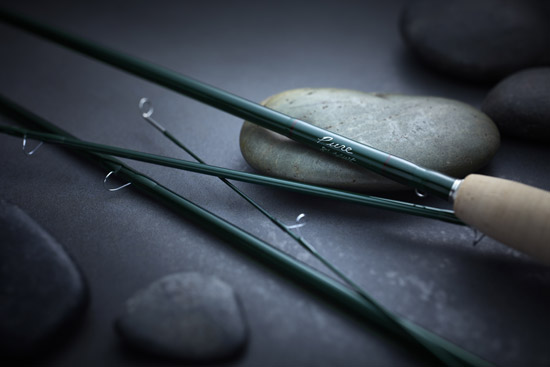 The Winston Pure won the award for Best New Freshwater Rod at the 2018 International Fly Tackle Dealer show. It's received numerous other accolades since that time, and I heaped on the praise after fishing the 9′ 4-weight.
So, why am I writing another review of this rod so many years into its lifespan?
Until recently, I hadn't fished the vaunted 8′ 4-weight configuration, which is widely regarded as the ultimate length and weight for dry fly fishing. Winston's long history of building excellent dry fly rods gave the 8′ 4-weight Pure otherworldly expectations. Over the past few years, I've come to enjoy fishing dry flies more than anything else, so it made sense that I needed to fish and review what many folks were calling the best dry fly rod Winston ever made.
After some quality time with it—including during some great blue-winged olive hatches—I'm fond of this little rod. It's more versatile than some of my other dry fly rods, but it still feels decidedly like a Winston. The power is there to lift long leaders and a lot of line, but the finesse needed for fine dry fly work is present, too. Overall, it's a wonderful rod that does everything, and sometimes more, that you could ask of an 8′ 4-weight.
Fantastic Action
While many Winston aficionados are quick to dismiss any new rod from Twin Bridges as not as good as the old IM6 and WT sticks, the 8′ 4-weight Pure feels more like those old rods than anything I've cast recently. It has a wonderfully moderate progressive action that loads deep in the blank. Yes, the Pure is a bit quicker than the old IM6 rods, but in the right ways. The Pure has far better torsional stability, tracks straighter, and has less swing weight. All that combines to make the 8′ 4-weight Pure one of the best casting experiences I've had with a rod in years.
At all normal distances—from 10 to 60 feet—the Pure is light in-hand and extremely sensitive. I can cast a small blue-wing off the tip at 10 feet as easily as I can lay down a Last Chance Cripple at 50. Not once did the Pure ever feel like it was losing its silky smooth touch.
Soft Tip
It shouldn't surprise anyone, but the Pure has a soft tip section. It absorbs the runs and head-shakes of big trout, saving your tippet to snap another day (ideally, never, but we don't live in an ideal world). And I particularly enjoy how the soft tip makes the 8′ 4-weight Pure such a great tool to use in close on smaller water. When you need an accurate, soft 10 foot cast, you're usually casting only leader. A lot of rods struggle with casting that leader accurately, but the Pure's tip is soft enough to load under the weight of just a leader and fly.
Accuracy
I mentioned this earlier, but the Pure boasts some great torsional stability, especially for a 4-weight. Past 60 feet, the casting can get a bit squirrelly, but that's not why you buy an 8′ 4-weight. You buy one for the precision work it does at reasonable trout fishing distances.
I will say that the Pure is noticeably more accurate than any of the IM6 and WT rods I own. Since the Pure has less side-to-side movement during the casting stroke, it's inherently more accurate than previous generations of Winston's great dry fly rods.
Swing Weight
With the Pure being such a light rod to begin with, it's not surprising that it boasts very little swing weight. Even with a lot of line out, the Pure never felt heavy while casting, which means you can fish it all day without getting tired.
Continues the Tradition
Fly anglers are, I think, suckers for tradition and routine more than other sportsmen. Which isn't a bad thing. For instance, it means that we like things to be as close to the way they were years ago. The Pure carries on that tradition because it feels like a modern version of Winston's classic rods. It's light, lively, and feels like it belongs in the Winston family.
Overall, the Pure is one of the best rods Winston has made in years. It does everything you'd expect from a dry fly rod built by the folks in Twin Bridges, Montana. With a soft tip and inherent accuracy, the Pure very well could become a cult favorite like some of Winston's rods of yesteryear.
---