Gear Review: Ross Evolution LTX Reel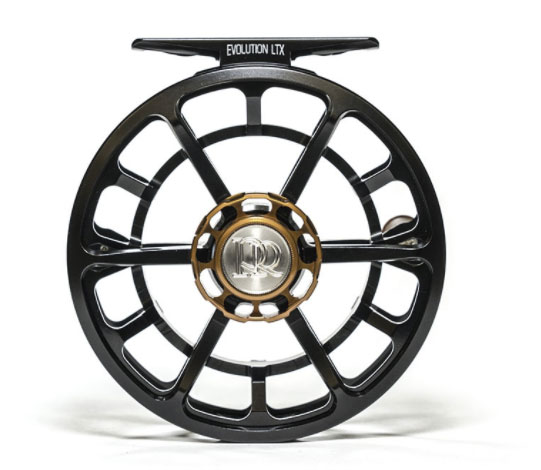 I reviewed an Evolution LT in 2015, and it already had a formidable drag system: smooth, powerful, impenetrable, maintenance free and rinsed off in a snap. What more to ask for?…
How about a drag system that's beefed up quadruple-fold? The Ross Evolution LTX is four times stronger than its predecessor. It's easy to be blasé about reels these days, simply because many manufacturers offer lighter, stronger models, but the Ross Evolution LTX demarcates its category: its strength-to-weight ratio really vies for a new industry benchmark. I test reels on water, and then I hand test again at all drag settings. I discovered that the LTX (billed as a modern trout reel in Ross literature), can easily be employed for much larger fare. I don't feel like I'm going out on a limb by suggesting you can use this reel for a light saltwater excursion (the LTX is in fact saltwater rated). This is a no fuss, meticulously designed, stream-lined drag system based solely on an oil-impregnated bronze bushing that rotates on a stainless steel spindle: a minimalist and hyper-effective system.
All of this brute force is packed into an impressively light package.
As per Ross Reels: The new Evolution LTX reel is a fusion of its forebearer, the Evolution LT, and the (recent) Evolution R reel. Ross reel aficionados won't need more than this to go on. For the rest of us, the former is a notable reel for its strength-to-weight ratio, the latter notable for its drag performance.
Some important design features: highly "skeletonized" spool and frame, and a bell-shaped arbor that helps self-level the fly line across the spool face during fast retrievals. In addition, there are two common Ross features that are rapidly becoming industry standards: a line channel in the spool that cleanly buries backing arbor knots, and a phenolic handle that increases grip when wet. The LTX deserves a close look if you're scouting for a hi-performance workhorse.
Other notes: Balances best with new-gen rods. Comes in four sizes that accommodate line weights 3 through 8.
Available April 2018