Gear Review: Patagonia Borderless Cargo Pant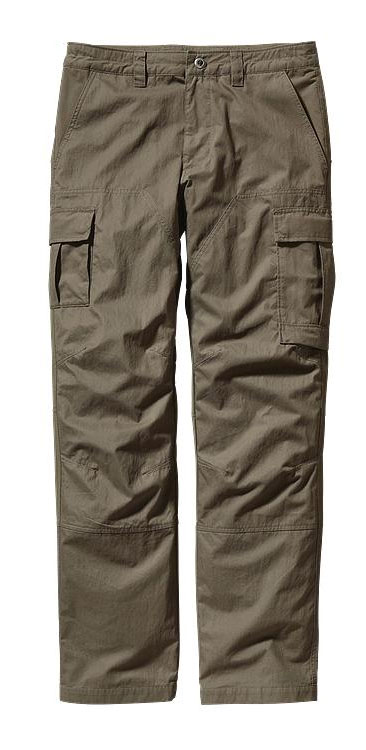 A while back, I reviewed the Patagonia Hybrid Pack Vest – a minimalist and highly functional vest that's built to last and of course features enough space for your fly fishing essentials. I gave it a solid rating.
Since then, I received a few emails saying "Thanks for the recommendation." One of the emails went a step further and asked if I would ever consider fishing without a vest (or any kind of a pack) at all. Great question… I certainly found that the idea was appealing, but wasn't quite sure if I could pull it off with any degree of success. Still, I enjoy this kind of experiment, so, limiting myself to only a ball cap, shirt and pants, I came up with a plan. Here it is:
Note: if you're the 12-fly box type who insists on carrying two different types of flotant, stop reading here. If you can pare down to three or perhaps four medium-sized fly boxes, proceed…
Step 1: Affix fly patch to ball cap.
Step 2: Obtain any one of the multitude of fishing shirts available that sport two, sometimes as many as four, fly box-sized pockets. These shirts often have strategically integrated loops to attach nippers and small tools to. Wallet/keys/PEDs go into a zip-lock bag and into one of the upper located pockets. Forceps are clipped to a pocket flap or collar. Remaining pockets are for fly boxes.
Step 3: Tippet lanyard goes around neck. If you use flotant, it's attached here.
Step 4: Pants. Forgoing a vest/pack means your pants better make up for some of that lost—and valuable—real estate. I spent some time browsing on-line and concluded that the vast majority of pants don't make the grade for a wide range of reasons. Here's one model that does, followed by reasons why.
Patagonia Borderless Cargo Pants are made for hiking, trekking, and fishing. These cotton/nylon pants include a stretch-woven fabric (nylon blend) at the back yoke and knee for mobility, and ample cargo pockets for stowing gear: fly boxes, for instance. There are also two angled hand-warmer pockets that can double for smaller supplies and keep things organized.
These are multi-seasonal pants, so full leg protection from wind, moisture and dirt are givens, but the fabric blend and cut allow you to comfortably roll up the pant leg (the straight-leg tailoring means circulation will not be cut off at the knee), and easily turn these into a short. Note that unlike many other nylon pants, these stay rolled up. Belt loops feel smooth under a loaded waist belt (in case you break down and use that waist-pack, which we know you threw into the car at the last moment).
Note that Patagonia treats these pants with a DWR (durable water repellent) finish.  The feel is akin to lightly waxed cotton, and a slight rain or boat spray isn't enough to penetrate the pants. If you do get caught in a downpour, drying time is only 12 minutes in a light breeze. Note that that DWR finish also goes some way in repelling dirt.
Stitching and fabric type approaches military grade: these pants are built to last.
Versatile, quick drying, multi-seasonal, excellent carrying capacity and durability mean that these are my go-to fishing pants—whether I'm going minimalist or not.
Highly recommended.