Fly Rod Review: Redington Vapen Red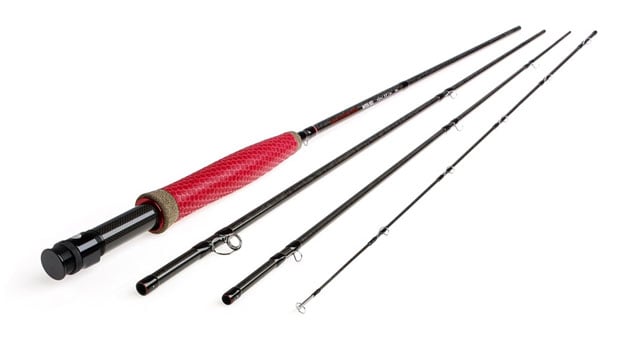 At the time of this writing, runoff was in full swing here on Colorado's Front Range. Snowpack falls through small streams with whitewater roar, and reservoirs slowly fill back up again after last year's dismal low. The pounding snows of May came through at the end, like any good play in a game—winter's trump upon trump. Complete with cheering on my part.
And so on a brilliant Sunday, the benefits of being a multi-species angler was evident: I could still find good fishing. The water levels on my favorite mudflats were higher and murkier than they had been. Not much, but the buoy line on the best of the beaches had been placed, holding through the summer season to protect shoreline bird breeding habitat. The two always go together. Tailwater anglers deal with each other and park-carpers the homeless.  Large lake carp fly fishers combat pelicans, bloated prairie dogs, and protective large-homed old women hissing out their windows should you get too close.
We would be wading today, far and deep—long rounds that would leave us all dehydrated and seeing phantoms. But that comes with the territory. This was the perfect opportunity for taking the new Redington Vapen Red for a go.
With revolutionary graphite building techniques, including a wrapped ribbon of high density carbon inside the blank and another counter-wrapping on the exterior, Redington's "X-Wrap" construction enables this rod to be extremely light in hand. I carried a belying 5 weight—like theater set rocks made of painted Styrofoam, you'd never guess just from looking. Except, you do notice an exterior difference when (and if) you look closely. The counter-worked ribbons shimmer the length in the sun.
Light it may be, but there is no sacrifice on power. The Vapen shoots line accurately, even at far distances, and turns over flies on roll casts with little effort (even weighted streamers). It's a solid, fast-action taper that fought and landed carp well.
The one critique I have of this rod is the "PowerGrip" polymer handle option in place of traditional cork. Now, call me a Luddite and you wouldn't be far off—like people who spell my name with an A. The essence is there. Yet I'll readily admit when I like "old ways" better, for no reason other than nostalgia, like paper pages and horseback travel. And this is not one of those instances.  Developed with Winn Grips, a company specializing in golf club holds, the unique grip might be flashy, but it's soft. And like firm beds and shoe soles are better for your back and feet, I've found a firm cork to be better for your cast. Some energy, I felt, was compromised with the added give of the red grip, even while the opposite was in fact touted. And so my preference and advice would be: stay with the cork.  But if you like softer golf club grips, you may see this as an interesting improvement on the tradition.
That said, Redington's Vapen is a great casting rod. And at a reasonable pricepoint, retailing at $299.95 (cork handle) and $349.99 (red polymer), it is well worth consideration.
Available August 2013, ranging in weights from 3 through 12.