Dressed to Fish
Reviewing fishing apparel isn't as easy as you'd think. There are times when an attributes become apparent only after several outings: fit and comfort are immediately apparent, but functionality and durability take a while to gauge—and appreciate. In late winter, I asked several manufacturers to send in fishing apparel for testing.
I've put shirts, pants, shorts, footwear (etc.) through the paces a number of times, and as you'd expect, there's a good supply of mediocre items to be had and there are duds out there as well, but they are increasingly becoming the exception to the rule. Also, it has become apparent over the last few years that apparel manufacturers have been consistently upping their game. The main improvements come from fabric R&D and cut: heat retention/dissipation are on designers' minds, as is the number of (fabric) panels needed to create a functional, comfortable garment. Top manufacturers spare no expense when creating full-featured clothing, employing as many panels as required to produce river/ocean-worthy clothing. The items below are the ones that stood out from the pack.
Benefits of 100% poly (stain resistance), but brushed up to give it a cotton feel and good heat-retaining properties. Fabric is deceptively light, but do not mistake for a warm weather garment. Designed by people who fish, so offers a great balance of casting comfort/precision fit. Quick snap buttons. Dry time: fast.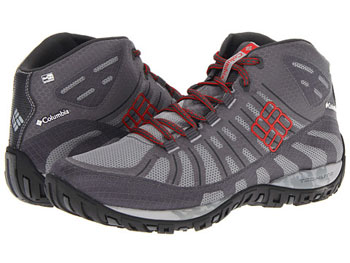 All-around footwear is perhaps the most difficult item to design, so most designers come up with specialized products—not a bad thing. If your fishing day is varied in terms of conditions and terrain: slippery boat docks, boat surfaces, trekking through woodland and so on, Columbia's Peak Freak Enduro Mid OutDry is a solid bet. Features an Omni-Grip combination tread to handle a wide assortment of surfaces, designed as a low-cut "boot style" shoe, yet is very light and breathes well for a shoe of its type. Made primarily to handle lower temps but can be worn without socks if the temperature soars. Meant as a trekking shoe, and happens to make an excellent fishing shoe: can handle a good splash while keeping the inside bone dry.
Called a guide shirt because if allows for a full range of motion—as far as a full lean to untangle a client's mess of a cast. 100% nylon, and (a little surprisingly) excels in warm weather due to its patented weave, which is tight, yet somehow offers excellent breathability. Good sun protection, two large chest pockets plus one zippered pocket. Minimalists can just about get away with substituting this shirt for their pack. Refined cuffs: high style points. Dry time: med/fast.
Ultra high-quality poly/cotton blend that features a clever microfiber pocket for your sunglasses or anything else that you don't want scratched up, such as your MCD—or simply for cleaning your lenses.
Cast cut fit features many Howler Brothers styling points: side slits, wide cuffs, double stitching throughout, slightly vented back yoke.
Cotton trade-off means dry time is not optimal, but nonetheless it's one of the best-made warm-weather fishing shirts currently available.
Ideal travel pant: 100% ultra thin nylon—takes very little space in a carry-on, precise fit/tapered cuffs for near zero wind flap (so perhaps not the best choice for heavier set persons), Velcro cargo pockets for ample storage (two fly boxes), rear zip pockets, dry time very fast. Blood, muck, etc., washes out very well. Pockets feature drainage holes, as all proper fishing pants should.