Fall Trout Fishing: Experts Speak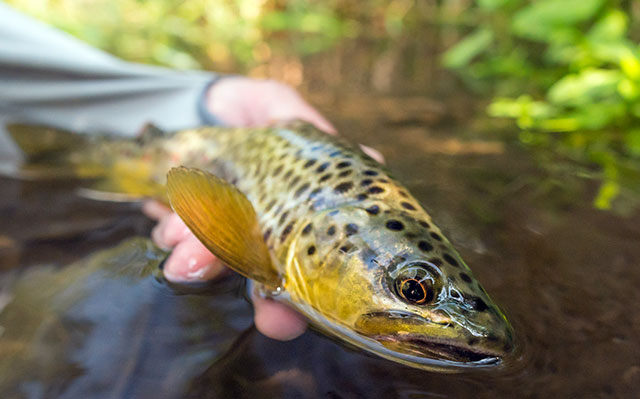 We love fall. Even though the things about it that we love — the clear, cool mornings, the riparian foliage aflame — are harbingers of another season's end, the pulse quickens and the yearning to be outside on the water blazes anew.
We asked some small-stream experts from across the country how they approach fall trout fishing, and the one thing they all said right away was "Fall is the best time of year." The trout revel in the cooling water temps and the upcoming spawn (in the case of browns and brookies at least) and some of the best attractor and streamer fishing of the year is at hand. Each had a few specific tips. Here they are.
Chris Lessway – Fuller's North Branch Outing Club, Grayling, Michigan
In early Michigan fall, when the temps might swing from 60 to 90, the best thing to do is be prepared for all scenarios. I don't like to single out days and say I am going to throw streamers on this day, or hoppers and ants on that day. I like to let the weather and river conditions call the shots. The last couple weeks of September here were a prime example. Normally, this time of year the streamer fishing is picking up. But with the warm up, conditions were pretty dang good for mousing at night. Terrestrials and small streamers are always an option.
This time of year I almost always have more rods in my boat than normal: a couple for dry flies and a couple for streamers. If they are not hitting terrestrials, then there's a good chance they may go after that small streamer. As the days cool and trout become more and more aggressive towards the streamers, I like to step up the size, and eventually break out the heavier rods, sinktips and bigger flies. When that time is here, you'll know it — you can just about taste it in the air.
Chris Franzen – Headwaters Outfitters, Brevard, North Carolina
Terrestrials, typically associated with the dog days of summer, still have a time and place in the fall. The first few weeks of October you can find fish taking advantage of ants and beetles who have had the misfortune of ending up in the river due to falling leaves. As the terrestrial fishing tapers off, the October Caddis, Blue Wing Olives, and Black Winter Stones make their debut. These insects can offer great dry fly fishing at times, but the best way to pick up fish is nymphing: black pheasant tails #18-20, Juju Beatis #18-22, and Amber Hotwire Caddis #10-14. The October Caddis will start tapering off around the beginning of November but the Stones and BWO's are here to stay all Winter.
If small flies aren't your thing, don't worry. Streamers will produce fish through the fall season. As brown trout begin to move, looking for spawning grounds, they tend to get more aggressive. Due to the water generally being clear around this time of year I stick with smaller patterns such as bunny leeches, slumpbusters, and Circus Peanuts. The only thing that will slow streamer fishing is the "leaf drop" which generally occurs the last week of October and floods the river with leaves.
Keep in mind being on the water during the fall means at some point you will be around spawning brown and brook trout. Do the fish a favor and leave them be. And if you see someone targeting fish on a redd, enlighten them and help keep your fishery healthy.
Ryan Rahmiller and Jared Koenigsfeld – Driftless on the Fly, Northeast Iowa
Jared: Usually, the weather is phenomenal. Cool foggy mornings and mid-day highs of 65 degrees usually lead to an almost all-day hatch. Some lingering Tricos, then Baetis popping off in the late morning hours, with Mahoganies mixed in. Beetles, ants and hoppers give you a giant variety all day — until the spinner fall that runs into the dusk hours. Fish looking up all day — hard thing not to love. And the best part is the mid-week crowds are gone, off to school or back to work from summer vacations. You can have a section of stream completely to yourself.
Ryan: I think fall is exciting time to fish because so many flies and patterns are still in play. Everything from foam patterns like small, dark grasshoppers to nymphs to streamers. Warm sun and cool air make for a perfect combination for comfortable fishing all day long. Walking the stream bank becomes easier too, as the tall grass of summer dies off. Brown trout become more aggressive as the fall wears on and the spawn begins, looking for that bigger meal.
Jared: The fall streamer bite! It's time to get down and dirty and bomb some cast to shadowed banks to move those big boys that are on the pre-spawn binge. Low and clear water can make it tough, but man, there's nothing like the visual streamer fishing in the fall.
Chris Hunt – author, Fly Fishing Idaho's Secret Waters
On many of the West's great rivers, brown trout are on the move and in the throes of the spawn that might last well into November or even early December. Browns are voracious this time of year, both with the urge to carve out another generation of trout while protecting redds from predators and other suitors, and with a hyperphagic aggression as chilly autumn waters are about to become downright icy with the coming winter.
As you might suspect, anglers who like to throw big flies to big fish consider this time of year to be among the best—taking a legitimate two-handed brown on something only an impressionistic fly tyer could imagine at the vise is a special experience and perhaps more doable this time of year than any other.
But fall is a really good time for dry flies. After all, they don't call them October Caddis for nothing. This lively, bouncy cool-weather fly is a favorite of cutthroats and rainbows on sweeping western rivers, simply because it's likely the last of the big-fly protein they'll see until May, when more caddis will pop, and the big stoneflies start to hatch. Fished dry with a small midge dropper (consider a Zebra Midge in size 22) that hangs high in the water column, this combo can be deadly in tail-outs and slicks.
But, perhaps the most important fly of fall is a modest little mayfly known to most as the Blue-winged Olive. This mayfly, tied "Klinkhamer" style as an emerger and as a traditional dun should be in every autumn fly box. When the skies get cloudy and that October bluster rattles the leaves of golden streamside cottonwoods, this little mayfly is at its best. Where I fish, on the South Fork of the Snake, a guy could fish all morning using a small BWO emerger, switch to the dun at noon and be back to the truck with tired arms and a goofy grin on his face by 4 p.m., in time to make it home for dinner.
Finally, and I've become something of an evangelist on this of late, don't forget your soft-hackle swingers. Small-ish wet flies in both Pale Morning Dun and Blue-winged Olive patterns that swing just under the surface will often bring violent strikes, even when fish aren't rising. But you don't always have to "match the hatch." Soft-hackles are easy to tie, and I like to get a little creative with these suckers, often going with traditional "fishy" colors, like black and red, chartreuse and white and red and white. My favorite soft-hackle is simply a wet Royal Coachman that has pulled big cutthroats off the bottom more than once.
These sunny-then-cloudy-then-sleety fall days are great days to be on the water. Just make sure your fly box has the right contents to help you solve the sometimes-challenging riddles that fall can throw at you. Be creative and be bold—use multiple flies and maybe carry two rods with you; one for dries and one for streamers.
But whatever you do, don't let fall get away from you without hitting the water.