How Many Menhaden Do We Really Need? Part Two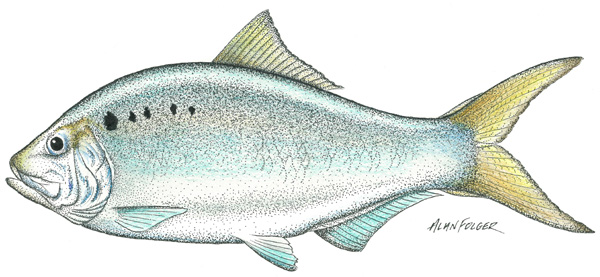 For well over a century, commercial and recreational anglers have argued about menhaden harvesting. In the past few decades, however, conservationists—who may or may not be anglers—have also entered the fray, advocating for tighter controls on harvesting. The battle lines have been drawn between conservationists and recreational anglers on the one hand, who see commercial anglers as greedy and malevolent despoilers of our natural resources, and commercial anglers on the other hand, who argue that while others are out fishing for fun, they're working these resources to provide for their families.
Once upon a time the East Coast menhaden industry was very strong, outstripping even the commercial whaling industry. More than 150 processing plants dotted the Eastern seaboard, with more than a dozen in the state of Maine alone. Docks were filled with millions of tons of menhaden that, when sold, catapulted the coastal towns that housed them to prosperity. Times have certainly changed: Now just one East Coast plant still operates. Houston-based Omega Protein, which has another processing center in Louisiana, is the largest harvester of menhaden in North America and is viewed by many as the prime culprit in dwindling menhaden stocks. Their East Coast fleet of nine ships, some of which can hold a million menhaden at a time, are a common sight in the Chesapeake Bay. The ships work closely with their spotter planes to find, harvest, and then deliver menhaden to their processing plant in Reedville, Virginia. The plant employs about 300 workers and processes millions of pounds of menhaden each season, turning the oily baitfish into industrial products like lubricants, heart-healthy food supplements, pet food, and, ironically, commercial fish food. The company's industrial fishing fleet accounts for about 80 percent of the menhaden harvested on the East Coast.
The remaining 20 percent of menhaden is harvested commercially by much smaller independent operators like Lund Seafood in Cape May, New Jersey, which fishes for a variety of species and then sells those fish to customers along the East Coast. Ocean Bait Inc. of Weems, Virginia, is an even smaller commercial operator that sells all its fish to a single wholesaler, which in turn distributes the fish to points south. Occasionally packing limitations prevent Ocean Bait from processing all of the menhaden it catches, in which case it sells what is left over to Omega Protein. Most of the menhaden caught by smaller commercial anglers end up as bait for crabbers, lobstermen, and of course bait and tackle shops, which eventually resell to recreational anglers.
For many years conservationists, recreational anglers, and commercial fishermen have argued over just how many menhaden need to be left in the Chesapeake Bay and surrounding area. Humans don't eat menhaden, but just about everything else in the ocean does. Also known as bunker, pogie, and fatback, menhaden are a prime target for predator species and are crucial to the survival and health of other marine life like crabs, lobsters, ospreys, and even loons. (Menhaden, by the way, aren't the only forage fish fly anglers should care about: Popular gamefish like trout, stripers, and bass eat spring runs of river herring and shad once they enter their natal rivers to spawn. Unfortunately, these river herring are also seeing their numbers decline precipitously.)
In November the Atlantic States Marine Fisheries Commission (ASMFC), the agency that oversees menhaden and 23 other species of fish on the East Coast, met in Boston to decide the fate of the current menhaden stock. For some time now the ASMFC has been feeling the heat, as ordinary citizens sent more than 90,000 comments to the commissioners during the public comment period, with nearly all of the contributors calling for stricter harvest limits. And not without reason: The most recent stock assessment indicated that the menhaden population was at an all-time low and constituted about 8 percent of its historic size. Conservationists and recreational anglers have argued for years that fishery managers have allowed too many menhaden to be harvested; consequently, conservationists have pushed for a significant curtailment of commercial landings (recreational menhaden landings represent only about 1 percent of the menhaden harvested). The question before the commissioners in Boston was whether to adjust the fishing target, which is the percentage of the stock that must be left behind by harvesters to ensure a continuing healthy population of menhaden. As the fishing target goes up, harvesting levels must naturally go down.
"I'm not very hopeful," said Paul Kennedy, a recreational angler from Warwick, Rhode Island, before the Boston meeting convened. "I guess I'm jaded because I'm so used to recreational anglers being ignored." Kennedy wasn't the only angler who attended: Dozens of recreational anglers showed up to lobby on behalf of a little-known resource that they believe is in peril. Patrick Paquette, a recreational fishing advocate who bused recreational anglers from the Massachusetts Striped Bass Association, Rhode Island Saltwater Anglers Association, and Massachusetts Commercial Anglers Association (a rod and reel commercial harvesting organization), attended so that the ASMFC could see that behind the community of recreational anglers are real people with real names and faces and interests.
Imagine the anglers' surprise when commissioners voted to significantly raise the fishing target, thereby curtailing commercial fishing levels by an astounding 37 percent. (The vote was 14 to 3, with only Virginia, New Jersey, and the Potomac River Fisheries Commission dissenting.) This vote marked the first time that the ASMFC has ever moved to reduce commercial fishing levels—and commercial anglers were as stunned as conservationists were jubilant.
The new commercial fishing reductions will take effect in 2013; during the 2012 season the ASMFC will decide just where and how the new cuts in harvest will take place. Some want to see an across-the-board cut to all commercial landings split equally, while others hope to see all the reduction efforts taken out of Omega Protein's landings.
Commercial anglers argue that there's no science to back up the idea that leaving more adult menhaden in the ocean will mean better reproduction—and they're right. After all, ASMFC suggests that the current population of menhaden is generating enough eggs to reproduce the stock. So why aren't the eggs hatching to produce more juvenile menhaden? No one knows for sure. Some scientists suggest that pollution in the Chesapeake Bay—the largest menhaden breeding ground—and other environmental factors as well as cyclical spawning cycles are to blame. Conservationists counter that more menhaden in the Chesapeake Bay mean more food for stripers, blues, cobia, weakfish, and marine birds, which in turn bolsters the marine food chain that undergirds all the larger predator fish.
Following the contentious ASMFC vote, both sides took stock of the issue. "I guess I'm not nearly as jaded now," Paul Kennedy remarked, as he and other recreational anglers prepared to head home in victory. "I think the ASMFC did a hell of a job today," said Paquette. "This could prove to be a history-making vote as far as the survival of menhaden goes." Jay Odell, Mid-Atlantic Marine Program Director with the Nature Conservancy, was also impressed: "I'm so pleased and relieved that after a decade of debate the ASMFC has now set a new course for menhaden in consideration of their critical role for forage for so many Atlantic Coast fishes, marine mammals, birds, and the long-term interests of people who depend on menhaden, too."
But not all the folks in the audience were pleased with the decision "What the commission did is akin to swatting a gnat with a sledgehammer,'' said Ron Lukens, a senior fisheries biologist for Omega Protein. "It's absolutely a disappointment. We knew we were going to take a cut, but this is a little too much to swallow.'' Jim Kellum of Ocean Bait Inc. was also let down by the vote. He pointed out that reduced fishing levels will no doubt result in job losses, and he believes that politics is often to blame for poor environmental management. In fact, it was rumored that certain governors had lobbied their state's commissioners to vote a certain way on the issue. Kellum expressed an opinion common among anglers: "I think that until the recreational sports fishermen and the commercial fishermen work together to take control of the environmental factors that are creating the cesspool that is becoming the Chesapeake Bay, things aren't going to get any better."
To learn more about menhaden listen to the upcoming broadcast of Ask About Fly Fishing which airs Dec 7th.