Review: Nick Lyons's "Spring Creek" (20th Anniversary Edition)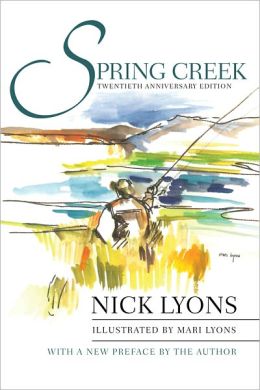 Spring Creek had the good fortune to appear in 1992, just before Robert Redford made the connection between spirituality and fly fishing a foregone conclusion.  It may have been the last book of essays to be written in that blessed time before fly fishing became the subject of the story—or the resume, or Facebook profile—and existed mainly as part of some separate narrative in most people's lives.  So it is fascinating to re-read Spring Creek after twenty years.
The author's clarity of expression is refreshing now, just as 20 years ago it was helpful in collecting our thought about the more intricate and interesting parts of the sport. The various chapters—"Mornings," "The Big Fly Comes," "Time and the Headwaters," "At the Second Bend Pool" and others—define the author as innocent but not naive, and immensely approachable.  By choosing a single spring creek as the setting for what he learns about fishing and about himself, Lyons managed to make a place for each of us, especially the non-experts and the oddballs and the ones who can never quite figure out why they have to follow any rules in the first place. Lyons's grounding in tradition and literary history gives him perfect authority to use it or leave it behind.
Nick Lyons has been duly recognized for his literary talent, both as a writer and a publisher. He created a mini-industry of sporting book sales that helped define what it meant to be a published fly fishing writer.  And that, of course, gave him a rare perspective on writing about fishing.  The literature grown out of fishing is one of the many topics he wrote about in Spring Creek, a book which he wrote in a style that is very conscious of where it would register in the long tradition of angling literature.  How could he not?  It would be like asking one of the world's great chefs to forget the combination of ingredients in the perfect pie crust or soup.  Lyons writes in one chapter, "Do we read books to get bland pap or mere information or clever nonsense, or to touch another human being? I want those who read me to touch me, to know me—for better or worse—not some studied mask I might put on."
Written prior to the cultural softening of the mid-section that the 90s brought to fly fishing, Spring Creek is in some ways a book-end, an estimation of the sport was before it suddenly found itself consuming energy in order to maintain the belly rather than to help define what makes each of us, as anglers, different.  If you're finding it for the first time, you're in for surprisingly satisfying read. And if you need a reminder of the uncountable things that really matter (and don't matter) in throwing flies at fish, consume it one chapter at a time—only until you're no long hungry—and don't hurry through the richness.
Read an excerpt from Spring Creek
Buy the 20th Anniversary Edition of Spring Creek in the MidCurrent Store