Artist Keith McGuire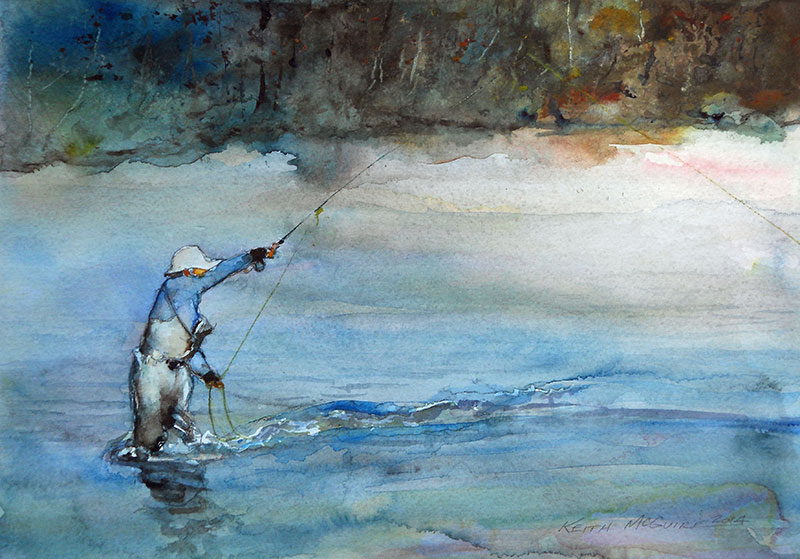 Keith McGuire was born in 1950, in the small industrial city of Beloit, Wisconsin.  His home was situated in such a way that the front door led to town, and the back to rolling fields, neatly divided by a sluggish little stream called Turtle Creek.  This was where his lifelong love for fishing began, and it continues to this day.
After high school, he attended classes at the University of Wisconsin for two years, then went to Sarasota, Florida to study at the Ringling School of Art, where he received the necessary grounding and instruction to spend most of the rest of his life as a working artist.
In his mid-twenties, he moved to Atlanta, and eventually became head of graphics production at Design South, one of the premier trade show exhibit manufacturers in the country, with accounts such as IBM, Milliken Carpets, and Metropolitan Life.  He also found out that trout could be caught in the ice cold waters of the Chattahoochee River, which runs right through the city.
In the early 90s, Keith and his wife Kelli got the wanderlust and moved all the way across the country to Oregon, eventually living on the banks of the Rogue River (the same area where Zane Gray once had a cabin), fishing and or painting nearly every day for five years.
Then it was back to the East Coast, where they lived in Fernandina Beach, Florida for several years, then north to Asheville, North Caroline, where they hope to remain for the duration.
Contact Keith McGuire via email