Artist Jonathan Marquardt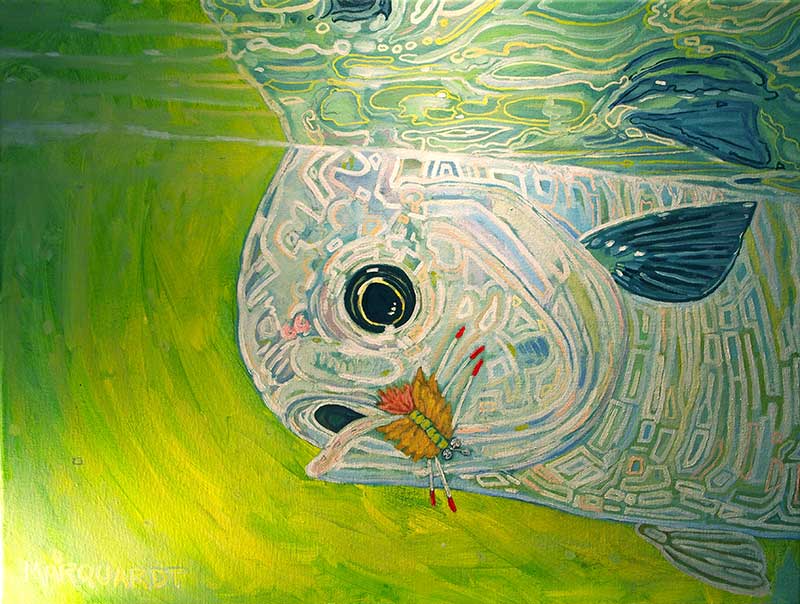 "I started BadAxe Design at my wife's suggestion.  As I sought a focus in my artwork, she suggested that I combine my two passions: fly fishing and art.  For a long time I worked primarily in oil on canvas but often wasn't happy with the results.  Since starting BadAxe Design, I have been working primarily as a linocut block printer.  Block printing has a very distinct look and lends itself well to capturing fish with bold lines.  My block print pieces are in two categories: single-color prints and multi-color reduction prints.  The latter process is even more time consuming and results in fewer prints, making them more exclusive.  Each print is hand-made by pressing the carved block onto paper, making each one a signed original.  I have recently started to get back into oil on canvas and have been focusing on saltwater fish like tarpon and permit.
I attended Montana State University in Bozeman and definitely enjoyed a fifth year.  It was an awesome place to go to school.  My family and I try to get back out there at least once a year to fish or ski.
Megan and I live, with our two young boys, on the edge of the Driftless Region of Wisconsin near Madison.  The Driftless is an amazing portion of the Midwest that wasn't flattened when the glaciers were cruising through.  We have miles of spring-fed creeks and some unreal fishing.  In the spring we head to the Florida Keys to chase tarpon and the occasional permit.  I'm still working at talking a permit into eating my fly."