Artist Jake Keeler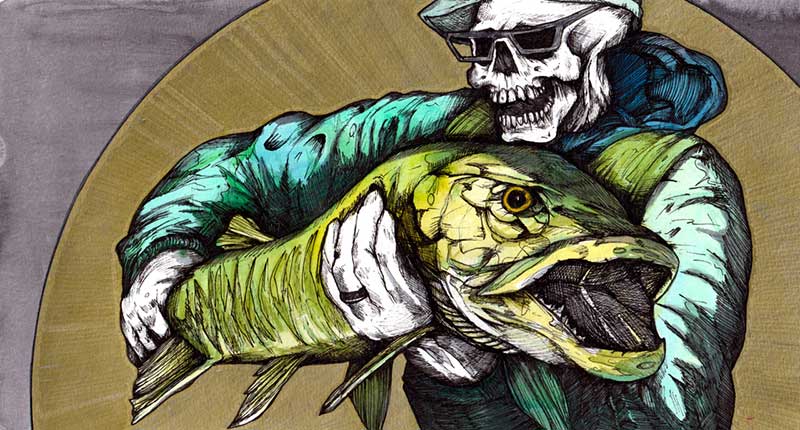 Jake Keeler has a background in fine arts, with an MFA in Painting and Drawing and years of exhibitions under his belt.  He started his professional career as an artist and college professor, then transitioned to pursue a career in homebrewing/craft beer, and now does a lot of both.  These two pursuits make up ⅔  of the his "character-trifecta."  Fly fishing occupies the other third. He's been fishing almost as long as he's been drawing, so the two have gone hand and hand, year after year.  The making, and drinking, of great beer came a bit later, but weaves itself into all paths seamlessly.  Along with family, these three things are what make him tick.
The work itself draws its inspiration from nature: fish, birds, bones and the beautiful mess that they make together.  The style is derived from a background in drawing dragons, painting in the open air with his mother, painting miniatures with his brother, reading comic books, listening to Dio, and a stint as a graffiti writer.  There is an explicit goal in the current work to create a look that bridges imagery and techniques from tradition, and fuse them with a contemporary take on how to express the beauty of what he sees in nature; the richness of color and line on a brown trout, the enduring form of the human skull, the complexity of feather/line/color of an overlooked sparrow.
Jake resides in St. Paul MN with his wife, his son, two cats and cold, but functional, basement studio/brew cave.