MidCurrent's 2022 Holiday Fly Fishing Gift Guide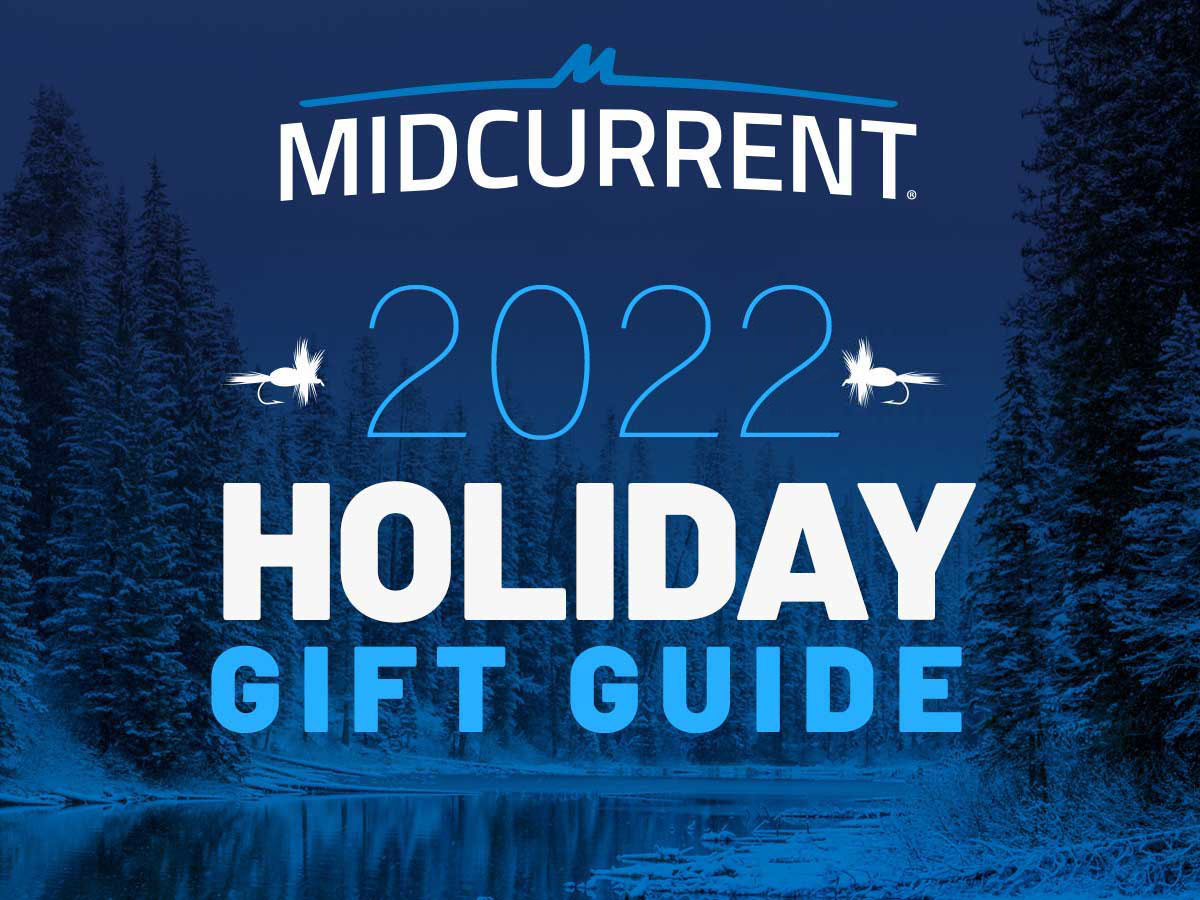 WE'RE IN A decidedly different situation than where we found ourselves at the end of 2021, but one thing hasn't changed: fly fishing's popularity. New anglers continue to flood into the sport, and new gear keeps hitting the market.
There's some outstanding new gear that has been holding our attention lately. So with the season upon us, the team at MidCurrent put together this list of goodies that will make excellent additions to gift lists for friends or family—or even your own wishlist—this holiday season. Whether you're shopping for someone who just got into fly fishing or a long-time angler, there's something for everyone in the 2022 MidCurrent Holiday Gift Guide. 
The Ross Animas is one of Ross's best-selling reels, and for good reason. It's light, has a fantastic drag, and the craftsmanship is second-to-none. The Animas is a personal favorite reel of mine, one that I run on many of my own 5-weight rods. The drag is completely adjustable, without preset "stops," which allows you to dial in the perfect amount of resistance for any fish you hook. The Animas is reasonably priced at $385.
From the manufacturer: "You asked. We listened. Our top-selling Ross Animas reel is now available in an earth tone Matte Olive anodized finish. Priced identically to our standard finishes, and in stock now on our website or through our authorized Ross Reels dealers. The frame is accented by a machined silhouette of the Colorado mountains in Ross Reels' backyard. Its uniquely ported design and structural profile are eye-catching industry firsts. A composite drag system delivers more power in an established Ross design used and loved by more than 80,000 fly anglers the world over."
The Skwala Carbon Waders are one of the most impressive pieces of gear I've used in a long time. Built specifically to move with anglers on the water, the Carbon Wader has an unparalleled range of motion. This wader is wonderfully light, with a unique new strap system that eliminates bulky buckles and feels right at home as either a chest or hip wader. Overall, this is one of Skwala's most impressive pieces of gear – a considerable feat for a new company with a great closet of gear already.
From the manufacturer: "The Carbon Wader from Skwala is built for those anglers who push the limits of their fishing expeditions.  The wader's features set it apart, including a magnetic, drop down upper for easy conversion from chest-high to waist-high; a buckle-less load distributing shoulder yoke; and an athletic cut with fourchette leg seams that allows you to feel more like you're wearing your favorite pair of pants than waders. If you travel across the globe, or just higher up your local creek than most are willing to go, the Carbon Wader will make sure you arrive dry and comfortable."
The Tailwater Fly Tying Kit from Fishpond is the perfect pack for all of your fly tying gear, whether you're at home or on the river. It features four see-through pouches for holding all your tying materials, including capes and saddle hackle. There's even an integrated thread spool tray, to go along with a removable tying station. From a functionality standpoint, it's hard to beat what Fishpond offers with this tying kit. At $189.95, this is a fantastic value.
From the manufacturer: "Whether you're spinning up flies on the road, or your family is sick of you turning the dining room table into your tying office, organization is key. The Tailwater Fly Tying Kit offers a better storage option for professional tyers and beginners alike. Large see-through pouches and a padded compartment offer plenty of space for your arsenal of materials, including delicate capes. The tool panel and thread spool tray will keep everything, including heavy pedestal bases, secure. A removable tying station ensures you'll always have a flat surface to tie on. It's time to take the show on the road."
The onWater App is more than just a map with access points. It consolidates publicly available information on water access points, real-time water data, and a fully interactive map that allows anglers to make the best choice possible about where they'll next go fishing. Whether you're looking for new places to fish near you, or you want to guide yourself on a fly fishing trip across the country, you can find all that information with a subscription to onWater.
From the manufacturer: "Be more confident in your fishing by knowing the knowable. The onWater app uses industry-leading technology providing anglers access to interactive fishing maps, local fly shops, real-time water data, public/private lands, and all the tools you need to make better fishing decisions. The maps and their interactive features are hand-crafted by a diverse group of passionate anglers, guides, and industry professionals. Our technology combines the myriad of fishing resources available into a personalized app, enhancing your day on the water, while respecting the secrets that making fishing special. Subscriptions are available monthly or yearly."
The Sage R8 Core is one of the most impressive fly rods currently on the market. The R8 is light, powerful, and an absolute joy to cast. It throws tight loops with minimal effort, protects light tippets, but has the backbone to quickly put fish in the net. What really makes the R8 stand out is its perfect blend of power and touch. It can turn over long leaders, hopper-dropper rigs, and streamers with ease, but has the sensitivity to handle small dry flies, too. Priced at $1,050, it's out-of-reach for some anglers, but it's absolutely one of the best fly rods money can buy.
From the manufacturer: "R8 Core is a rod family focused on maximum versatility and applies Sage's revolutionary material technology through their forward thinking lens of what they're seeing out on the water where one rod needs to show even greater range. At its Core, R8 CORE traces a direct lineage to Sage's multi application vision and the fishing evolutions happening all around us – from habitats we stalk and waters we frequent, to the flies we fish and the diversity of species we now target. Coming in a range from 3wt to 9wt, with a variety of lengths from 8'6″ to 10'0″, there's sure to be a model to fit the core needs of every angler."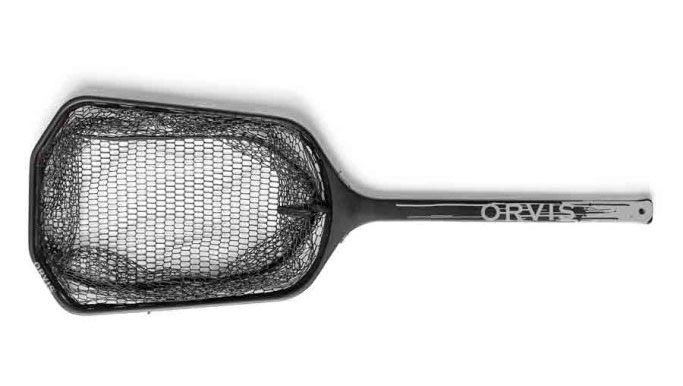 Orvis set out to build a new guide-caliber net that had as large a hoop as possible – without adding excess weight. They accomplished that with the Widemouth Guide Net. The net's frame is crafted from an extremely durable composite material that feels incredibly light in-hand. Even with the big hoop and deep basket, the Widemouth Guide Net still fits comfortably in the built-in net holders on the Orvis Guide Sling Pack or Bug-Out Backpack. At $198, this net is a great addition to any angler's stash of gear.
From the manufacturer: "As the longtime fishing guide adage goes, a larger target is better when landing fish – exactly why we've substantially increased the hoop size in our Widemouth net series all the way through the yoke zone. Not only is it far easier to bag a fish with a hoop this big, it's a lot safer when removing your fly from a fish with ample room to work. This fish appreciate that, as well. Made from a unique composite material for lightweight durability that won't show age as easily as wood, with a deeper, knotless, hook-resistant net bag. With a 19 1/2″ handle length that covers you from boat days to walk-and-wade sessions."
Sea Run Cases makes some of the best rod and reel travel cases on the market, and their new Riffle Compact Case is just the latest in their line of fantastic products. The Riffle is built with nymph anglers in mind, with enough room to hold a 10'6″ Euro nymphing rod, extra reels, line, tippet, flies, and just about any other gear you need for a day on the water. Whether you're driving or flying to your next fishing destination, why not haul your gear in both style and safety? The Riffle starts at $359.
From the manufacturer: "The RIFFLE Compact Series travel cases are the newest addition to the Sea Run fly fishing lineup. The RIFFLE Compact case was designed with the weekend nymph fly fisherman in mind. Longer rods with enough room to get multiple fly reels, fly boxes, and gear in a sleek compact protective hard case. Fitting up to three 4-piece 10.5ft rods in the top of the case. The RIFFLE Compact is available with an optional Quick Release (QR) Strap for hands-free use waterside or for convenient hands-free travel. The case is designed in the USA utilizing a patented double-wall ABS construction by Negrini of Italy. Providing lightweight, compact, and near bulletproof protection for all your fly fishing gear."
Redington has a well-earned reputation for building quality fly rods at wallet-friendly prices, and the Trailblazer is the latest entry into that tradition. Built to be extremely packable for backcountry fly fishing excursions, the Trailblazer is a six-piece rod that casts and fishes like a four-piece. Coming in a compact tube, the Trailblazer is the lightest rod Redington has ever built. If you're the angler who loves to hike off the beaten path to find secluded fishing, you can pack along a Trailblazer for $249.
From the manufacturer: "Redington's new Trailblazer is designed to fit into all your outdoor adventures—whether your rig is packed to the gills with necessary provisions for a cross-country road trip or your backpack can't stash any more weight. Their all-new 6-piece rod is designed with a small footprint and compact tube, ideal for long treks. It's the lightest rod Redington has ever built. The Trailblazer's spicy red blank with hints of neon green is sure to set your style and adventures apart from the pack."
The Abel Nipper set itself apart back in 2007 as the only nipper that featured two cutting surfaces, as opposed to the cutter-and-anvil setup that used in all other nippers on the market. Using two cutting surfaces means the Abel Nipper can easily cut through any line – from braid to fine trout tippets. This newest Abel Nipper is updated with an anodized finish and swaps out a spring for magnets. That all adds up to outstanding durability, at a price of $250.
From the manufacturer: "Abel set the bar for high-end nippers when they debuted back in 2007. It has been the only nipper available with dual cutting surfaces versus a cutter-and-anvil design, making it the premier cutting tool for everything from 8X tippet to braid. The new nipper takes that same principle, but puts it together with new ergonomics, type III anodized bodies, as well as a brand new magnetic "spring." Two sets of rare earth magnets keep the jaws open without a hinge that can be subject to corrosion issues while also acting as a reliable "fly dock" to attach your flies to while rigging."
It's easy to lose track of time while out on the water, but with the Vaer S5 Calendar Field Watch, you won't be late for that next big appointment or a recital for your kids. This watch has dive-level water resistance, making it perfect for use while on the river. The design is meant to pay homage to the A-11 military service watch from World War Two.
From the manufacturer: "Taking cues from the iconic WW2 A-11 field watch, the Vaer S5 Calendar Field blends historical aesthetics and rugged modern performance into an ideal everyday tool watch. Boasting sapphire crystal, two interchangeable straps, a guaranteed waterproof warranty, and the choice of 36mm and 40mm case sizing it's the perfect river-ready wristwatch for just about anyone on your list. The S5 starts at $179 with free USA shipping."
If you're searching for a wonderful little tenkara rod for your backcountry adventures – or just want something that stashes away in the car for those quick after-work getaways – the Kaida zx32o Tenkara Pack Rod from Dragontail deserves your consideration. Priced at just $149.99, the Kaida zx320 extends to almost 10'6″, weighs just 2.5 ounces, and fits into a 19-inch tube. Whether you're just starting out in tenkara, or looking to add another rod to your quiver, this is a great get for a fantastic price.
From the manufacturer: "Kaida zx320 Tenkara Pack Rod. Perfect pack size tenkara rod for your backpacking trips so you can bring fly fishing gear without all the weight and added space."
From the folks at Moonlit Fly Fishing, the Nirvana Vintage Click Pawl Reel blends the old-school style of click-pawl reels with modern design and build standards. These reels harken back to a simpler time, when fly fishing was an even more relaxed sport than it is today. Priced at a wallet-friendly $143.99, this reel is a great way to reconnect with fly fishing's roots without breaking the bank.
From the manufacturer: "Enjoy a vintage click reel your Grandfather would've loved, and find a new sense of peace and connection to the past, and future."
The Moonshine Drifter II is the company's updated version of their original Drifter rod series. Moonshine has made a name for itself as a company that produces quality rods at affordable prices, and the Drifter II takes that idea to another level. It's extremely light, has a low swing weight, and a user-friendly fast action that's suitable for just about any fishing situation. At $199, this is a fly rod that anyone can afford.
From the manufacturer: "At just $199, Moonshine Rods' Drifter II is a fly-fishing machine that out-punches its price point at every level. This rod is outfitted with performance carbon fiber, a titanium stripping guide, a beautiful burled reel seat, light-wire guides, AAA-grade cork, and so much more. But, it truly shines on the water, boasting a smooth casting stroke and coming in at an industry-leading 2.8 ounces in the 5-weight model. Capped off with an extra tip and Moonshine's legendary no-fault warranty, you've just discovered the best-kept secret in angling."
If you're the angler who takes more than one or two rods on a fishing trip, then the Norfork Expedition Series of cases from Sea Run deserves your attention. The Expedition Series fits up to six rods that are 9'6″ in length, along with all the reels, fly boxes, tippet, leaders, indicators, and other gear you'd ever need for a fishing trip. Built with exquisite attention to detail that includes rock-solid integrated locks, the Norfork Expedition Series cases start at $449.
From the manufacturer: "The NORFORK Expedition travel cases are the flagship of the Sea Run fly fishing lineup. The NORFORK case was designed to fit all your best trout and saltwater big game rods and gear for fly fishermen who seek adventure. With plenty of room for multiple fly reels, fly boxes, and gear in a compact protective hard case. Fitting up to six 4-piece 9.5ft rods in the top of the case. Giving the fisherman plenty of opportunities to target their game. The NORFORK QR Expedition is available with an optional Quick Release (QR) Strap for hands-free use traveling to the water or for convenient hands-free air travel. The case is designed in the USA utilizing a patented double-wall ABS construction manufactured by Negrini of Italy. Providing lightweight, compact, and near bulletproof protection for all your fly fishing gear. Also available for the Expedition Lineup are add-ons like the DAP (Divider Accessory Pocket) and Fitted Travel Covers. The DAP addon organizes your leader, tippet, and hemostats in slim mesh pockets on the divider wall of the Expedition line of cases. Both are manufactured in the USA with the best quality materials."
Montana Brothers Rodworks is a new company in Bozeman, Montana, run by twin brothers Dan and Doug Daufel. They built these rods to excel at fishing dry flies in the Yellowstone area. Currently, they have two 9′ 4-weight options available, and the rods are custom-built to order. The rods have received rave reviews from anglers in the Yellowstone area, and across the country. If you're in the market for a fly rod that's slower and softer than much of what's currently on the market, check out Montana Brothers Rodworks. These built-to-order rods start at $875.
From the manufacturer: "If you are a classically oriented angler longing for a rod of yesteryear, one where you can feel the rod loading and unloading, and one that communicates with your being, then a rod from Montana Brothers Rodworks may be up your alley. Montana Brothers is small rod company based in Bozeman, Montana.  We were greatly influenced by the rods of the Late Paul Brown.  Paul designed rods for technical dry fly fishing situations in the Yellowstone area, and in particular, the Henry's Fork.  Paul's rods just blew our minds, and we hope our rods do the same for you.   At the present moment, we only offer two 9 foot 4 weight models.  But, 5 and 3 weights are in the works. The rods feature an elegant wells style grip, nickel silver reel seat hardware, and each customer can pick the exact real seat insert from hundreds of different wood options."
Free Fly focuses on building gear that's fit for any adventure. Many of their products utilize bamboo to create wonderfully soft garments that have natural UPF protection.
Of their current products, two stand out for fly anglers – the Stretch Canvas 5 Pocket Pant, and Bamboo Flex Hoody.
The Canvas Pant is extremely comfortable, and stretches as you walk, giving you greater range of motion. The pants are perfect for wearing under your waders, and out to dinner after a day on the water. The pants retail for $98.
The Bamboo Flex Hoody is soft and casual, with UPF 50 protection. It's a great base layer for cold days, or an intermediate layer for days when the air has a slight bite. The Bamboo Flex Hoody retails for $78.
The Vega Sunglasses from Bajio are a newer frame, but have quickly become a hit in fly fishing. Bajio built the Vega with larger frames, specifically to offer even more sun protection, which in turn helps you spot fish more effectively. Bajio offers a ton of lens options, as well, including a proprietary blue-light blocking technology that reduces the stress on your eyes after a full day of fishing.
From the manufacturer: "Named for Alejandro, Vega Cruz, AKA "Sandflea," the Grandfather of fly fishing on the Yucatan's Isla Holbox. The large frame Vega can help you spot giant 200-pound tarpon rolling in by the hundreds all day without weighing you down thanks to the strong yet lightweight bio-based frames.
Offering a bold, squared, high coverage 8-base wrap design with wide temples to block sidelight and protect eyes from the sun. Vega puts you in a veritable cocoon ready to laser focus on the task at hand. Bajío's polarized, color-enhancing lenses with proprietary blue light-blocking LAPIS technology cut through glare for better fish-spotting, while reducing eye strain and fatigue."
Loon has introduced a new tool collection, designed specifically for use when chasing bigger, bolder fish across the globe. These are the same wonderful quality we've come to expect from Loon.
If you're looking for a new net, but want the classic look of wood, Brodin deserves your consideration. The Phantom Cutthroat Net is built from solid wood, light, and features a deep enough basket to deftly net fish. This handcrafted net is small enough to not get in the way, but large enough to handle fish up to 20 inches.