Fly Town Comics
Mixed-media artist Jan Flanigan creates "Fly Town Comics," a series of unique comic pieces made with original drawings and dead flies. "When you put them in human situations they have real character," says Flanigan.
Read more in the press release below.
Retiree Makes Quirky Comics Out Of Fly Corpses
Fresno, CA—Ms. Flanigan is the artist behind Fly Town Comics, and has created hundreds of original pieces depicting her humorous take on life through the eyes of a fly. She has won awards for her work, featured in gallery shows, and been commissioned to create pieces specifically for collectors. People cannot get enough of these sometimes irreverent flies.
Jan combines her original drawings, actual flies, and photography to create unique works of art.  Each piece of fly art is done in miniature, at a size in proportion to the fly being used. Some of the drawings are not much larger than a postage stamp.
"Flies are loathed, but when you put them in human situations they have real character," Ms. Flanigan says, hinting that even the most self-assured people might see something of themselves in her flies. The creatures can certainly display emotion.
The humor is in the style of some of America's classic cartoonists, drawing comparisons to Gary Larson. "That's flattering," she says, "but it makes me uncomfortable. His eraser dust is funnier than most of my stuff. But then again," she added, "Larson didn't work in miniature with real cadavers. Maybe I have something on him there." Her work is more irreverent than Larson's – she even created a fly Last Supper as a commission for a collector.
How It Started
Jan's work started as a response to a very personal situation – a close friend had reached the end of his treatment after fighting cancer for 14 months. Garry and his wife Nancy lived in another city, 250 miles away, and as they were going through the final stages, Jan felt helpless.
"I had to cheer them up," she said. "I had to do something."
Jan had just purchased a macro (close-up) lens for her camera and had taken a photo of a fly. "It was funny," she said, "..so I sent it to Nancy. It made her laugh."
Nancy showed it to Garry, who also thought it was hilarious. Jan began sending them photos of flies in different positions. This went on for about 6 weeks.  Then, Jan left Fresno to help with hospice care, spending the last several days of Garry's life with the couple.  When Garry died, Jan stayed on for an additional two weeks. Nancy, while grieving deeply, began to offer ideas for cartoons, a welcome distraction.  In their time together, she offered concepts for what became some of Jan's best work, and led to the creation of Fly Town.
Jan acknowledges that this is an unusual second career. "When I retired, I thought maybe I'd become toned and svelte, sew all new clothes for my grandchildren, and organize my spice rack," she says, laughing. "But instead I'm picking through windowsills and backyards for dead flies."
The Stars of the Show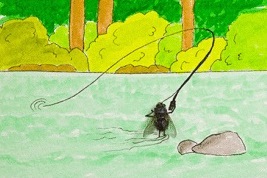 "I'm always looking for a quality fly," she says, "I don't name them, and I don't talk to them.  Although, sometimes I curse at them when they are not staying in their proper position on my drawing."
Jan can work up to twelve hours a day on Fly Town creations when she is in the groove.  At last count, she has 475 completed cartoons.  She says that she can effectively do up to five cartoons a day.  She says ideas "…sometimes just bubble up, sometimes it's a struggle. Sometimes I'll just put a fly on the paper and wait for it to come."
Viewing the Comics
Many of Jan's comics are free to view on her website, flytowncomics.com, and she is Fly Town Comics on Facebook, where she regularly posts new work. Fly Town originals are available at the Brush and Easel Gallery in Fresno, CA. and cards are available at Kwirkworld and Horn Photo.  Cards are also available in Cambria, California at Deer Creek Antiques and Gifts Limited items are available on Jan's website and Etsy.
Short Bio
Jan Flanigan is a mixed-media artist who creates humorous images using the bodies of dead flies. She currently lives in Fresno, California. She is a retired correctional counselor and has worked in both men's and women's prisons. She has children and grandchildren who live in the region, and is grateful that her family appreciates her sense of humor.
The names of actual companies and products mentioned herein may be the trademarks of their respective owners.
For more information, press only:
Jan Flanigan | (559) 824-2327 | [email protected]
Media Agency:
DrawCrowds | 7151 N. Cedar Ave. Ste. 104 | Fresno, CA  93720 | (559) 298-2310 | (800) 440-6777
Image Requests: Print quality images of cartoons and the artist are available on request.
Contact the artist or DrawCrowds Design Department: [email protected] | (559) 298-2368
---
Next Story→
Video Hatch: "Estrada Art Presents: GladesDays"