Conway Bowman to Join SPY Team
Professional angler Conway Bowman has joined the team of SPY, as an ambassador for the brand. "SPY combines the best in lifestyle and function for me, making our partnership a perfect fit. I'm stoked to be a part of the SPY family," says Bowman.
Read more in the press release below.
SPY Hooks Professional Fisherman and Outdoor Ambassador Conway Bowman
CARLSBAD, Calif.—SPY® is Happy to announce professional fisherman Conway Bowman has joined the team and will now wear the innovative Happy Lens™ technology with Trident™ polarization—the ultimate lens for the outdoors—while sight casting for the world's most sought after fish.
A San Diego native and all around waterman, Bowman is an expert in all fishing disciplines, but his name has become synonymous with "extreme" fly-fishing and is known for his pursuit of Mako sharks on the fly. An avid advocate for shark conservation, Bowman helps to raise funds for research and tagging shortfin Mako sharks through his annual Flying Mako Charity Tournament, in addition to educating anglers on his signature catch and release technique.
"We are happy to have one of today's best all-around fishermen as part of our SPY family," says Devon Howard, SPY marketing director. "Conway is well-known for his bold fly fishing approach on salt water, but is truly a renaissance man on the ocean, splitting his time between surfing and fishing year-round from either a stand-up paddleboard or small craft platform. He understands the demands of each fishing discipline, and has already validated our Happy Lens as the best lens technology for fishing on the market. We're happy to heed his input when it comes to shaping our upcoming outdoor and fishing offerings, and are excited for our future in that space."
Having traveled the world in search of Atlantic salmon, steelhead, wild trout, redfish, bonefish and tarpon, Bowman's exploits have been chronicled in many books and magazines including The Flyfish Journal, Fly Fisherman, The Drake, Field & Stream, Men's Journal and more. Currently the host of two TV series—"Fly Fishing the World" and "The Outfitters"—on the Sportsman Channel, Bowman is no stranger to television with past hosting gigs on ESPN's "In Search of Fly Water," "Primal Predator," and Versus Network's "Dollar Wise Fly."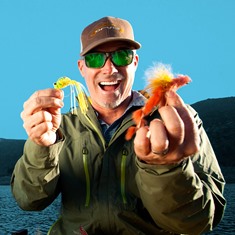 With several events on his schedule for the rest of 2014, Bowman will be hitting the water with SPY's blue Spectra™ version of the Happy Lens technology—a color and contrast enhancing lens that lets in the sun's "good" rays that studies suggest create and uplift in mood and alertness, while still blocking the "bad" rays. Additionally, the Happy Lens features anti-scratch, oleophobic and hydrophobic coatings. Specifically designed for watersports and open ocean fishing, the Happy Lens with blue Spectra mirror offers superior contrast and color in full sun and is ideal for fishermen.
"The Happy lens is the best lens I've ever worn for spotting fish in open water," says Conway Bowman. "SPY combines the best in lifestyle and function for me, making our partnership a perfect fit. I'm stoked to be a part of the SPY family."
For more information about Conway Bowman, go to www.conwaybowman.com/ and @conwaybowmanon Instagram. To see Bowman in action, go to https://www.youtube.com/watch?v=itBluqJlBbs/. To learn more about the SPY Happy Lens, go to www.spyoptic.com/happy. For more information about SPY, log-on at www.spyoptic.com, www.facebook.com/spyoptic, Twitter @spyoptic and @spyoptic on Instagram.
---
Next Story→
Brent Bauer Named Director of Product Management at Umpqua Feather Merchants