First Glance: Strike Foundry Coiled Sighter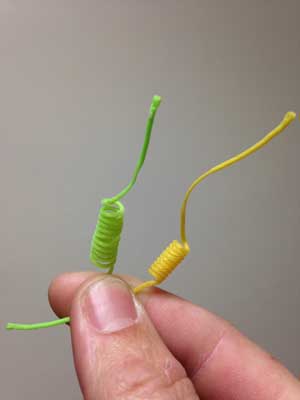 I have to admit I'm not much of a nymphing kinda of guy. I just don't enjoy it that much. That is unless I get super techy with it and utilize some of the tricks my Euro-nymping friends have taught me.  Now that's a fun game!  Just recently I was introduced to the Coiled Sighters from Strike Foundry and I have to say I like them a lot.
What, you ask, is a Coiled Sighter?  Well, it's basically a fancy name for a strike indicator, but used more for the European style of nymphing. The sighters from Strike Foundry are incredibly high quality with really solid memory and crazy good buoyancy. The best floatant I found to use with them is just a regular old paste style. They do stretch out on both ends but seem to always return to shape with a little prodding.
The coiled sighters work really well in low, clear water or in the higher stuff, and suspend smaller bugs when used as a typical floating-style indicator. Of course they are made to be used mostly above the surface and they shine there too.  Strike Foundry manufactures the sighters here in the USA at the doorstep of the Driftless Area in Wisconsin. If you're into this style of fishing, do yourself a favor and check out Strike Foundry.
---