First Glance: Petzl Tactikka +RGB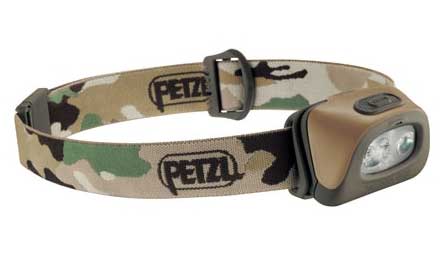 I fish a lot at night. For bass, trout, you name it. Doing so requires hand-free illumination for a good part of the process. Obviously light can spook fish in many situations and I almost always try to get away with as little of it as I can when fishing for most freshwater species.  But of course if you break of a fly or get tangled you're going to need a light.
Recently I had the opportunity to take out Petzl's newest addition to their headlamp line-up, called the Tactikka +RGB. I've been a big Petzl fan since I was a kid and this one is no different. Their headlamps are some of the best on the market. What makes this headlamp so special for fishing is the RGB part.  In addition to the White lighting modes it has Red, Green, and Blue. It sounds silly, but using it the other night at my local bass pond I swear that that red light helped me out when changing flies.  I noticed that fish were not as spooked after I turned on my light. I fish the exact same spot quite a bit at night and this time the fish were much quicker to start eating again when using the subdued light instead of a bright white beam. I'll have to experiment with the different colors, but the red seemed to work really well for me. This particular head lamp is small, light, takes AAA batteries and is remarkable bright in the white light mode considering what it is. The light costs $59.95 and can be purchased at a number of online retailers like REI.
Below are some of the finer details from Petzl…
Headlamp keeps the hands free
CONSTANT LIGHTING: brightness does not decrease gradually as the batteries are drained
Several modes and lighting colors adapt to each situation:
– a mode adapted for close range vision: mixed beam with wide, uniform flood
– a mode adapted for movement: mixed beam with focused component allows user to move around comfortably
– Boost mode for temporary access to maximum power
– red, green and blue lighting for close range vision while remaining discreet and preserving night vision
– strobe mode for signaling one's presence, accessible at any time
Burn time management allows user to easily anticipate battery replacement:
– automatically switches to reserve mode when batteries are almost drained (signaled by blinking light)
– red lighting switches on when batteries are practically empty to preserve maximum visibility
Easy to use:
– selection of lighting modes from most discreet to most powerful
– push-button is easy to use, even with gloves on
– headband adjusts easily with buckle, for easy donning
– washable headband
– battery case opens easily for changing batteries
Specifications

• Weight: 85g
• Technology: CONSTANT LIGHTING
• Beam pattern: mixed
• Energy: 3 AAA/LR03 batteries (included)
• Battery compatibility: rechargeable Ni-MH, and lithium
• Certification(s): CE
• Watertightness: IP X4, weather resistant
---