Patagonia Stormfront Roll Top Pack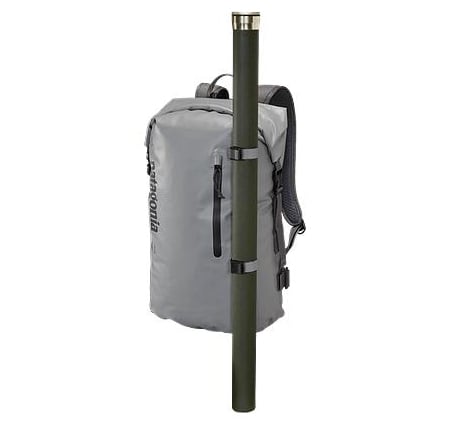 I've owned the Patagonia Stormfront Zippered backpack for over ten years now and I can confidently say it's the best backpack I've ever used for both fishing and photography. It's bombproof, 100% waterproof, and remarkably comfortable for a pack with such spartan straps.
Patagonia has recently released a bigger brother to the Stormfront called the Stormfront Roll Top Pack 30L, and while it's not zippered it is 100% waterproof, says the company. It's just a touch larger with a revised take on the fabric and updated straps. It's compatible with their Convertible Vest system, weighs 1 lb 12 oz., has exterior lash points, a water resistant outer pocket, and rod tube holder, and costs $149 – significantly less then the zippered version.
Mark Harbaugh from Patagonia gave MidCurrent a run through of the bag at the OR show last year and I'm going to be using one the next week on the beaches of the east cape in Baja Mexico. I'll be certain to follow up and let everyone know what I think about the new version after I put it through the paces.
---