New eBook: Chris Santella's "The Tug is the Drug"
Well-known for his "Fifty Places" series of books, author Chris Santella's first-person accounts of the places he has traveled, fish he has chased and characters he has met along the way can now be read in a new compilation of essays titled The Tug is the Drug, which was just published by MidCurrent and Headwater Books.
Read more in the press release below. 
Funny, Thoughtful Essays from Fly Fishing's Top Travel Writer
30 Fly Fishing Essays from The New York Times and Beyond
"The Tug Is the Drug"

For Immediate Release, Fort Collins, CO.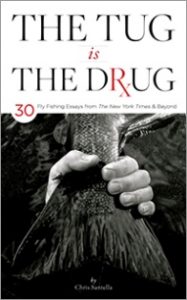 You may know Chris Santella as the author of Fifty Places To Fly Fish Before You Die, Fifty More Places To Fly Fish Before You Die and a host of other "Fifty Places" books.  The Tug is the Drug collects Santella's first-person fly fishing narratives – including many stories that first appeared in The New York Times.
These  thirty pieces take readers from leaping makos near the fairways of Torrey Pines to midnight Atlantic salmon fishing on the fabled Ponoi to encounters with very friendly mujeres on the streets of Havana… and even offer an unauthorized (yet unequivocal) account of Bob Dylan's 1970s obsession with fishing.
The people and places that Chris writes about–fishing's notable characters, oddballs and outcast experts, and places that inspire and sometimes intimidate the average angler—define a horizon that most fly fishers will never reach, but Santella brings it all into the foreground.
About the Author
Chris Santella has more than 600,000 hard cover books in print.  In addition to his book writing, he is a regular contributor to the New York Times, Fly Rod & Reel and Trout, and has also contributed to The New Yorker, Robb Report, Travel & Leisure, Travel & Leisure Golf, Golf and Links, among other publications.  A graduate of Middlebury College and the Yale School of Management, Chris continues to work with select marketing clients, which include conservation, tourism, software and renewable energy entities.  His two "Fifty Places" fly fishing books are being adapted for television by the World Fishing Network as Fifty Places to Fly Fish Before You Die, which will premiere in the 1st quarter 2015. 
The Tug is the Drug is available in electronic format (.mobi and .epub) for all mobile devices and personal computers.
The Tug is the Drug is the first ebook published by the partnership of Headwater Books and MidCurrent.
To request a review copy or excerpt of The Tug is the Drug or to arrange an interview with the author, please contact:
Marshall Cutchin
970.232.9541
[email protected]
"The Tug is the Drug: 30 Fly Fishing Essays from The New York Times and Beyond"
By Chris Santella
Headwater Books/MidCurrent ebook
On Sale: April 1 2014
ISBN: 978-1-934753-23-1
Price: $6.99
Email [email protected] for additional contact details, review copies, images, and info.
---