Fishing Hall-of-Famer Passes on Kype Magazine Publishing Torch
George Douglas of the online fly fishing magazine "Kype" has announced Aileen Lane as new publisher/owner. "I believe Aileen is an up-and-coming star in the fishing industry and I am proud that "Kype" will run that course with her," says Douglas.
Read more in the press release below.
Fishing Hall-of-Famer Passes on Kype Magazine Publishing Torch 
'Kype Magazine' founder George Douglas, to pass publishing torch to fly fishing enthusiast and professional fly tyer, Aileen Lane.
WORLD WIDE WEB, March 27 2014 – Kype Magazine, an established digital fishing publication celebrating its fifth year, today announced Aileen Lane as its new Publisher, Owner. Kype Magazine founder and fishing hall-of-famer, George Douglas will consult Aileen for one more issue as they will jointly publish the magazine's upcoming Spring Issue edition.
"It was very important to me that the person who carries on the Kype name is someone who is highly respected, has a passion for the sport and has the potential to bring Kype to new levels—Aileen fit that bill perfectly and I couldn't think of a better person to take the reigns. I believe Aileen is an up-and-coming star in the fishing industry and I am proud that Kype will run that course with her." says Douglas.

Lane, who represents a growing trend of "women in fly fishing," confirmed the publication's readership remains strong, and according to Lane, "[The Kype team] will continue to provide interesting stories, useful information, and vivid imagery and photography—with a balance between trout, steelhead and salmon, however we will have our full focus on fly fishing."
Fly Beginnings
Making waves—not just ripples—in a largely male-dominated recreational pastime, is something that comes naturally to Aileen Lane, a creative and imaginative Los Angeles native. Following a move to Idaho in 2005, she began tying flies back in 2007: "I became fascinated by the artistry of fly tying and became interested in aquatic insects," she explains. This fascination quickly became a passion, and it wouldn't be long before the angling community took notice.
The Kype Connection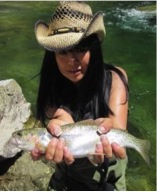 Through the years, Lane's fly tying tutorials and commentary have been featured in several industry publications, including Kype Magazine, Hatches, Bloodknot, and Hatch Magazine, and she has earned the distinction of being the first woman (there are now two, including Aileen) to join the Pro Staff for Deer Creek, an international fly tying company specializing in tack-free, UV resin. Pro staff members must demonstrate an exceptional level of fly tying skills and only receive a membership invitation after completing rigorous evaluation.
In recent years, Lane has expanded her fly tying expertise to include an enthusiasm for fly fishing. "I cannot describe fully, how I felt when I landed my first rainbow trout on the Middle Fork of the Boise River on a fly that I tied with my own two hands," she said. "That was the final connection for me, [and now] being on the river is my form of meditation."
Lane hopes to inspire a generation of nature enthusiasts with her ambition to ensure Kype Magazine continues to thrive, while expanding its demographic: "Women are a growing population in the world of fly fishing … [and] I feel honored to be the new owner and publisher of Kype Magazine. I want this magazine to [continue] to reflect its diversity, and share with the world that fly fishing is not a hobby, it's a lifestyle."
Kype Future
Readers will still access Kype Magazine through its existing URL (www.kypemagazine.com) and can expect a site upgrade and a new layout to the magazine to accompany the change in ownership beginning with the Fall Issue.  Aileen Lane can be reached for comment via the contact page at KypeMagazine.com
About Aileen Lane:
Aileen is owner and tyer for MKFlies www.mkflies.com where she custom ties each fly per order.  She is also 1/3 of the Trifecta of Fly Fishing Ventures www.flyfishingv.com, a website that she runs with 2 other women.  A site where women anglers (and gentlemen) can share their passion and questions freely about fly fishing.  Topics include fly fishing techniques, gear review, fly tying, etc. She currently resides in Boise, Idaho and Sedona, Arizona. 
---
Next Story→
Josh Graffam Joins Umpqua Feather Merchants