Project Healing Waters Annual 2-Fly Tournament
The dates for Project Healing Waters Fly Fishing's annual 2-Fly Tournament have been set for the weekend of April 26-27, 2014, at the Rose River Farm in Syria, VA.
Read more in the press release below.
Save the Dates for PHWFF's 2-Fly Tournament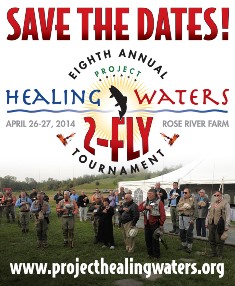 Mark your schedules now! The 2-Fly Tournament is Project Healing Waters Fly Fishing's flagship fundraiser and fishing tournament. This year will be the 8th time this event has been held.
The pre-tournament dinner will take place Saturday night, April 26, 2014 at the picturesque Rose River Farm in Syria, VA. The evening will feature top flight keynote speakers, testimonials from several disabled active military and disabled veteran participants, a silent auction, and more.
The Sunday fly fishing tournament teams PHWFF disabled military veteran participants from various programs with professional fly fishing guides in a day of fun and friendly competition.
Project Healing Waters Fly Fishing is a 501(c)(3) non-profit that got its start at Walter Reed Army Medical Center in 2005. The program brings the recreational and rehabilitative pastime of fly fishing and fly tying to disabled veterans and disabled active duty military members, helping them adapt and overcome physical limitations while effectively dealing with their mental and emotional scars.
For more information on this event visit: http://www.projecthealingwaters.org/Events/Tournaments/2flyTournament.aspx
Contact: Daniel Morgan
Phone:  866-251-7252 x 120
Email: [email protected]
---