New Spey Lines from Rajeff Sports
From Rajeff Sports come several new series of spey lines. From improvements on the traditional long-bellied line to a longer shooting head design, check out the new arrivals.
Read more in the press release below. 
Next Generation Long Bellied Spey Lines
  In Stock and Ready for Your Next Spey Rod Adventure!
Spey casters and dedicated long rod fishers are making the circle back to longer bellied lines and all the advantages they bring.  Airflo's Delta Spey line was the original weight forward spey line, developed to use on longer two handed rods, or by anglers that preferred a long belly line for mend control and full sweep Spey casting.  The new Delta Spey II takes it several steps farther.  Keeping all the attributes of the original and upgrading with newer design features and materials.
Step Back in Time and Join the "New" Longer Bellied Revolution!
Airflo Delta Spey II Fly Line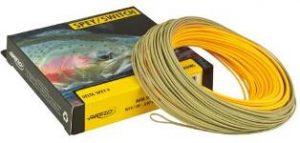 After 10 years of being the go to long belly Spey line it was time for an upgrade.  Taking advantage of new materials and concepts in Spey line design, The dream team of Dec Hogan and Tim Rajeff worked some magic to bring forward the new Delta Spey II fly line.
A longer, more traditional bellied line that exudes smooth casting strokes and graceful full length casts.  The Delta Spey II is a superbly balanced line across the full range of available sizes.  Featuring a dual color for instant head recognition and a slightly stiffer material in the running line for less tangling and supreme shoot ability.  $89.99

From Airflo Delta Spey II Shooting Head
For those that have been searching for a longer Spey head, here it is.  Loop it on to our industry leading Ridge Running Line and feel the grace and smoothness of casting a long bellied fly line without changing spools.
Dec Hogan and Tim Rajeff have redesigned the original Delta Spey taking advantage of new materials and concepts.  With the introduction of this revised taper, we felt it was time to make the Delta Spey II available in a shooting head configuration.  Employing Airflo's industry leading super strong loops there is not a better longer bellied shooting head available.  $59.99

---
←Previous Story
Video: Three New Buff Gloves for Fishing and Sun Protection
Next Story→
Video: Columbia Sportswear, Omni-Freeze Zero Technology