New From Stonefly Press: 50 Best Tailwaters
The newest release from Stonefly Press is a detailed look at North America's 56 best fly-fishing tailwater destinations. Authors Terry and Wendy Gunn provide maps of each area, river access points, suggestions for gear, fly patterns, seasonal hatches, as well as local information such as regulations, fly shops, outfitters, and lodges.
Read more in the press release below. 
 50 BEST TAILWATERS TO FLY FISH
 NEWEST STONEFLY PRESS RELEASE 
September 23, 2013 – For immediate release:
BLOOMINGTON, Ind. – A detailed look at North America's 56 best fly-fishing tailwater destinations by Terry and Wendy Gunn is the newest title by fly-fishing book publisher Stonefly Press.  The 272-page, 4-color softcover book is the work of the guides and outfitters with "boots in the water" on each of the respective tailwaters.
"We named it 50 Best Tailwaters to Fly Fish, but after compiling everything, there was just no way to eliminate any, so we wound up with 56 chapters on individual rivers throughout the United States and Canada," said co-author Terry Gunn.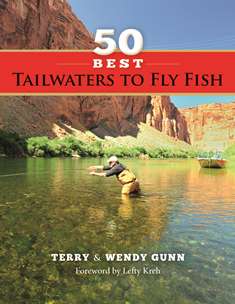 The concept of the book is best summed up by fly-fishing icon Lefty Kreh in his foreword: "Tailwaters are the salvation of fly fishing for trout. These are the streams or rivers exiting from dams with the flow dependent on the amount of water released. They furnish a constant supply of clear, cold water necessary for trout and their food.
"Many trout fishermen believe all major rivers are located in the West.  But some of the finest are in the East, created when the Tennessee Valley Authority dammed so many southern rivers to furnish the region's power during late-1920s and Depression era 1930s. Some of these tailwaters are among the best trout rivers anywhere in this country and within easy driving distance of thousands of anglers."
According to the Gunns, the book's chapters are divided first by region, and then from south to north within each region to accommodate travel and road trips.  In addition to detailed contour maps of each tailwater, which include local roads and river access points, there are suggestions for gear, regulations, fly patterns, seasonal hatches, and wading areas.  The book also includes contact information for local fly shops, outfitters, and lodges, along with suggested best bars, restaurants, hotels, campgrounds, and emergency medical services.
"We feel fortunate that so many good friends and well-known outfitters – folks like Pat Dorsey, Craig Mathews, John & Amy Hazel, Tim Linehan, Mike Mercer, Mike Lawson, Lefty, and so many others – contributed to the book.  We all agreed that there is no other one like it in the field, which made it an even greater responsibility to take on.  And we couldn't be happier with the final product!" said Wendy Gunn.
50 Best Tailwaters to Fly Fish is the go-to tailwater bible for fly-fishing enthusiasts.  It is priced at $34.95 and available from flyfishing shops, book dealers, or directly from Stonefly Press (Go to http://stoneflypress.com for more detail.)
Details: 
Book:              50 Best Tailwaters to Fly Fish
Authors:          Terry & Wendy Gunn
Foreword:       Lefty Kreh
Publisher:        Stonefly Press, Bloomington, IN
http://stoneflypress.com/
Pages:              272 pp.
Photos:            Over 200 4-color
Maps:              56 4-color, contour maps
Price:               $34.95
Available:        October 2013
Chapters:         56 chapters drafted by guides and shop owners who know the waters best
Quote:             Nothing like this has ever been published and serious trout fishermen will find this one of the most useful books ever. – Lefty Kreh
STONEFLY PRESS
Stonefly Press, founded in 2011, is the publisher of fly fishing books, guides and maps, including   An Introduction to Fly Fishing for Trout (Williams/McPhail) and The Orvis Guide to Fly Fishing for Carp (Deeter).  Stonefly Press publishes in both print and digital formats for fly-fishing devotees across the globe and actively partners with both authors and customers to provide guided fly-fishing excursions and retreats. Their mission is to advance the work of authors and increase the quality and sustainability of wild fisheries for future generations.
AUTHORS
Terry Gunn, a full time guide since 1983, and his wife Wendy started Lees Ferry Anglers Fly Shop and Guide Service on the Colorado River tailwater below Glen Canyon Dam (Lake Powell) in 1989. They acquired Cliff Dwellers Lodge in 2001. They are the longtime co-hosts of the TV program, Fly Fish Television Magazine.  To schedule an interview, phone (800) 962-9755.
Bennett J. Mintz PR/Adv.
22370 Mission Circle
Chatsworth, California  91311
818.718.8566    818.648.6168 cell
[email protected]
FOR:
Stonefly Press
PO Box 6146
Bloomington, IN  47407
CONTACT:
Robert D. Clouse, Publisher
[email protected]
(812) 606-8070
---