Dates Set for Herman Lucerne Memorial Backcountry Championship
The 12th Herman Lucerne Memorial Backcountry Championship is set to be held September 20-22 in the Florida Keys. "Herman Lucerne was unique, and so is this tournament," says Hell's Bay president Chris Peterson. 
Read more in the press release below. 
Fun, festive Herman Lucerne Memorial Backcountry Championship set for Sept. 20-22
Guides, anglers, fishing celebs and community giving back to Everglades National Park
ISLAMORADA, In-the-Florida Keys — It's one of the most fun, festive, unique and challenging tournaments, as anglers fish for seven species, set against the backdrop and intriguing beauty of Everglades National Park, while remembering the man warmly known as "Mr. Everglades."
The 12th Herman Lucerne Memorial Backcountry Championship salutes the Homestead – Florida City community activist and legendary backcountry fishing pioneer.
Lucerne, known for his ubiquitous red bucket hat, spent 40 years exploring the twisting myriad of mangrove covered canals, fishing its many bays and promoting the park's protection.
Bonefish, redfish, snook, snapper, tarpon, sea trout and black drum are the focus of the two day competition. Started by Dr. Lloyd Wruble, the contest awards prizes to men, women and youth anglers in fly, artificial and general divisions. Anglers or teams catching at least four of the seven species are then in the running for the overall grand championship title.
The park has been designated as the proceeds recipient for the third year in a row.
As the presenting sponsor, Hell's Bay Boatworks is a natural. The technical flats boat company is named for one of the most captivating and challenging areas in the Everglades, a bay that Lucerne graphically described as "hell to get in and hell to get out."
"Herman Lucerne was unique, and so is this tournament," said Hell's Bay president Capt. Chris Peterson. "It not only financially supports the anglers' needs within the park, it also stresses the skills on the Everglades angler by requiring the species to be caught and released from the saltiest flats to the sweetest backwaters. It also provides a great forum in a cooperative effort to communicate the needs and concerns of the Everglades anglers to park management. "We at Hell's Bay are very supportive of a healthy Everglades National Park for the sustainable use of the backcountry fisherman. It's why we are so enthusiastically involved."
Tournament president Richard Trotta added, "Over 300 anglers and guides who are passionate about protecting this park, have been the core group over this past decade."
Park Superintendent Dan Kimball said, "Last year's funds were used for signage and to improve docks for skiffs. This year we'll use them to support resource protection and environmental education programs, further enhancing the fishing experience in the Park."
The tournament could be $15,000 ahead from on-line bidding for three $5,000 fishing packages offered by a trio of Hell's Bay pro team members.  Legendary TV angler Flip Pallot, who fished the vast Everglades mazes with Lucerne, is joined by Olympian and "A Passion for Tarpon" author Andy Mill and TV show host Capt. C.A. Richardson, offering the fund-raisers.
The Islander, a Guy Harvey Resort, serves as the event headquarters.
Registration and a silent auction begin Friday, Sept. 20, at 4:30 p.m., at The Islander, mile marker 82.1 Oceanside. Saturday and Sunday are fishing days. Anglers can check in at the Lorelei in Islamorada or Don's Bait & Tackle in Homestead.
An awards presentation is set for Sunday evening at The Islander. Appetizers and cocktails begin at 5:30 p.m., followed by a 6:30 buffet dinner and awards ceremony.
Registration fees are $450 per adult angler, $400 per young adult angler age 17 to 25, and $325 per junior angler age 16 or younger. For more tournament information and to register go to: https://hermanlucernememorial.com/
Pete Johnson, Johnson Communications, Inc., Scottsdale, AZ, USA
e-mail: [email protected], ph: 480-951-3654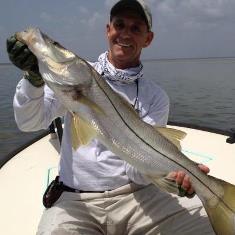 (caption)  Men and women anglers young and old will be exploring the twisting mangrove canals and salty flats of Everglades National Park for bonefish, redfish, snook, snapper, tarpon, sea trout and black drum in the 12th annual Herman Lucerne Memorial Backcountry Championship, Sept. 20-22. Dr. Lloyd Wruble holds this prized snook that he caught, photographed and released.
---
Next Story→
IGFA Announces Legendary Captains & Crews Honorees