Shadow Fly Fishing Launches Two New Fly Rod Series
Pennsylvania based Shadow Fly Fishing has announced the release of two new fly rod series, the lightest models to date. The medium action Stalker and fast action Warrior also feature Shadow Fly Fishing's signature "reinvented" cork handle. 
Read more in the press release below. 
Shadow Fly Fishing launches offering two of the lightest fly rod series ever created.
With a launch price of under $300 we are offering two of the lightest fly rod series ever created. Both rod series come with an extra tip section and a lifetime warranty. The rods are constructed of the highest grade graphite offered in the industry allowing them to not only be strong but extremely light. This is surely one of the greatest values fly fishing has to offer.
Our Shadow Stalker 9ft 5wt fly rod is a 2.58oz, sleek black, medium action rod that is a feast for the eyes. It's delicate and is an absolute blast to cast dry flies with. We had a guide in Colorado land a 28inch 10lb rainbow trout on it, so it's powerful as well. The Stalker is currently priced at $199.99 as a launch special. "If you're in the market for a light, responsive easy casting rod that is a lot of fun to fish with you couldn't go wrong with a Shadow Stalker". – Fly fishing guide and mentor from Canada, Moniz.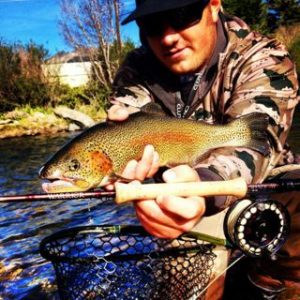 Next is our Shadow Warrior. With the rise of popularity in fast action rods we wanted to make sure we offered one of the best. It weighs in at 2.59oz and is an absolute powerhouse of a fly rod. We have received pictures of customers landing 18lb hybrid stripers, carp, and other massive fish on it. We do not recommend fish this large on any 5wt, but it is nice to know ours has the backbone there if needed. It's such a beautiful fly rod with a very cool reel seat design, and we are very proud of it. Its 9ft 7wt version is a steelhead slayer. We abused the prototype every weekend in Erie, PA steelhead fishing last year, and it is just a treat to fish. It weighs 2.95oz, and you can hold it all day.
We have reinvented the fly fishing cork handle. Our revolutionary design is turning the heads of seasoned fly anglers all over North America. Positive feedback has been universal with bold statements such as "I can't put it down. The cork design honestly won't let me pick any other rods up all trip. I don't see myself using another rod. This is the first time my "Other" (Company named removed for professionalism) rods have stayed in the truck. The cork sells the rod itself." – James, Colorado fly guide (excerpts from performance review of the Shadow Warrior 9ft 5wt). 
We are a new fly fishing company based out of Pennsylvania. Our main goal and focus is to offer the highest quality products at a price anyone can afford. We are a company that wants to go above the initial offering of a high quality product at a reasonable price and include additional features with every product such as an extra tip section with every rod. We are currently testing our first waterproof fly reel prototype and it is absolutely amazing. 
Shadow Fly Fishing LLC is a growing fly fishing company that offers top of the line products at an affordable price.
Website: www.shadowflyfishing.com
Facebook: www.facebook.com/shadowflyfish
Email: [email protected]
---
←Previous Story
Video: Outcast Sporting Gear's Award-Winning Frameless Watercraft
Next Story→
Video: Orvis Product Development on Quality Control for Silver Sonic Waders