Remembering George Hommell Jr.
George Hommell Jr. died Saturday morning, August 31, at the age of 88 in his family home. George enjoyed very good health up until discovering recently that he had advanced lung cancer.  According to his daughter Mariellen, he died peacefully in his sleep after being sick for only a few weeks.  Hommell is survived by his wife of 60 years, Doris, his son, George III and daughter, Mariellen as well as a lifetime of friends and fishing buddies.
Sometime in the late 1980s I was bragging to Steve Huff about an incredible spot I had discovered for tarpon fishing.  "On the low-outgoing tide, the fish just mill around this point, and cycle in and out of the deep water along the edge.  It's a shooting gallery.  But no one would ever think to go there."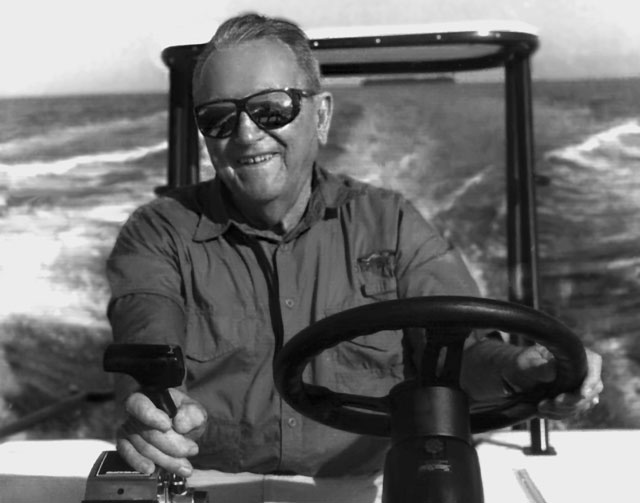 Steve listened patiently as I described the action while trying not to give too much information about where I was.  When I was done he said casually, "Oh, that's Hommell's Corner."
It was not the last time I was reminded that so much of what I had been learning about tarpon had been seen and forgotten by guides before me.   Among those guides was George Hommell, who quietly made his mark in just about every aspect of saltwater fishing as a guide, fly tier, tackle expert, booking agent and businessman during a remarkable 60-plus years of Keys fishing.
Pete McDonald wrote an extensive biography of George for MidCurrent in 2009, when George was still in daily attendance at World Wide Sportsman—a storefront business he started in 1967 with Billy Pate and Carl Navarre and which they later sold to become part of the giant Bass Pro Shops facility in the center of Islamorada.  Hommell is popularly recognized as the guide for George H. W. Bush, but his contributions—from tying some of the first sinking flats flies, to competing in the first tournaments, to his lifelong commitment as an angler and businessman to conservation groups like the Everglades Protection Association and BTT—were many and varied.
Marvin Levine, who worked for Johnny Morris for many years and with George after he moved into the Bass Pro location, was 28 when he first met George.  "I bought my first saltwater fly outfit, a Pflueger 577 reel and an 11-weight rod, from George.  When I got it, George said, 'I always give a person who buys an outfit a lucky fly,' and he gave me a redfish fly that I carried in my fly box for decades."
He also tells this story: "One day [California angler] Ed Rice showed up at the store and announced, 'You Florida guys don't know how to cast.'  Stu Apte was there and pointed to me and said, 'Well this guy can cast 100 feet and I have a hundred dollars says he can cast farther than you.' We took $100 off of Ed Rice that day.  And I can't tell you the joy that George got out of that, like he was a kid who had just gotten a BB gun for Christmas."
"George took great care of his family," says Levine.  "He was an incredible gentleman, and very supportive of everything I did."
Cary Kresge, who began fishing the Keys in the 1950s, had this remembrance of George's generosity: "He was the type of person that made you feel that he was genuinely interested in you.  Repartee with him was always subtle and entertaining.  George was the hardest working guy I knew in the Keys.  I could be going fishing at 7AM and if I needed something, I could go by World Wide and George would be there and the hood on George's car would be cool.  I have no idea what time he got there but I would suggest 6AM on average.  On the way home from fishing at 6PM, his car would be there. When I would come to the Keys, I could spend two days figuring out where the fish were, or I could go talk with George."
Lefty Kreh shared this: "I consider him among all the Keys guides I've known from the mid-1960s until today to be the best. It was a small group of early guides such as Captains Jack Brothers, Jimmy Albright, Cecil Keith and a handful of others, most in Islamorada and a few in Marathon area, who originated the concepts for fly fishing for bonefish, tarpon and techniques related to flats fishing. George was the leader of the group and the most innovative."
Tom McGuane echoed Lefty's appraisal: "When I was in Summerland Key in the 60s he really was the best."
And from the obituary sent to us by his daughter Mariellen: "Hommell served his country in World War II and Korea in both the Navy and Air Force. Following his discharge, Hommell settled in Islamorada and became one of the pioneer fishermen of the Keys. During the next 60+ years, Hommell dedicated his life to Keys flats fishing, and to the conservation of the islands' natural resources. Hommell helped refine the techniques in fishing for bonefish, tarpon and other species and designing fishing equipment, including one of the first bead-eye flies, called the Hommell Evil Eye. He founded World Wide Sportsman, Inc. to cater to the needs of the world's anglers who came to the Fishing Capital of the World and other worldwide fishing locations. Following its sale to Bass Pro Shops in 1995, Hommell remained with the company overseeing its operations until his death.
One of the most sought after experts in flats fishing, Hommell fished with such notables as George H.W. Bush, Ted Williams, Dan Rather, Mark McKewen, and hundreds of others. In 1988, Hommell was appointed to head then-President George H.W. Bush's INTERCOM committee to promote better management of the Nation's fishing resources."
There will be a public remembrance of George's life next Wednesday, September 11, 2013 at the docks at World Wide Sportsman/Bass Pro in Islamorada from 5 to 5:30 PM.  In recognition of his lifelong interests, it was George's wish that donations be made in lieu of flowers to the Bonefish & Tarpon Trust  or the Florida Keys Wild Bird Center.
---
Next Story→
Heritage Award Event to Honor Leon L. Martuch