Hardy Products at ICAST
At the upcoming ICAST show, Hardy will announce a number of new rods and reels, including the classic Bougle and Ultralite reels and ZENITH and PROAXIS rods, among others.
Read more in the press release below.
Repatriated Bougle Fly Reel
Hardy has begun the process of bringing the production of their classic reels back to the UK. The Bougle is the first style and will be offered in five sizes, including the favorite, Baby Bougle.
The first Hardy Bougle reel was catalogued in 1903, and was, as it remains to this day, a variation on the famous Hardy Perfect reel. The variation was initially requested by Frenchman Louis Bougle, an extremely knowledgeable fisherman and tournament caster who requested that Hardy produce a reel with a good line capacity which remained light enough to balance rods between 4 1/2oz and 8oz.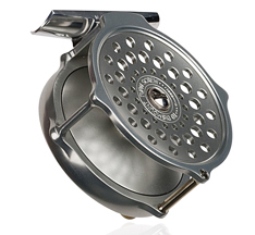 From this initial request, the Bougle reel went from strength to strength and became one of the most famous reels in angling history.
Now, 110 years later, we at Hardy Bros, Alnwick are proud to offer a new variant of the Bougle reel which we feel is one of the best yet – with its rolling pillar, reversible click check, naval brass bush and spindle and its hand polished, deep anodised 'pearl silver' finish, this Bougle reel is sure to become one of the classics.
Made by time served Hardy Bros reel makers here in Alnwick, England, this Bougle reel comes presented in a beautiful, UK made, soft leather, sheepskin lined reel case.
The series will be rolled out with first inventories available September through November. MSRP: $475 – $555.
The Jet series of Fly rods features manufacturing process, SINTRIX™ material and Techniques pioneered in the award winning Zenith range but brings them within reach of the day to day angler.
Increased strength paired with a refined middle to tip action results in a light, easy to use yet strong rod that has been crafted to offer high levels of performance and fish ability in a smart modern classic package.
There are twenty rods in the range which cover the all single and double hand model for freshwater fishing. The range features a ten foot range for Euro and Czech nymphing. MSRP: $449 – $549.
Due in stock October 1, 2013.
Ultralite SDS Fly Reels
The Ultralite SDS (Sealed drag system) reel is a light weight, ultra large Arbour design with an advanced woven carbon disk drag system that delivers smooth reliable performance under the harshest of conditions.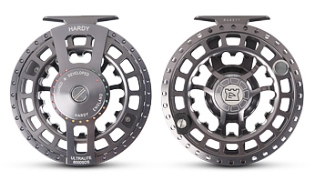 Designed in Alnwick England and tested in some of the most challenging saltwater conditions on the Planet the SDS has an incredible line retrieval rate that allows the angler to recover line at the break neck speeds often required when chasing some of the Hardest fighting fish to be found anywhere.
Three sizes for line weights 7 – 12. Combined with Stunning looks and exceptional durability the SDS is a true saltwater athlete, that would also grace the any modern two handed salmon rod.
MSRP: $450 – $495.
Due in stock January 2014.
SINTRIX™ Spin and Casting Rods
The innovation of SINTRIX™ and for the ZENITH™ and the PROAXIS™ changed what anglers expect from rod performance. After three years of testing, SINTRIX™ will to the same for spin and casting rods.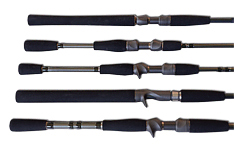 The new SILEX™ will change what you expect from your rod. SINTRIX™ allows our designers to develop new rods unlike and high performance stick that has come before. There are thirteen spinning rods and fourteen casting rods that cover the full range including ultra light, bass, steelhead and inshore saltwater. MSRP: $350 – $495.
Due in stock January 2014. | Click here to download a complete list of models
Ultralite CLS Fly Reel
The Ultralite CLS takes many of the winning features and design Cues from Hardy's best selling Ultralite DD reel series and seamlessly combines them with the best of the Demon reel to produce a stunning addition to the Hardy Ultra light Reel line up.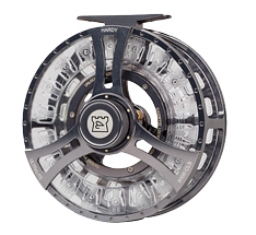 The Core feature of the Ultra light CLS is the Hardy designed and developed cassette locking system, this innovative feature instantly locks /unlocks the high impact polycarbonate spool into place at the flick of a switch, yet reduces the stress placed upon working parts within the system to a minimum.
The main spool carrier release system is the simple yet ultra practical captive screw design borrowed from its sister Ultralite DD reel along with the ultra large arbour spool profile that ensures rapid line retrieval and lowers coil memory of your fly lines.
Other Features include the Hardy designed Fly line identification system that allows instant and reusable marking of the spool showing the key features of your Fly line including size /profile/sink rate and eliminates the need for messy stick on labels that quickly wear off.
To Top this incredible package off the fully anodised bar stock CLS comes supplied in a Neoprene reel and spool pouch with a Total of three Cassettes and sufficient Pins for three lines.
Practical, Reliable and with a stunning aesthetic design the Ultra light CLS has lifted the bar in High quality Cassette reels.
Following countless requests from both trade and consumers, we now offer the award winning Ultralite CLS reel in this '9000' size to accommodate all of your salmon line requirements. From shooting heads to full Spey lines, the 9000CLS will accommodate them all. MSRP: $329.
Due in stock September 2013.
ZENITH and PROAXIS

We are introducing new models of both rod lines with new reel seats. The freshwater ZENITH™ rods up to the six weight now carry a beautiful burled maple reel seat. The PROAXIS™ saltwater rods carry all metal machined bar stock reel seats.

Available now.
GR50 Series Fly Rods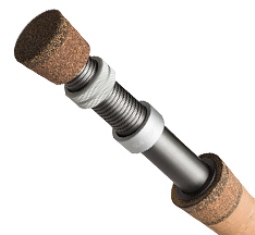 The GR50 truly represents incredible performance at unbelievable value.
Manufactured from High Grade carbon fiber in an advanced taper design the GR50 is a physically light yet fast recovering high performance fly rod with modern cosmetics and styling.
Featuring a non flash ice grey paint finish with section ID and line up's the Replacement for Greys all time best selling GRXI+ range is truly class leading. Other features include a Hard wood burl spacer with aluminum hardware on line sizes 6# and below, full anodized aluminum Hardwar with Twin up locking function on 7# and above, Hybrid handle design with hard wearing rubber cork tippings and high grade full cork main grip, convenient 4 section design , light single leg guides in black nickel finish and is supplied in a hard sectioned tube . There are eleven rods in the range for 7'6" through 10 footers.
MSRP: $219 – $249.
Due in stock October 2013.
GR30 Series Fly Rods

The GR30 represents user friendly performance at a keen price.
With a slightly more forgiving action, the GR30 allows high line speeds with the minimum of effort , finished in a subtle yet attractive metallic olive, the GR30 looks every bit as good as it casts. With smart titanium finish reel seat, section line up marks, High quality snake intermediates in Chrome Finish the GR30 comes supplied in a partitioned cloth covered rod Tube.
MSRP: $149- $189.
Due in stock October 2013.
GR10 Series Fly Rods

The GR10 represents the perfect stepping stone into the Greys rod range – A high performance easy actioned fly rod that exhibits many traits found in rods of much higher cost.
GR10 has a powerful, solid feel yet still remains' light and accurate in the hand, a Gloss black blank finish and matching Black aluminum Hardware give the GR10 a smart understated look whilst the grip is constructed from hard wearing composite cork.
MSRP: $119.99 – $129.99.
Due in stock October 2013.
Please contact Jim Murphy at [email protected] if you have any questions.
Thanks for your support.
Jim Murphy
President
Hardy North America Ltd
---
←Previous Story
Quick Tip: Use a Handheld Marker Buoy as a Redneck Waypoint