New Rod Tubes and Cases from Sage
Standing out with heavy-duty nylon, reinforced end caps, and lockable zippers, the new Ballistic Rod Tubes from Sage are designed to give anglers peace of mind while traveling. These, as well as the redesigned traditional tubes, will be available in August 2013.
Read more in the press release below. 
Travel Confidently with Sage's New Fly Rod Tubes and Cases
June 13, 2013 (Bainbridge Island, Wash.) – Fly fishing industry leader, Sage Manufacturing, offers anglers peace of mind with its redesigned Ballistic Rod Tubes and Traditional Rod Tubes.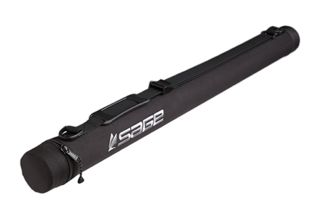 Updated in form and function, Sage's new Ballistic Rod Tubes feature heavy duty ballistic nylon, lockable zippers, updated shoulder straps, reinforced end caps and divider pockets. Available in multiple sizes including single and multi-rod tubes, single rod/reel cases, spey rod/reel cases and double rod/reel cases, anglers have plenty of options for daily use or for extended travel. Ranging in price from $40 to $75, Ballistic Rod Tubes come in 17 size options and will be available in August.
Sage's Traditional Rod Tubes offer anglers a classic, lightweight option for the most popular sizes of freshwater and saltwater rods. Available in the stealth color with a platinum colored Sage medallion, both 2 and 2.25-inch models accommodate a wide selection of fly rods. The freshwater Rod Tubes will retail for $65 and the saltwater for $70. Both will be available in August. 
About Sage:
Founded in 1980, Sage was created with one idea in mind—to build the world's finest performance fly rods.Passionate about creating fly fishing products that continually exceed expectations, Sage strives to seek performance advantages through new materials and designs based on a foundation of research and innovation. Sage also offers fly reels, fly lines, apparel, accessories and luggage for avid anglers. For more information, please visit www.sageflyfish.comConnect with us on Facebook, Twitter, Google+and Vimeo.
---
Next Story→
New Sage MOTIVE Rods for Saltwater Fly Fishing