Tres Lagunas Fire Threatens Native Trout
A wildfire in New Mexico's Santa Fe National Forest has caused the evacuation of a small population of native Rio Grande Cutthorat Trout from Macho Creek. "Although the fire so far appears to be headed away from the creek," says Department Fisheries Chief Mike Sloane, "we decided to be proactive and make sure the population is safe."
Read more in the press release below.
Native Rio Grande Cutt's Rescued from Tres Lagunas Fire Area in New Mexico
PECOS – Fisheries biologists with the Department of Game and Fish and the Santa Fe National Forest removed 49 Rio Grande cutthroat trout from a small creek threatened by the Tres Lagunas wildfire this week, ensuring the pure strain of native fish will survive if the fire threatens its watershed.
A crew of 10 hiked two miles up Macho Creek, about three miles southwest of Terrero, and used electroshocking equipment to stun and net the trout. The 5- to 10-inch fish were then taken to the Department of Game and Fish Seven Springs Hatchery near Fenton Lake for safekeeping. The fish will be returned to Macho Creek if it is spared by the fire.
"Although the fire so far appears to be headed away from the creek, we decided to be proactive and make sure the population is safe," Department Fisheries Chief Mike Sloane said. "There are few remaining pure populations of Rio Grande cutthroats in the Pecos drainage. Each population is critical to long-term persistence and stock for future restorations."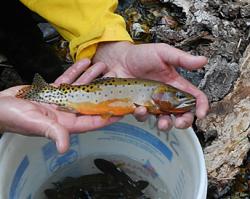 The Tres Lagunas Fire that started May 30 in Pecos Canyon grew to 9,217 acres Tuesday and was 15 percent contained. The fire and drought conditions throughout the region prompted the Santa Fe National Forest to close its Pecos and Las Vegas ranger districts and the Pecos Wilderness to all entry. The Department of Game and Fish also closed all Game Commission-owned properties in Pecos Canyon.
Although not listed as threatened or endangered, the Rio Grande cutthroat trout – New Mexico's State Fish – is considered a candidate for federal protection under the Endangered Species Act. Ongoing restoration efforts by the Department of Game and Fish are focused on expanding existing populations and keeping the popular game fish off endangered species lists.
---
←Previous Story
Video Hatch: "Return and Restore: Veterans Work to Restore Salmon Habitat"