Watershop Waterproof Housing for iPhone 5
Recently released from Watershot Inc. are two new waterproof camera housings designed for iPhone 5. The Watershot and Watershot PRO models are functional and flexible, retailing for $109.99 and 189.99, and available now.
Read more in the press release below. 
Watershot Launches Waterproof Housings for iPhone 5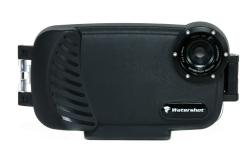 May 9, 2013 (San Diego, CA) – Watershot Inc. has just debuted the latest waterproof camera housings designed specifically for the iPhone 5. With ample time before the summer season begins, consumers can choose between two options, the Watershot and Watershot Pro.
In September of 2012, the company unveiled the housing for the iPhone 4 to superior reviews and social media success. Designed specifically for the water sports market, the Watershot proved quickly to be the most durable and dependable solution for those seeking to venture into the surf and sea using their iPhone cameras. The anticipated housing for the iPhone 5 was designed specifically with feedback from their stable of top photographers and videographers as well as avid water sports enthusiasts who prefer to leave their digital cameras at home.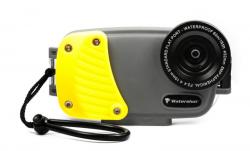 As competition grows in the waterproof case market, Watershot has become the trusted source in the consumer market for those concerned about taking their iPhone into the water. Customers' trust is based on the company's legacy and water-based resume. Founder Steve Ogles began making splash and underwater camera housings over forty years ago and now focuses on producing motion picture camera housings and enclosures for product protection up to 30,000 feet under water. "We treat our customers' products, whether an iPhone or an extremely expensive specialty camera the same. A person's smartphone is an integral part of life, work and lifestyle. Trust comes from performance history, not from promotional marketing," noted Ogles.
The Watershot housings are differentiated from the case market by functionality, design and flexibility. The Watershot entry-level model for the 4 and 5 features a robust poly-carbonate shell, interior rubberized shock absorbers, glass lens port and backscatter baffle for optical image clarity and a threaded lens bezel to add accessory lenses and filters. A fourth conductive button was added to the new housing line to maximize extensive still and video camera features via a free app available on the App Store. Both housings allow users to upload images and video directly to Facebook and Twitter without removing the iPhone from the housing. A battery lifesaver feature has also been added to the app. The Watershot model for the iPhone 4 remains at a consumer friendly MSRP of $99.99 and the iPhone 5 housing MSRP is $109.99.
The new Watershot PRO available for the iPhone 5 is designed for the person seeking more flexibility and professional options. The housing comes with two large removable lenses – flat port and wide angle. The wide-angle lens increases the field of view to 110 degrees. The depth rating is 195 feet. A removable grip option allows the user to customize grip colors or replace it with a future electronic enabled grip, designed with the special features surfers and divers are asking for. The MSRP for the Watershot PRO is $189.99 and includes the two high quality optical glass lenses.
Watershot® for iPhone® 5 Watershot PRO
About Watershot Inc.®
Founded in 1995 by Steve Ogles, Watershot Incorporated®, is located in San Diego, CA. Trusted by the world's best photographers, cinematographers and adventurers, Watershot Inc. designs and develops premium products used on, in and underwater. The diverse range of products and projects includes composite & aluminum film & digital dive and surf splash housings, cameraboard & aerial remote mounts & housings, freedive & surf rescue vests, iPod housings, iPhone camera housings, LED dive lights, Lithium Ion dive battery systems, and enclosures for underwater robotic exploration, including 2D & 3D laser measurement & mapping.
Follow & Share:
Website: www.watershot.com
@watershot_housing
www.facebook.com/watershot
@Watershot_Inc
Hashtag #watershot
---