Reel Service Project
Vedavoo, Recycled Waders, and artist Jeff Currier have joined together to create unique packs now up for silent auction, benefitting groups such as Trout Unlimited and Project Healing Waters. Bids can be placed on Vedavoo's Reel Service Project webpage.
Read more in the press release below.
Reel Service Project
FOR IMMEDIATE RELEASE
Lancaster, MA 3/26/13
Two Vedavoo Tightlines slings have been hand-crafted using materials from Recycled Waders, and then hand-adorned by artist Jeff Currier.  These two packs have been made especially for, and designated to raise new funds to aid program efforts of Trout Unlimited and Project Healing Waters Fly Fishing.  At each of the organizations' marquis fundraising events this year, bidders will have the opportunity to take a chance at owning these one-of-a-kind pieces.  However, through a special effort in the month preceding the events, others from the greater community who can't personally attend one of the two events will have a chance to submit the winning bid.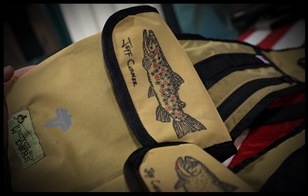 Both packs – and a few other special pieces designated for other local charities – will be presented on the Vedavoo Gear website for silent bid.  All bids received after April 1st will be collected and passed through to the organizations to count during each respective silent auction.
To learn more about this special project, or to consider placing your own silent bid toward one of these pieces of art, please visit http://vedavoo.com/reel-service-project/. The pages are open for viewing, but we will not be accepting any bids until April 1, 2013 – bidding closes May 1, 2013.
Cheers,
Scott Hunter
Vedavoo
---
Next Story→
Winston Appoints Mclean to Vice President of Operations & Rod Design