Blackfly Wins MSNBC Logo Competition
Ushering an auspicious beginning for the opening of the new Blackfly Lodge located on Schooner Bay on Abaco Island, the Bahamas, Vaughn Cochran's "Blackfly" design recently won the Best Business Logo contest sponsored by MSNBC.
Read more in the press release below.
FOR IMMEDIATE RELEASE:
Blackfly Wins MSNBC National Best Logo Competition
Jacksonville, FL (February 18, 2013)  On January 20th, 2013, Vaughn Cochran's Blackfly logo won the Best Business Logo contest sponsored by MSNBC's Your Business program hosted by J.J. Ramburg.  His award was featured on MSNBC's Your Business television show as well as on the TODAY Show.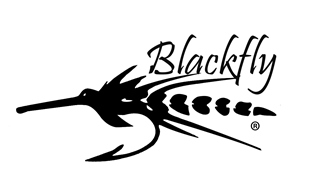 According to Cochran, "winning awards is always a surprise and somewhat overwhelming for me.  As an artist and as a businessman I strive to blend creativity and thoughtfulness in every work I complete.  The Blackfly sumi-brush ink painting emerged from a single studio event and cascaded very simply and organically from one fly painting to the next.  In a sense, the painting is the sum of my life's work, all distilled into one rendering.  Since creating Blackfly in 1992, the painting and the logo has received universal appeal from anglers, boaters, and many other active-outdoor participants.  It has become a lifestyle brand as much as it is a fly fishing brand.
"The MSNBC award is of particular significance not just because it is a nationally syndicated digital and television program.  It's a tremendous victory for me in that I was in competition with some of the top business brands in the country in a playing field much larger than the outdoor vertical market.  The fact that I won by votes cast by an independent audience is amazing.  It's very satisfying to know that Blackfly speaks to groups who know nothing about fishing.  I am overwhelmed and couldn't be more pleased."
The recent award comes at an opportune time, particularly because Cochran and his partners are opening the doors to Blackfly Lodge, the recent addition to the Blackfly brand.  Located at Schooner Bay on Abaco Island, the Bahamas, Blackfly Lodge has recently concluded a multi-year, multi-million dollar expansion project.  Anglers visiting the lodge will enjoy a series of master suites, a "living room" style angler's bar, and a unique ocean-to-the-table restaurant featuring an open kitchen concept.  A new fleet of fishing boats includes specially designed East Cape flats skiffs as well as a 31' Yellowfin for offshore fly fishing.
Founded in 1974 as a wholesale company, Blackfly combines several vertical businesses into one over-arching brand: a fly fishing retail store, the Blackfly Outfitter ecommerce site, an art gallery, a guide service, a licensing division, Blackfly the Restaurant in St. Augustine, Florida, and a destination-travel business for anglers.  Blackfly was founded by Vaughn and Jean Cochran in Jacksonville, FL.  For more information about Blackfly contact Vaughn Cochran at [email protected] or at 904-540-3183.
Contact:
Tom Keer
The Keer Group
[email protected]
508-349-3473
---