For the past two years, tiers of all stripes have gathered for Southern Culture on the Fly's fundraising event for Project Healing Waters. To include food and drink, contests and live music, this year's Tie-One-On-Athon will be held Sunday Sunday, February 24, 12noon-6pm in Ashville, NC.
Read more in the press release below.
3rd Annual Tie-One-On-Athon for Project Healing Waters
Fly Fishing Magazine Organizes Fly Tying Event in the Name of Wounded Veterans
January 22, 2013 (Asheville, NC) –Southern Culture on the Fly, the South's leading online fly fishing magazine, will hold their annual Tie-One-On-Athon Sunday, February 24, 12noon-6pm. The fundraiser draws in some of the region's best fly tiers including guides, shop owners and commercial tiers, who will see how many flies they can tie for Project Healing Waters, a non-profit dedicated to the physical and emotional rehabilitation of wounded veterans through fly fishing and fly tying. New this year: the public is invited to bring their vises and join in the fly tying. Those who bring their vises to tie receive free admission.
Other highlights include: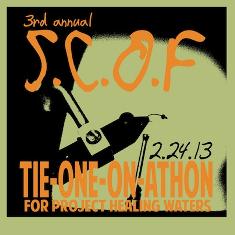 Food provided by DOUGH
Beer on tap from Green Man Brewery
Giveaways from sponsors
Fly tying contests
Live music
Held right in the heart of downtown Asheville at 80 N. Lexington Avenue, Suite C. Advance tickets available for $10 at Hunter Banks, 29 Montford Ave., and at the door the day of the event (kids under 13 are free).
Presented by Southern Culture on the Fly, The Hunter Banks Company and The Fiberglass Manifesto. See the event's page on Facebook for a complete list of sponsors. For further details, contact David Grossman at southerncultureonthefly@gmail.com.