Waterproof, drop proof, dust proof, and crush proof, the new Armor Series from Otter Box is heralded as the "toughest case ever built." Designed for Samsung Galaxy S3, iPhone 5, and iPhone 4/4S, additional devices being evaluated as well.
Read more in the press release below.
We researched. We innovated. We developed. We tested. We refined. We retested. We executed. We delivered.
The Armor Series is waterproof for 30 minutes in 6.6 ft., survives 10 ft. drops, allows for zero entry of dust and debris and can withstand two tons of crushing force. We know how heavy the burden of a damaged device can be, which is why we don't take protection lightly. The Armor Series outperforms what was ever thought possible for a smartphone case. It's the toughest case ever built.
Samsung Galaxy S3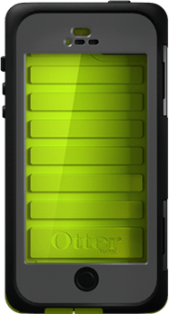 With waterproof, drop proof, dust proof and crush proof features, the Samsung Galaxy S3 Armor Series case provides absolute protection for every lifestyle. Whether you're an adventurer, a busy parent, gear-collector or someone willing to invest in protection, the Armor Series is for you. It's the toughest case ever built.
iPhone 5
The OtterBox iPhone 5 Armor Series case is a reinvention of an OtterBox classic that brings protection against water, drops, dust and crushing force. Metal latches, o-ring seal, port covers and mesh coverings keep water out and allow the Armor Series case for iPhone 5 to be completely waterproof. This case was made with confidence. We encourage you to use it with some.
iPhone 4/4S
The iPhone 4/4S Armor Series case offers four layers of protection so you can enjoy life's adventures with confidence knowing your iPhone 4/4S is shielded from the elements. Waterproof, drop proof, dust proof and crush proof the Armor Series is the toughest case ever built. Get protection that truly inspires confidence.