Workshops for Veterans
Project Healing Waters Fly Fishing and the Sierra Club Mission Outdoors are partnering up to hold workshop opportunities for returning veterans. With emphasis on community re‐entry and leadership skills, the events will be held at Point Pleasant Farm in Maryland over two weekends in February.
Read more in the press release below.
Project Healing Waters Fly Fishing (PHWFF) is proud to announce that it is teaming with Sierra Club
Mission Outdoors to enhance community re‐entry and leadership skills among our veterans through the adaptive sport of fly fishing by hosting leadership training workshops at Maryland's prized Point Pleasant Farm (located just outside of St. Michael's on the Eastern Shore) for volunteers wishing to mentor injured military members, disabled veterans and their families.
There will be two opportunities to take advantage of the three‐day workshop: February 1‐3 and February 22‐24. Lodging, meals from Friday dinner to Sunday lunch, and equipment will be provided free of charge. We encourage those who are interested in attending either event to email us at [email protected]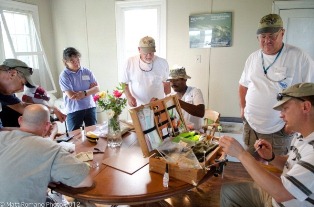 Training will include indoor and outdoor activities. Classroom style instruction will focus on enhancing communication, listening and advocacy skills, and the understanding of disabling conditions that impact reintegrating military members such as physical injuries, post‐traumatic stress and traumatic brain injuries. Outdoor activities will include hands‐on instruction in fly casting and fly fishing (weather permitting), etc. During the evening, volunteers will have ample opportunity to socialize, discuss their experiences, and practice the skills they learned during the day.
Following the retreat, we hope that volunteers will enhance the skills they learned and relationships they forged by supporting PHWFF's local programs casting sessions, fishing events and other activities. PHWFF is among a select few recreational rehabilitation organizations given the use of the magnificent thousand‐acre Point Pleasant Farm. The farm, previously owned by the DuPont family and the Audubon Society, maintains over 8.5 miles of waterfront vistas that overlooks Broad Creek, just off the Choptank River.
We hope you will join the Sierra Club and PHWFF in supporting our veterans while enjoying the beauty of Maryland's Eastern Shore.
Point Pleasant Farm
22776 Wells Point Lane Bozman, MD 21612
PHWFF is a 501(c)(3) organization non‐profit organization incorporated in the State of Maryland that assists in the physical and emotional rehabilitation of disabled active duty military personnel and veterans through fly fishing and fly tying education and outings. For more information about our mission and events, please visit our website (www.projecthealingwaters.org).
Sierra Club is America's largest and most influential grassroots environmental organization. Inspired by nature, we are 1.4 million of your friends and neighbors, working together to protect our communities and the planet. Through direct programming, public education and advocacy, Sierra Club's Mission
Outdoors program combats the growing divide between America and the outdoors by increasing opportunities for all to improve their overall well‐being by exploring and enjoying the natural world.
Read more at http://www.sierraclub.org/missionoutdoors.
---